Five Thoughts: Mercier, Selbst, and the Wild World of WSOP Bracelet Bets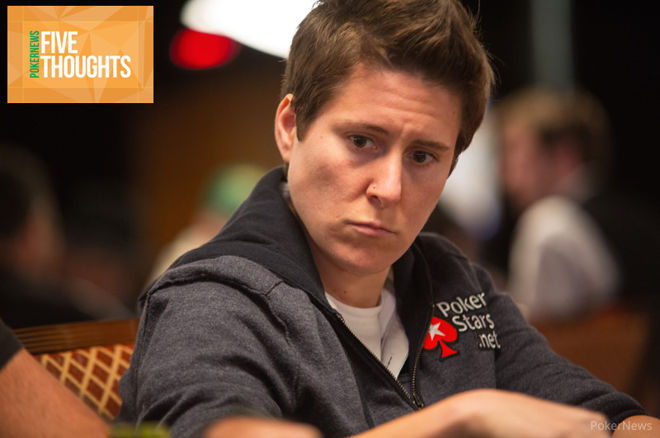 If I've learned one thing as a journalist for the past 20 years, it's that there's at least two sides to every story, and very often, the truth lies somewhere in the middle.
I've spoken with both Jason Mercier and Vanessa Selbst at length about the circumstances surrounding their much publicized wager, where Mercier bet $10,000 at 180-1 odds that he could win three bracelets at the 2016 World Series of Poker, and there are definitely two sides here.
1. A Balmy Night in the Bahamas
Selbst' story is that she got drunk with Dzmitry Urbanovich at the PokerStars Caribbean Adventure this year, and wound up laying him 200-1 on $10,000 to win three WSOP bracelets this summer. She woke up with some regret, embarassment, and at least some idea that he was such a huge dog to accomplish this in his rookie year in Las Vegas, that she did very little about it.
Two days later she had a few too many drinks out with friends, making an appearance at a dinner attended by Mercier and hosted by their shared sponsor, later that same night. Selbst maintains that by the time she got to the dinner, she was blackout drunk and somehow ended up making the bet. She also claims to have at least a dozen witnesses who will attest to her condition at the time.
She woke up the next day with even more regret when she was reminded of the bet and made an immediate attempt to cancel at that time. Even though Selbst believed she would not be held legally bound to the bet, because she was intoxicated and making an attempt to cancel it, no other circumstances surrounding the wager had changed, and it was all before the 2016 WSOP kicked off, she offered Mercier up to $1,000, and what she believed to be a sincere apology for getting involved with the whole thing to begin with. Mercier said no.
Now two-thirds of the way towards winning, Mercier has maintained he wasn't aware Selbst was anywhere near as intoxicated as she claims when the bet was made. He also says she didn't exactly try to come and cancel with hat in hand, offering a few hundred dollars while musing she would just be able to hedge on the bet later, and he was so unlikely to win three times at the WSOP, she would probably win anyway. Mercier found her less than sincere and felt inclined to simply let it ride.
Very little was said between the two until Mercier won his first bracelet of the summer, and the issue exploded on social media. Sides were taken. Lines were drawn.
Regardless of rumors Selbst has already hedged off more than half her exposure, this is where the two sides sit, and whether Mercier wins a third bracelet or not, it's looking more likely nothing will be settled easily here, and in my opinion it could ultimately be up to a court of law to decide what the real truth is.
2. The Legacy
Bracelet bets and legal arguments aside, I think when we look back at Mercier's accomplishments at the 2016 WSOP in the years to come, they will be recognized as some of the greatest in WSOP history.
People remember the time Jeff Lisandro won three bracelets in stud variants in a single Series, and they will always consider the time Phil Ivey made five final tables in two weeks as one of the most impressive runs in the history of the game.
In a seven-day span, Mercier made first, second, and first again, all in three $10,000 championship-level events. While this story is still being written, no matter what happens the rest of the way, that week is sure to be one poker will never forget.
3. Another Question of Character
I wrote last week in this space that if Selbst' claims of intoxication and questioning of Mercier's level of compassion were simply ploys to get a better price in buyout negotiations, they were below the belt. I stand by it, but I also believe there's another side to consider.
If Mercier knew she was blackout drunk when she made the bet and roped her into it somehow, taking advantage, she has every right to back out.
I think we can all agree that bracelet bets, prop bets, and the like, are mostly about friends challenging each other to accomplish great things. Those who can afford to, do it for whopping sums, and they provide great fodder for the press and interest to the fans and the entire poker community.
Mercier has no real responsibility to take care of Selbst when she's had too many, but in the business of friendly wagering, and the interest of friendship and fair play itself, if she was really as wasted as she says she was, he ought to at least consider cutting her a break.
4. Can Ivey Get In?
In one of his rare few appearances at the 2015 WSOP, I had the chance to chat with Phil Ivey. Considering big cash games around the world appeared to be his priority, I asked if the bracelet chase and his legacy at the WSOP were still important to him. He said they were, but since all the bracelet bet action he'd had in previous years had dried up, he found it hard to find the motivation to show up for event after event at the Rio. The poker community had gotten wise, the smart money was no longer willing to bet against Ivey winning bracelets, and who could blame them?
When Mercier won his second bracelet, collecting what's rumored to be seven-figures in bracelet bets already, I suggested to him that he might soon find himself in the same boat. Mercier claimed he was still able to find at least one gambler willing to lay odds against him winning again.
If that market has yet to dry up, I can't help but think maybe some of Mercier's doubters would be willing to bet against a rusty Ivey in the future.
As a fan of the game, and all this action, I think it would be great to watch these two virtual locks for the Poker Hall of Fame battle it out for bracelets and big bets on poker's biggest stage for years to come.
5. The Biggest Loser?
Lost in the shuffle of this Mercier-Selbst bet is the fact German wunderkind Fedor Holz appears to be the biggest loser in bracelet bets to Mercier thus far this summer.
He admitted to PokerNews' Remko Rinkema that he lost $200,000 when Mercier won his first bracelet. The second could be double that or more. Obviously, a third bracelet win for Mercier won't cost Holz as much as $1.8 million, but it's still bound to sting.
Don't feel too bad for Holz, however. After tweeting out that his personal goal for the summer was simply to win more than Mercier costs him in bracelet bets, he booked his fifth cash in a high-roller event at ARIA already this summer, and his fourth top-two finish. All told he's won nearly $5 million and counting and by most accounts will end up in the black no matter how much Mercier hurts him.
*Please note that the thoughts and opinions expressed in this article reflect those of the author.
Want to stay atop all the latest in the poker world? If so, make sure to get PokerNews updates on your social media outlets. Follow us on Twitter and find us on both Facebook and Google+!