2016 World Series of Poker Predictions, Part 1: Will Ferguson or Lederer Return?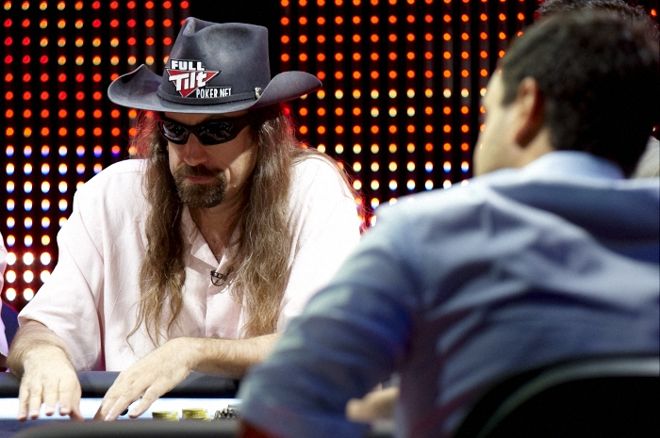 The 2016 World Series of Poker is right around the corner, and the 47th annual WSOP will kick off official gold bracelet play on June 1. The Rio All-Suite Hotel and Casino in Las Vegas will once again be home to poker's most prestigious tournament series, and this year there will be 69 official gold bracelet events.
The time leading up to another massive poker summer is always an exciting one, especially here in the PokerNews offices. As we enjoy doing every year, our team got together for a long list of 2016 WSOP predictions. For this year's edition of our predictions piece, our team of staff analysts consist of PokerNews Editor-in-Chief Donnie Peters, Strategy Editor Martin Harris, PokerNews.NL Editor Frank Op de Woerd, staff editor Mo Nuwwarah, Remko Report host Remko Rinkema, and contributor Marty Derbyshire.
We'll be doing these predictions in two parts. In the first part, we hit on big storylines, WSOP Player of the Year, big guns Phil Ivey, Daniel Negreanu, and Phil Hellmuth, and Howard Lederer and Chris Ferguson.
Here is the first of our 2016 WSOP PokerNews Staff Predictions.
1. What is your top storyline heading into the WSOP?
Peters: Originally, my top storyline going into this summer was going to be surrounding the Colossus II, but now that Lederer went and dropped that bomb of an apology letter, he might be the top storyline as everyone will definitely be waiting to see if he'll show up or not. That will be his choice, but I'd prefer to not allow Lederer take over my thoughts going into the summer, so I'll stick with the Colossus storyline.
The question is: How big will Colossus be? I'm going to take the over on 30,000 and hope the WSOP is prepared for such a large crowd. In the WSOP Twitch Town Hall last week, Jack Effel said capacity was around 30,000. The WSOP projected 11,500 last year and got 22,374, and all signs this year point to the event being much, much bigger.
Harris: The WSOP faces enormous logistic challenges, and every year seems to give itself new ones to complicate things even further as the schedule gets more and more packed. It seems every year during the first week or two the complaints and controversies emerge at such a rate that it seems the whole production is being threatened, kind of like a plane encountering heavy turbulence during its ascent prior to leveling off at a more steady cruising altitude. For that reason, heading into this year's WSOP I'm most interested to see how smooth (or not smooth) the ride seems to be during the first 10 days or so before things settle.
Op de Woerd: For me, the top storyline going in is Dzmitry Urbanovich going for three bracelets. We've seen newcomers aiming for big targets before, but here's a guy who's already had a great deal of succes and going for the highest possible right away — not one, not two, but three bracelets! It's a fun sweat going in. Just a grinding beast going to Vegas for nothing but glory and money. I don't see him ever reaching his goal, but the storyline alone is cool enough.
Nuwwarah: My top storyline is the WSOP debut and accompanying prop bet of Urbanovich, where he stands to win $2 million from Vanessa Selbst if he can bink three bracelets. She has to be on the right side in a pure odds sense, but it would be fun to see this become a sweat.
Rinkema: Summer camp is back! The WSOP is my favorite time of the year, and the fact that it's that time again makes me very excited. As a poker fan first, it's one of those things I would hate to miss. Many amazing storylines will develop during the summer, and I'm looking forward to uncovering what lies ahead. If I had to pick a storyline coming in, I would say it's probably that the changes the WSOP has made are a great thing to look forward to. The eQueue payout process, being able to wear headphones in the money, and Kevin "Kevmath" Mathers taking the reins of the social media accounts are all things I believe the overall product will benefit greatly from.
Derbyshire: In 2015, it was suggested that the WSOP had lost it's luster. The organization has made a lot of player- and fan-friendly changes in an effort to get it back heading into 2016. I'm interested to see if they can run the Series free of the kind of mistakes, controversies, and public relations blunders that have plagued them in the past, returning the WSOP name to its former glory.
2. Which non-Main Event tournament are you looking forward to most?
Peters: I usually pick the $50,000 Poker Players' Championship for this one, but with my anticipation of the Colossus being so big, that's the tournament I'm looking forward to the most.
Harris: Among WSOP events, I'll be most interested in the $111,111 High Roller for One Drop which starts a day before the first Day 1 flight of the Main Event and will steal some of the attention for those first few days of it. In truth, though, the non-Main Event tournament I'm most curious about will be a non-WSOP event, too — the $300,000 Super High Roller Bowl happening at the ARIA from May 29-June 1 (which also will steal considerable attention away from the WSOP as it cranks up).
Op de Woerd: Besides the high roller events, I'm most looking forward to the Tag Team tournament. The concept is one I believe in. I've played it before and it's a ton of fun to team up in poker. It'll be interesting to see what kind of strategy teams come up with, and what remarkable teams will jump in. I can already see some crazy match-ups and dynamics at the table. This should be a fun one to rail.
Nuwwarah: The Colossus. I'm curious to see if the numbers drawn last year have staying power or even increase, and if the WSOP has cleaned up the logistical issues from last year.
Rinkema: Every single year my answer to this question will be the same: the $50,000 Poker Players' Championship. Being able to see the top players in the world compete at the highest level in a great variety of games is the pinnacle of the summer for me. It's a shame ESPN no longer broadcasts it, but live streaming will do for me this year.
Derbyshire: Colossus II dominates the schedule in the early going and it will be interesting to see if they can draw over 25,000 players, confirming once again that the poker world is alive and well.
3. Who will win WSOP Player of the Year?
Peters: I'll never be able to pick a one-trick pony who only players no-limit hold'em for this one, and this year will be no different. I'm going to go with Scott Clements. The two-time gold bracelet winner plays all the games well enough to contend at all times, and he's always someone who racks up a handful of cashes each summer at the WSOP. But this year, I really look for Clements to shine in the 11 Omaha events on the schedule.
Harris: The question recalls another minor storyline left over from a year ago — will the criteria be the same for determining the WSOP POY (i.e., "powered" by the Global Poker Index)? However the POY is determined, I'm choosing Ismael Bojang this time as my pick. The German has 32 WSOP cashes and only started collecting them in 2012.
Op de Woerd: Urbanovich. He's going to play everything he can. I've seen countless young players come to Vegas for the first time, and just about all of them broke down halfway through and were only seen with hanging shoulders busting tournament after tournament three weeks in. I hope Urbanovich is different and he can really make a splash. He told me he's up for it, and doesn't shy away from grinding for several weeks. No parties for him, no drinking, and that $2 million bet; all ingredients to make this a summer to remember for him. Even he doesn't succeed in winning three bracelets, his skills in all the games and determination (and bankroll) to play everything should be good for a high ranking finish in the POY race.
Nuwwarah: Stephen Chidwick. The drought ends this year.
Rinkema: Chidwick. The man is ready to put in volume, and he's shown many times that he's only a few good run outs away from winning his first bracelet. Chidwick always puts in the work and last summer he cashed no less than seven events in seven different formats. This will be Chidwick's year with a big championship bracelet.
Derbyshire: It's going to be the year of Chidwick. He always seems to make multiple final tables, but this year I'm thinking multiple bracelets, including a $50,000 Poker Players' Championship win.
4. Who will win the $50,000 Poker Players' Championship and the $111,1111 One Drop High Roller?
Peters: The two Jasons — Jason Mercier will capture the gold in the $50,000 Poker Players' Championship, and Jason Koon will win the $111,1111 One Drop High Roller.
Harris: Scott Seiver will win the $50,000 PPC, and Anthony Zinno will take down the $111,111 One Drop High Roller.
Op de Woerd: It's kind of impossible for me to judge the players in this tournament, as I know next to nothing about their skills in all of the games, but going by the final-table appearances players made in this last event, I could come up with dozens of names for this one. I'll just go with Negreanu for the heck of it. He's geared up for the WSOP again and this tournament must be high up on his list.
I've been covering hands from Timofey Kuznetsov for years now, not knowing who was behind the Russian account "Trueteller". Last EPT Grand Final, I witnessed his play for the first time. Though he didn't fare too well in the high roller tournaments I covered him in, I instantly saw he transitioned well from the online felt to the live arena. His skills are commonly known, and those together with his live demeanor should make for a winning combination.
Nuwwarah: Chidwick wins the PPC, Seiver wins the One Drop High Roller.
Rinkema: The $50,000 Poker Players' Championship belongs to Mercier this year. Last year it was Jean-Robert Bellande who got lucky on him, and he busted out in seventh place. This year the winner of $16.4 million in live tournaments will shine on the biggest stage and claim the bracelet that arguably will mean the most to him.
The $111,111 One Drop High Roller will be a who's who of wizards, and one of the most experienced players at battling those fields is German star Tobias Reinkemeier. With a $1,000,000 Big One for One Drop final table under his belt, and a plethora of high roller and super high roller final tables, it's only a matter of time before he wins his first bracelet. I'm calling it that this year will be that year.
Derbyshire: Chidwick finally gets over the hump in the $50,000 Poker Players' Championship, an,d after coming so close last year, Phil Hellmuth does that and more in the $111,1111 One Drop High Roller.
5. Which big-name pro will be the biggest disappointment?
Peters: Last year I said Mercier will have a disappointing summer after a big PokerStars Spring Championship of Online Poker. He cashed four times for $1,351,930, made two final tables, and won a bracelet, so I won't be making that mistake again. I'm going to go with Zinno, who has been as hot as anyone over the past few years. Variance has a cruel way of catching up to people on hot streaks in tournament in poker, and I think this will be the summer Zinno's positive attitude is put to the test.
Harris: Of all the "big-name pros," Hellmuth has the highest expectations — both his own and others' — every single WSOP. So I'll pick him this year as a candidate for "biggest disappointment," knowing full well how foolish it is to bet against the "Poker Brat" at the WSOP.
Op de Woerd: Phil Ivey. He wasn't in Monaco for the EPT Grand Final, and I wasn't overly impressed with his play at the Aussie Millions this year. That's a very small sample to judge someone by, but as long as I'm asked to make bold predictions, I'll go with Ivey. In the end, just about anything but another bracelet or another November Nine spot will be deemed a disappointment for a player with Ivey's legacy.
Nuwwarah: Does anyone expect anything from Ivey still? If they do, he's the easy answer. Seems like it will be another low-volume year from the G.O.A.T. unless he's booked some bets that we haven't heard about.
Rinkema: Hellmuth. For someone with an unconventional style, there has to be a down year at some point. Hellmuth has proven that he's one of the best WSOP players year after year, but I'm predicting an off year for the man who's been courtside at Oracle Arena more than tableside in the poker room. Not playing throughout the year sets you back, and I think Hellmuth might be a bit rusty.
Derbyshire: Ivey continues to be the biggest disappointment at the WSOP, simply because he doesn't play. Even if he's in Las Vegas this time, he'll be more focused on playing cash due to the absence of big bracelet bets.
6. Which WSOP newcomer will have the biggest impact?
Peters: The popular pick is Urbanovich, of course, so I'll stay away from that one. Cate Hall cashed in the $777 Lucky Sevens event last year, but it wasn't until the latter half of the year that she really became known thanks to some big performances on the World Poker Tour. That said, this year will be her first real summer at the WSOP, and I think she's going to make a big impact.
Harris: Win or lose, Urbanovich will surely make an impact given the many tournament achievements the Polish pro has collected before turning 21. The prop bet with Selbst further ensures both he'll play a lot of events and be garnering a lot of notice along the way.
Op de Woerd: Urbanovich, again. Selbst made a bold bet at good odds, but she's even scared now and sold half her action in the bet already. The player that bought half that bet tried to buy out with Urbanovich. Selbst, the other player, I, and the rest of the world obviously still know he's an extreme long shot to reach the goal of winning three bracelets, but if there's anyone that can do it, it's Urbanovich.
Nuwwarah: Has to be Urbanovich, especially since he's going to be firing maximum entries for his bet.
Rinkema: The easiest and most obvious answer is Urbanovich, so why deviate from it? Adrian Mateos played his first Main Event last year and held the Main Event chip lead on Day 3. Fedor Holz played his first and almost made the November Nine. Urbanovich is arguably more talented than these phenoms. The Polish prodigy plays all the games at an extremely high level, and with the motivation of the $2,000,000 prop bet versus Vanessa Selbst we'll be writing his name up as overnight chip leader numerous times. Will he win the bet? Probably not. Will he run over the tables in every event he plays? You better count on it.
Derbyshire: Newcomer Urbanovich should have the biggest impact. Whether he wins a bracelet or not, he says he plays all the games, and plans to enter everything he can at the 2016 WSOP. He's bound to shake up the old boys clubs some of the smaller-field events have become and have a major impact on the Series as a whole.
7. Will Phil Ivey, Daniel Negreanu, or Phil Hellmuth, win a bracelet?
Peters: As a trio, yes, one of these three will win a gold bracelet. But it won't be one of the Phils. Negreanu hasn't won a gold bracelet in Las Vegas since 2008, but this is the year he captures one in Sin City.
Harris: Ivey is the least likely to do so, while Hellmuth and Negreanu will both play dozens of events in an effort to earn more gold. I'll guess none quite get there to win one of this year's 69 bracelets.
Op de Woerd: I don't see Ivey trying as hard this year, so I would go with no. Negreanu has his Rocky movies in the DVD player already, so he's ready and I'll go with a yes for "Kid Poker." Hellmuth had a rant on social media the other day where he talked to himself for about eight updates in a row. According to Hellmuth, all it really takes is motivation and focus. He claims to have both, so who am I to contradict him.
Nuwwarah: Feels like Negreanu's due after coming up empty the last few years despite making a bunch of deep runs.
Rinkema: Ivey hasn't cashed an event at the WSOP since racking up a min-cash in the 2014 Main Event, and I don't see him regaining focus to hunt down bracelets anytime soon. Perhaps Selbst can motivate him with a bet, but otherwise I don't see him making a big impact.
Hellmuth's going to have a down year, and I don't see him getting another one, but the same can't be said for Negreanu. Toronto's finest has said on numerous occasions that the WSOP is his prime focus, and we all know that a focused Negreanu is very dangerous. I'm going to go out on a limb predicting a no-limit hold'em bracelet for Negreanu, who hasn't won a bracelet in Las Vegas since 2008.
Derbyshire: Negreanu and Hellmuth will certainly put in the work, and if the cards fall the right way, bracelets are a definite possibility. A motivated Phil Ivey will always win bracelets, but we haven't seen any indication he cares at all about the WSOP, or tournament poker, anymore.
8. Will Stephen Chidwick, Mike Watson, or Allen Kessler finally win WSOP gold?
Peters: Yes, and I think both Chidwick and Mike Watson will see some new jewelry around their wrists. But Allen Kessler? C'mon, man. They don't give bracelets for squeaking into the money.
Harris: Watson had three final tables last year, Chidwick made two (including one runner-up), and Kessler none. I'll guess one of these three — likely Chidwick — will break through and get a title this time.
Op de Woerd: I don't know about Chidwick's schedule, but since he's signed up for the $300,000 Aria Super High Roller Bowl I'm just going to assume he's in Vegas for the duration of the summer. He's playing really well, and if he's there for the entire summer, then he is going to sign up for the small-sized non hold'em fields as well again. So there's a good chance he will win a bracelet, and with good chance I mean he has an above-average shot at them.
Watson famously went two summers without cashing, and that wasn't because of lack of skill. I've read Fooled By Randomness, so I'm not surprised by any of it anymore, but I'll just go with yes on this one as well.
It surprised me to learn that Kessler in fact has won 15 tournaments in his poker career. I always thought he only min-cashed. Goes to show how much I know about his game. Since I mostly cover tournaments in Europe, and Kessler hardly ever comes over, I really don't know anything about his game. If he's playing as much as he has been last couple of years though, that at least increases his chances. I still go with no for him though, just a random guess.
Nuwwarah: Chidwick and Watson both!
Rinkema: Chidwick will get his first bracelet, the others will not. Kessler will probably rack up a ton of cashes, and Watson will get back to being the bridesmaid after having won the PokerStars Caribbean Adventure Main Event earlier this year. A lot of things have to go right for Watson.
Derbyshire: I think Chidwick and Watson will be threats to win every time they register. Kessler is just a threat to min-cash and whine about structures and the lack of comps.
9. How many bracelets will Dzmitry Urbanovich and Jason Mercier win combined?
Peters: Three. I don't know if it'll be one of them winning all three or splitting it up, but three is my number for these two. Time to make Selbst sweat, boys.
Harris: Both will obviously be motivated to play a lot of events, and both are obviously able to win in any variant. I'll say one of them will win an event this summer.
Op de Woerd: Two. I really hope I'm wrong and it will be bigger because I like both players, but these fields are just too tough and big to go any higher. Not sure what the breakdown on that number will be.
Nuwwarah: Just one.
Rinkema: I think we'll get a real sweat in these two bets versus Selbst, and in order to state what I'm hoping for I think that we'll see a combined three bracelets for these two guys. Let's just hope they make some final tables together for maximum exposure of this crazy prop bet that has almost no chance of being won despite these guys being among the best in the world.
Derbyshire: Two bracelets, both for Mercier, as Urbanovich learns that the WSOP is a serious grind and Mercier proves his consistency.
10. Will Howard Lederer or Chris Ferguson return to play a WSOP event?
Peters: All signs point to Lederer returning this year, so I'll say yes, this will happen, and it'll be Lederer returning to the felt. Chris Ferguson won't be anywhere near the Rio this summer.
Harris: Ferguson will not, and even though there have been rumblings about Lederer playing, I'll still guess no. I understand that prior to Black Friday and the debacle that was the original Full Tilt Poker, playing the WSOP was important to both. However, I'm curious what the motivation for either to play it again might actually be.
Op de Woerd: I would take a reasonable bet that Ferguson won't return to the WSOP. Lederer is going to enter the $50,000 Poker Players' Championship and some other tournaments, I'm pretty sure. I talked to someone in the know, and he guaranteed me he's coming. Players will tweet like crazy about it, but just a couple of players are going to be really in his face about it. Lederer issued a statement before hand that contradicts the Lederer Files that appeared on PokerNews, and will wave that statement around when people give him a hard time. Security will escort some players and railbirds out that are too loud about it, and nothing will stand in Lederer's way to make a final table. OK, maybe a lack of skill will stand in his way, but that's about it probably. There will be a big News, Views, and Gossip thread about it on TwoPlusTwo, and every site will write about it, but that's all. From this year onward, Lederer will be back every year at the WSOP and at one point, everyone will have forgotten what had happened and just see him as a good addition to the field as he's dead money.
Nuwwarah: No, I don't see why they would.
Rinkema: I doubt we'll see Ferguson ever again, but if I am to believe the rumors that have been surfacing then this might be Lederer's year to return. While I think his reentry into poker will be met with lots of anger and potential berating at the table, I think he might suck it up and play. Am I a fan of this move? No. Is there anything we can do about it? No. But at least we can hope he bricks every event to give some money back to the community.
Derbyshire: I have it on good authority that Lederer wants to apologize to the poker world and return to playing tournaments at the 2016 WSOP, but I don't think we'll ever see Chris "Judas" Ferguson again.
Want to stay atop all the latest in the poker world? If so, make sure to get PokerNews updates on your social media outlets. Follow us on Twitter and find us on both Facebook and Google+!