2019 World Series Of Poker: PokerNews Staff Predictions (Part Two)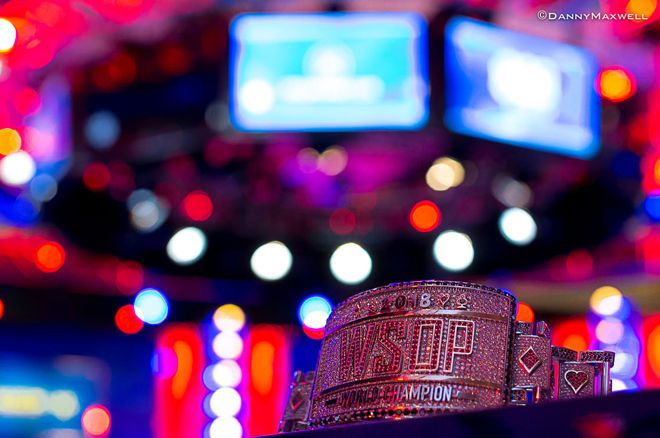 Summer is coming and that means it's also time for annual poker pilgrimages to hot and sunny Las Vegas where poker players the world over will try their luck - and skill - at the World Series of Poker. This year is likely the last chance to play the seven-week poker festival at the Rio All-Suite Hotel & Casino, making the 50th anniversary all the more special.
With a robust bracelet event schedule, players numbering in the thousands and some of the biggest tournament fields around, it's nearly impossible to predict what will unfold during the series, but that doesn't stop the PokerNews staff from giving it a go. With dozens of years in poker media under our collective belts, we're making some bold predictions for what's to come... Who will snag their first gold? Which events will crush? Who will go deep again in the Main Event? Who will win POY?
Our team of prognosticators includes iBus Media Head of Content Frank Op de Woerd, Global Live Reporting Manager Yori Epskamp, Head of Video Sarah Herring, PokerNews Strategy Editor Martin Harris, U.S. Live Reporting Manager Chad Holloway, staff editors Mo Nuwwarah and Valerie Cross, PokerNews contributor Paul Seaton, and seasoned tournament reporters Tim Duckworth, Jan Kores, Will Shillibier, Shirley Ang, Aaron McBride and Jason Glatzer.
Check out some of our projected outcomes for the 2019 WSOP below, and see which ones you agree with.
---
Which of the new events will be deemed the biggest success and stick on the schedule for the coming years?
[$10K Short Deck, various sub-$1K Deepstacks, expanded online schedule, $1K Mini Main, Salute to Warriors, $1,500 Bracelet Winners Only]
Jason Glatzer: I think many of these events will stick on the schedule but the $1K Mini Main Event is an amazing concept and will be one that is most likely to be seen in years to come. I would love for it to move as close as possible to the same structure as the Main Event.
Aaron McBride: The Short Deck event is very likely to stick around for years to come. The new variation has shown to be extremely popular with the high stakes players and is increasingly gaining traction online as well.
Mo Nuwwarah: I think Short Deck and the Deepstacks have the most staying power, the former because it will continue to attract entries from the high rollers, and the latter because WSOP appears to be committed to trying to pull some lost low roller traffic that's been populating rival events at Wynn and Venetian.
Tim Duckworth: I don't believe that there is a direct correlation between biggest success and staying on the schedule. Number wise, the $10k Short Deck will be the smallest sized field of all these events, but that event is likely to stay. If some tweaks were made to the Salute to Warriors in the future, I think that event could have some staying power. Maybe a different spot on the schedule to coincide with Father's Day and the senior events would boost numbers, and maybe a stronger donation ($40 of each $500 entry will be donated to the USO and other veteran organizations) would cause more players to get behind the event.
Sarah Herring: I think the Mini Main, while it might provide less value than people are thinking, has the easiest marketing and concept to pursue moving forward. I believe all the small buy-in Deepstacks will do well but just the ring to Mini Main guarantees its place in future schedules.
Will Shillibier: $10k Short Deck for sure (especially if my 200+ prediction comes true). That being said, as gimmicky as it is, I'd love for the Bracelet Winners Only to become a regular thing.
Shirley Ang: The $1k Mini Main will probably be the one to stick around for a while. It's a turbo, "only" $1k to enter, finishes in two days; quick and easy to get in and out for a lot of players with a possibility to win some good money at the end of the road.
Chad Holloway: The "Big 50" will be the most successful of the new events, but it won't return as it's promotional in nature to celebrate the 50th anniversary. One event I expect to return in the years to come is the rakefree bracelet winners only. It should be a fun event filled with familiar faces, and it'd make for some good tv.
Jan Kores: The mini editions of marquee events are very popular online, and I don't see why they wouldn't also work live. I feel the Mini Main is going to earn its permanent slot on the WSOP schedule, which should've happened a decade ago.
Paul Seaton: I can see the Salute to Warriors attracting a lot of positive attention and it's a great idea, but Bracelet Winners Only has a Tournament of Champions feel to it and I'm surprised it's not already a fixture since the WSOP moved to the Rio. I can see Deepstacks falling off the shelf next year, just because so many other casinos in Vegas have that covered at those buy-ins.
Frank Op de Woerd: I can see all of them return to the schedule, as I think all of them make a ton of sense. The expanded online schedule is something heavily relying on the interpretation of the Wire Act, but all others are great additions. The $10K Short Deck is something that will return because Triton, Poker Central's high roller series, and online will push the format. The Salute to Warriors always does well with the American audience, a $1K Mini Main Event is an event that's been mentioned by fans for years, and the Bracelet Winners Only event just makes sense from a marketing perspective.
Martin Harris: On the surface, the $1,000 buy-in Mini-Main might seem like just a bit of creative branding. Still, I think it might actually be quite popular, making it a likely candidate to return in the future.
Yori Epskamp: The sub-$1k deepstacks will undoubtedly be successful, but if I had to pick one of these it's going to be the Mini Main. Even though it's a tad too turbo-y with 30-minute levels, folks are gonna love it because of the name alone. Being the warm-up just before the actual Main Event, it will draw a bumper field and proud faces all around just for cashing it.
Valerie Cross: There's been a lot of talk about the Big 50 already. Even though it's on the schedule as a commemoration of the 50th anniversary of the WSOP, I think this one will stick around. I've already heard of several recreational players planning on making a trip specifically to play in that one, including some people who have never or usually don't make it out to the series.
The $1K Mini Main for those who can't afford a $10K is also sure to attract heaps of recreational and amateur players who might make this one their big shot of the year, which like the Big 50, also adds value to attract the pros. I think we'll see both of these on the schedule for years to come.
---
Which established pro will finally win his/her first bracelet this year?
Jason Glatzer: This is a tough one as I already mentioned that I think Bart Lybaert will have a breakout year and that I believe Matas Cimbolas could bring WSOP gold to Lithuania. Although Adam Owen didn't fit into either of the categories of the other two players mentioned, I feel he is the most likely to win his first bracelet.
Aaron McBride: I'm sure my colleagues will also have mentioned this player, but I hope it's the year for my fellow Brit, Stephen Chidwick. With two live victories already to his name in 2019, I have my fingers crossed for him this summer.
Mo Nuwwarah: My stock answer every year I've done this (since 2015?) has always been Stephen Chidwick but I finally have to go away from my guy because he might be pulled away by high roller action at ARIA. Dario Sammartino is a player I didn't think of as a mixed-game guy but he really impressed me with his prowess in a variety of games last year. I'll call for him to break through in 2019, likely in a non-hold'em event.
Tim Duckworth: My vote is for the WPT End Boss Darren Elias. He is the only player with four WPT titles and leads WPT rankings in final tables and cashes. I've had the opportunity to follow him on the WPT tour for several years now, and he possesses all the skills that will earn him his first WSOP bracelet in 2019.
Sarah Herring: The obvious answer here is Dan Smith. And while that is TOTALLY deserving, I'm going to go with someone who is more notorious for playing slightly lower stakes. It seems every time I do a podcast Maurice Hawkins is either winning another WSOP-C ring or he is at the final table. He is very well versed at the low buy-in, large field market and I think he is way past due for a bracelet to go with his rings.
Will Shillibier: I'm going to punt for some no limit guys, against my better judgment. Michael Soyza and Ali Imsirovic.
Shirley Ang: Everyone will go for Stephen Chidwick right? Let me change it up and say Alex Foxen. I was there in 2017 when he cashed fourteen times in the Rio which included two final tables. In 2018, he "only" had four but still had an amazing year overall. I think it's time he adds a bracelet to his wrist as the last tournament he won was in Vegas anyway.
Chad Holloway: Allen Kessler. What a glorious day it will be.
Jan Kores: This should be a qualifier for eligibility to contribute to this article. If you didn't say Stephen Chidwick, you shouldn't have been asked in the first place. Sorry, that's the rule. Last year was absurdly packed with high rollers, so Chidwick was busy winning millions elsewhere. Now it's time for him to put this silly injustice to bed.
Paul Seaton: I hope for Sam Trickett, just because if he plays a heavy schedule, then he really has a great shot and should have a bracelet by now. But EDC is on and Sam is such an impulsive guy he could just as easily boss cash games and take a life experience attitude to the WSOP. I'll go with Jason Koon. He's had an insane last 12 months and I think he's in the period of his career where he has maximum commitment to playing tournament poker.
Frank Op de Woerd: After going with Chidwick for years, this year I'll go with Kenny Hallaert. He's made the WSOP Main Event final table, he's gone deep in numerous events, but he doesn't have bracelet gold yet. He's not only known as a fierce player but also as the guy making the Vegas summer schedule and a respected tournament director. Hallaert has been going to Vegas for years, I feel it's his time this year. Other favorites are Jason Koon, Luc Greenwood, Steven van Zadelhoff, Bart Lybaert, and I'm sure I'm still forgetting about a ton more.
Martin Harris: I've been reading and enjoying Jonathan Little's articles here for years now. He's come close before, making six final tables with a couple of third-place finishes. I'll say this is the year he gets there.
Yori Epskamp: Adam Owen will cash in all that karma built up over the years and, bolstered by Tottenham winning the Champions League, bring a cute little bracelet home.
Valerie Cross: There are plenty of good candidates for this one, but I'll go with Jonathan Little. He's been a top pro in the game for over a decade, has been crushing on the coaching and poker teaching front, and I think it's time he fills the bracelet gap on his resume.
---
How many players will enter the Main Event? Will it be up or down from last year's 7,874?
Jason Glatzer: I think we will see the field increase once again in the Main Event but not by a lot. My best guess is that there will be 8,125 entrants in the field.
Aaron McBride: I believe it will be up from last year and I'm going for 7,990.
Mo Nuwwarah: It seems to just keep going up in recent years. At some point, that's got to stop but it sure doesn't feel like it will at the moment. Up, and it crosses the 8K mark with 8,045.
Tim Duckworth: In 2018 we saw a whopping 7,874 players take a seat in the WSOP Main Event, and it's hard to argue that the poker industry has taken a step back in 2019. Consequently, my hope is that we trickle up and hit the 8,000-player mark for this year.
Sarah Herring: I've been a naysayer the last few years on my predictions and I have been wrong. I always think the number will decrease. But this year, I would like to be a glass half full gal and say… 8,112.
Will Shillibier: Last year I took the over, and this year I'm predicting another increase. 8,200.
Shirley Ang: It seems numbers have been going up everywhere so I'm predicting it will be the same for the Main Event this summer. I'm going to be a bit optimistic and go for 8,133.
Chad Holloway: It's going to be up from last year – good economy and all – and I'm going to say it cracks 8K runners. I'll say 8,087 to be exact.
Jan Kores: Down, a coin flip decided. The most random number I could come up with is 7,729.
Paul Seaton: Up, but not by that many. I'll go with 8,000, that's coincidentally exactly the same as the number of three-bets by last year's champion, John Cynn, at the final table.
Frank Op de Woerd: It's going to be up slightly, now 7,912.
Martin Harris: Last year's big jump from 7,221 (2017) to 7,874 (2018) was surprisingly large. While I can't imagine a similarly-sized increase this year, I'll be optimistic and say it will go up yet again though by less. I'll guess 8,037 players take part.
Yori Epskamp: Given the trend over the past years, as well that it's the 50th-anniversary edition, I'm going out on a limb and put the total number of players at 8,286. Even with a starting day on July 4th, it's going to be massive all-around and see a big spike compared to last year.
Valerie Cross: Last year's 7,874 was second only to the field in 2006 which was the height of the poker boom. I think we may be headed back to that height, so I'll say it'll be up. Last year was up nine percent year over year. It's hard to sustain that kind of growth but I'd say it could go up around four percent so that would be 8,189.
---
What former Main Event final tablist will return or get closest to returning to the ME final table in 2019?
Jason Glatzer: I believe we might see Antoine Saout return to the Main Event final table for a third time after taking third place in 2009 for $3,479,670 and fifth place in 2017 for $2,000,000. In between both of these amazing runs, he also finishing in 25th place in the Main Event in 2016 for $269,430.
Aaron McBride: Like I mentioned before I cannot rule out Joe Cada once again making an appearance. But I also think Benjamin Pollak will be a good shout for making a deep run in the Main Event once more.
Mo Nuwwarah: Dan Sindelar because I had to get a Nebraska guy in here somewhere.
Tim Duckworth: I can see a storyline during July where Joe Cada is making another run at reaching the final table in back-to-back years like Dan Harrington or Mark Newhouse. I think Cada will fall short and finish in say 15th place, but like last year, he'll pick up another late-schedule bracelet and become one of the stories from the 2019 WSOP like he did in 2018.
Sarah Herring: I'm going with not just a final tablist, but a Champ. Riess the Beast! He has been playing consistently and taking chances in High Rollers and with the best. He is constantly looking at mistakes and improving his game. And now that he is a dad, he is extra hungry. Here is an interview from 2018 WSOP-E (where he finished 4th in the Main, won the 10K Turbo and jumped into a 100K) that had me very excited to see him play in 2019.
Will Shillibier: Tricky one. The sentimental person inside of me would like Mark Newhouse to get a third crack of the whip.
Shirley Ang: There's so many to choose from! If I have to pick one, Jack Sinclair then as he won the WSOPE last year. I'll be looking to all the Instagram stories he'll definitely be posting on his road to the final table.
Chad Holloway: Alexander Lynskey finished 7th last year and I won't be surprised to see him make another deep run this year. Out of last year's finalists I expect him to last the longest in this year's Main Event.
Jan Kores: Vojta Růžička. What else would you expect me to say.
Paul Seaton: I have a feeling for Jack Sinclair, who got close to glory two years ago. He came into that final table a little short, but if he can chip up on the approach this time, he'd be my tip for the ultimate bracelet.
Frank Op de Woerd: Let's go Kenny Hallaert!
Martin Harris: I feel like Jack Sinclair has to be a favorite for this one. Since finishing eighth in the 2017 WSOP Main Event, Sinclair has added a World Series of Poker Europe Main Event title to his collection of achievements. He may not get back to the final nine, but he's a good bet to get closest of any of the other former final tablists.
Yori Epskamp: David "Chino" Rheem. There, I said it.
Valerie Cross: I like Sylvain Loosli for this too, but I'll go with Alex Lynskey, the always focused and consistent Aussie. He'll be hungry to improve upon last year's seventh-place finish, I just know it.
---
Who will win WSOP Player of the Year?
Jason Glatzer: Daniel Negreanu is my favorite to win the WSOP Player of the Year. He appears to be hungry to win the award and has even changed his plans to play in smaller events. He would also be my pick to be the first player to get in a childish Twitter argument as he has done a few times already this year.
Aaron McBride: Deeb, Daniel Negreanu, and John Hennigan will likely take a shot at it again. Or maybe this could be Mike Leah's year.
Mo Nuwwarah: Will Daniel Negreanu's new strategy of playing smaller events pay off and result in his return to the top? I'm going to guess no, and I'll say underrated draw legend Chris Vitch does it with a double-bracelet performance.
Tim Duckworth: I mentioned Shaun Deeb earlier having his ego power his run at claiming back-to-back WSOP Player of the Year awards. However, if I had to choose someone else, I would lean towards someone that will play a high volume, can play all the games and all the buy-ins, and with some luck, can capture a couple of WSOP bracelets. Ben Yu falls into this category, and if the results fall his way, he'll be the next WSOP Player of the Year.
Sarah Herring: I nearly got it with Ben Yu last year, so I probably have no chance this year. But for similar reasons, I am going to choose Calvin Anderson this year. Cal is a fantastic player who has a bracelet in Razz and one in Stud. He also came in runner-up for the 2016 Little One for One Drop. He can play all the variants. He has a bankroll to support himself. He has a wonderful attitude and supportive friends/girlfriend.
Will Shillibier: Shaun Deeb. Back-to-back. Immediately starts selling his 2020 WSOP package.
Shirley Ang: It looks like Daniel Negreanu will be trying very hard again to win it but with all the poker twitter drama lately, it wouldn't surprise me to see Shaun Deeb trying really hard to make sure it doesn't go to Negreanu. Deeb for back to back POY?
Chad Holloway: Mike Leah. He's a guy who knows all the games and plays all the tournaments. He's always hovering near the top of the WSOP POY race and I think this is the year he breaks through.
Jan Kores: Recreational poker player Brian Hastings, just ahead of Shaun Deeb.
Paul Seaton: Anyone but Ferguson, although the fear is that Jesus finds a miracle again. Sadly, this is driven by the volume of min-cashing for points in recent years. I'll go for Koon thanks to his performance in the biggest events and dedication when he has the bit between his teeth, but I'm hoping for anyone but the man in the outdated cowboy hat.
Frank Op de Woerd: I'm a gambling man, so I'm going with Roland Israelashvili. He plays a ton and is willing to go to the WSOPE to collect more points when needed.
Martin Harris: There are many candidates, but I'm going to pick Mike Leah as he seems like he's always in the running for this one.
Yori Epskamp: It's going to be Shaun Deeb and it's not going to be even close with the others. Deeb all the way.
Valerie Cross: I'd say odds are on Shaun Deeb or D Negs. They both plan to grind hard and play the full range of buy-ins on the schedule for the purpose of chasing POY points. Deeb has a title defense on the line and would be the first to win the honors back to back, while Negreanu wants to become the only three-time POY before someone catches his record of two titles.
That said, Negreanu will be newly married and while I'm sure his soon-to-be bride understands what's required to chase POY during the series, I think he may also find some ways to be distracted - not necessarily a bad thing, but it won't do any good for his chances at POY. Meanwhile we all know Deeb is ready to do whatever it takes and I think his cutthroat behaviors will serve him well in this race.
---
Any other bold prediction?
Jason Glatzer: I believe we will see two women on the WSOP Main Event final table. This prediction may be too bold as surpringly the only time a woman was at the final table was more than two decades ago when Barbara Enright took fifth place for $114,180 in 1995. The field sizes were also much smaller back then with just 273 entrants or the fraction of the 7,874 that battled it out last year.
Aaron McBride: Kevin Martin to win a bracelet! Despite his known online skills, the Canadian has been crushing his local live tournament scene over the past year.
Also, the last ever WSOP at the Rio!? That remains to be seen.
Mo Nuwwarah: Chris Moneymaker winning a bracelet after not cashing in a WSOP event since 2007 isn't bold enough? I'll just reprise my prediction from the start of the year: this will be the last WSOP held at the Rio.
Tim Duckworth: Erik Seidel captures two bracelets and joins Doyle Brunson, Johnny Chan, and Phil Ivey with ten bracelets to create four-way tie trailing Phil Hellmuth in total WSOP bracelets.
Sarah Herring: The year of growing up. Being in the industry about a decade, the first few years a lot of us partied a lot. The second few years, well, we still partied a lot. Then people started thinking about physical health. Soon after that mental health followed. Now, with many of us entering midlife, poker players I know are starting to get married, have kids and wake up early. I think this will be the summer many of us realize we are family people.
Will Shillibier: An announcement regarding where the 2020 WSOP will be held. The return of the WSOP APAC. A Tom Dwan sighting for the $10k Short Deck. It's gonna be a great summer.
Shirley Ang: Everyone is going to stack in 20s! Haha, I can dream right? If I can keep on dreaming, the headphones and charger guys in the hall ways are gone, the airco is at a comfortable temperature for everyone, no visible butt cracks when people get massaged, everyone has showered in the morning before coming in, and everyone is semi-nice to each other. We're all going in for a long summer, some are going to be there longer than others, let's just be kind to everyone if possible. Players, tournament staff, media, the Rio staff, everyone!
Chad Holloway: The Casino Employee event is near and dear to my heart and I love the changes they've made including more starting chips and longer levels. After some years of attendance decline I look for that tournament to bounce back. Also I did say Allen Kessler will win a bracelet, so that's pretty bold.
Jan Kores: Mark my words: Michael Sklenička will make the Main Event final table.
Paul Seaton: The Rio to be closed for at least one day due to the air conditioning breaking down. It's a running gag that over the 15 years the Rio has been the venue, players have felt more like they're in Winterfell than Las Vegas, so I think the ironic chance of the air con failing mid-series and play having to be postponed due to heat-related illness is high. Take a portable fan! 🙂
Frank Op de Woerd: Someone is going to outdo Phil Hellmuth and Randal Emmett and make an even bigger entrance in the WSOP Main Event. Half of the field is rolling their eyes, the others are putting it all on Instagram Stories and Snapchat. It's going to be huge - I just don't know what it exactly is yet.
Martin Harris: Two women will make the final three tables of the WSOP Main Event this year (i.e., will be among the final 27).
Yori Epskamp: Phil Hellmuth will sit down quietly at the start of the Main Event, simply wishing his table mates "good luck" before play commences.
Valerie Cross: I think this may be the last year without shot clocks in nearly every event - at least in the final stages of tournaments. The benefits are too great and the trend has to pick up at the world's biggest poker festival eventually.
I'll also "boldly" predict a woman makes the Main Event final table this year. I think the ladies' numbers will be higher than ever for the Main this year, and I also think it's time. In the final days of WSOP, I predict a lot of sarcastic farewells to the Rio on Twitter. I personally won't miss the "Frio" as I like to call it... It's Spanish, look it up.