2015 World Series of Poker Predictions: Colossus Will Soar, Ivey To Disappoint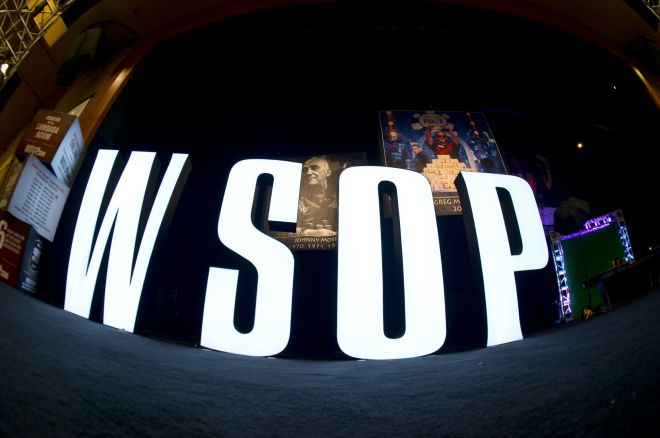 The 2015 World Series of Poker kicks off Wednesday at the Rio All-Suite Hotel and Casino in Las Vegas. Here at PokerNews, we're as excited as anyone about the summer ahead, when history will be made, dreams fulfilled, and fortunes won.
As we enjoy doing every year leading into poker's most prestigious festival, PokerNews has laid out some predictions for what's to come. This year, our team of staff analysts include PokerNews Editor-in-Chief Donnie Peters, Managing Editor and resident WSOP bracelet winner Chad Holloway, Strategy Editor Martin Harris, PokerNews.NL Editor Frank Op de Woerd, PokerNews.UK Editor Matthew Pitt, staff writer Mo Nuwwarah, and contributor Marty Derbyshire.
Here are the 2015 WSOP PokerNews Staff Predictions.
1. How many players will enter the Colossus?
Peters: 21,480. The Colossus is going to be huge, and it will no doubt break records for the largest live poker tournament ever held. I still believe the WSOP should've gone with a $15 million or $20 million guarantee event with a $1,500 buy-in, though. The field size for this event will make all the headlines, but the $5 million guarantee on the Colossus has a half-percent chance of not being met.
Holloway: 13,900. I heard more than 6,000 were preregistered, so it could very well be a lot more than my guess. I'm just taking a conservative line.
Harris: Todd Witteles recently tweeted "Guessing # of current entries in Colossus right now is like guessing # of jelly beans in a big jar," and I wholly agree. Rumors — or just idle chatter — about 20,000 playing seem hard to fathom. I'll guess 17,819 jelly beans.
Op de Woerd: I'll make a bold statement and say it's going to be the biggest poker tournament ever held. I'll go with 22,000.
Pitt: The Millionaire Maker almost topped 8,000 last time out, and I think this one will crush that figure. I'll say 15,000 and won't be surprised if it gets another third on top.
Nuwwarah: 16,000.
Derbyshire: I've heard anywhere up to 20,000 and no one has any doubt this will be the biggest live event in poker history. However, I'm going to conservitavely say 12,500, take the over, and avoid trying to use the Rio restrooms during breaks in all four starting flights.
2. Which non-Main Event tournament are you looking forward to most and why?
Peters: If we're talking non-Main Event tournament of the summer, it's without a doubt the $500,000 Super High Roller Bowl held down the street at ARIA. If we're sticking to within the walls of the Rio, I'm most looking forward to the $25,000 Pot-Limit Omaha High Roller. Four cards, lots of action, $25,000 on the line, and plenty of big names will be grabbing all of my attention.
Holloway: The Colossus is sure to be special, but for me, the event I'm most looking forward to is the WSOP.com Online No-Limit Hold'em event. It's a revolutionary idea, and I'm anxious to see how it resonates with the players.
Harris: The Colossus is obviously going to be interesting, primarily to witness the logistical acrobatics needed to accommodate the largest-ever WSOP tournament field. The $1,500 DraftKings 50/50 No-Limit Hold'em will be curious to see in terms of strategy thanks to the unusual payouts. But again for this fan of non-NLHE games, the $50,000 Poker Players' Championship is the non-Main Event tournament I'll follow most closely from start to finish.
Op de Woerd: Besides the Colossus, the $1,500 Extended-Play No-Limit Hold'em tournament is interesting to see. I'm wondering if its going to steal some players from other events. But I'm really looking forward to the $111,111 One Drop High Roller and the $50,000 Poker Players' Championship. Those always have my special interest — the biggest names, the biggest stakes.
Another event I'm looking forward to is the $500,000 Super High Roller Bowl at the ARIA. I know it's not part of the WSOP, but it's during the same time frame, and I can't wait to see how that goes.
Pitt: The Colossus aside, I'm looking forward to the $111,111 One Drop High Roller purely for the fact it attracts the biggest names in the business. The 2013 edition drew 166 players, and I can see this year hitting 200 with super high roller events seemingly being the norm around the world.
Nuwwarah: Other than the one I'm going to win (to be determined), I'll say the $10,000 Dealer's Choice Championship. Covering the first-ever dealer's choice event was an awesome experience last year, and it will be interesting to see how the players approach it against presumably mostly elite opponents.
Derbyshire: I'm going to have to go with the Ladies' Championship. Mostly because of the fact that unless some frat boy in drag on a dare avoids a final table lynching and wins it, this event guarantees me getting one bracelet closer to correctly predicting 2015 will be "The Year of the Woman" at the WSOP. But also because the camaraderie in the Ladies' Championship is unparalleled and always fun to watch. Plus, it's really the only time the Rio doesn't smell like the men's locker room at the Y downtown.
3. Who will win WSOP Player of the Year?
Peters: I think this is Bryn Kenney's year. I like him to follow up from his first gold bracelet win last year with another this year and a lot of final tables.
Holloway: I'll go with Phil Hellmuth. He puts in the volume and knows all the games. The WSOP is his time to shine.
Harris: I'll take Scott Seiver, who recently took over the lead in the Global Poker Index rankings and is coming off a hot European Poker Tour Grand Final where he cashed five times, making three final tables and winning once. I make the pick despite his having recently said his "plans for the WSOP are completely up in the air" (indicating he might play a limited schedule of higher buy-in events?).
Op de Woerd: Jason Wheeler. Picking a mixed-game player might be smarter, picking someone who plays all the big buy-in events might be the wiser choice, but I go with my man Wheeler. He's just coming off a win in the World Poker Tour Amsterdam High Roller and he's super focused.
Most players I talk to see the WSOP as something they have to do, they can't pass up on the value. Not Wheeler, though, he's really looking forward to the grind and is as prepared for it like no one else.
Pitt: Mixed-game players traditionally do well in these races due to their tournaments being smaller than the NLHE events, so I have to go with someone who will play a variety of events. I'd love to see Stephen Chidwick have a great series. If "Stevie444" can have a series like he did in 2013, then he'll be in with a legitimate shot, but don't rule out Daniel Negreanu or George Danzer, either.
Nuwwarah: Chidwick. He seems to be both well-rounded and consistent.
Derbyshire: Maria Ho is primed for a huge year and will lead the charge in making 2015 "The Year of the Woman" at the WSOP by winning her first bracelet and becoming the only three-time last woman standing in the Main Event by earning a spot at the final table. Heck, she might even win the whole thing. She runs deep in multiple events year-in and year-out, and she will come in this year focused and on the verge of something huge, like a WSOP Player of the Year title.
4. Who will win the $50,000 Poker Players' Championship and the $111,111 One Drop High Roller?
Peters: John Monnette will win the $50,000 Poker Players' Championship. Keeping in line with my prediction for WSOP Player of the Year, I'll take Bryn Kenney to win the $111,111 One Drop High Roller.
Holloway: I'm going to go with Matthew Ashton winning the $50,000 Poker Players' Championship for the second time. Last year he missed a lot of the WSOP to attend the World Cup, but I have it on good authority he'll be playing a ton this summer. As for the $111,111 One Drop High Roller, I'll go with Brian Rast. He sure does live life in the Rast lane!
Harris: Kenney for the $50,000 Poker Players' Championship, and Byron Kaverman for the $111,111 One Drop High Roller.
Op de Woerd: I'll go with Daniel Alaei. He's playing online quite a bit again, and always has been one of my favorites. To be honest, though, its just a random pick. Anyone ponying up $50,000 to play in this tournament is either very rich and a fan of the games, or one of the best. Both are good qualities to have, but I prefer the latter.
Pitt: I'm hoping for some great British performances in these events. I'm going to go with Ashton for the $50,000 Poker Players' Championship because you can never write such a talent off, plus he's been super quiet (no cashes) in 2015 so far.
As for the $111,111 One Drop High Roller, this is a long shot but I'm going with Charlie Carrel. The kid is an amazing talent and a complete unknown quantity in these circles. Simon Deadman said that Carrel is super intelligent and will be one of the top 10 players in the world in the next couple of years. This will be by far his largest buy-in event, but he's on a roll right now, and I'd love for him to crush this field.
Nuwwarah: Scott Seiver will win the $111,111 One Drop High Roller. He seems to be on a roll in high rollers lately. It seems like a veteran usually takes the $50,000 Poker Players' Championship. I'll go Negreanu, he's been working on his 8-game on his stream.
Derbyshire: I'm going to stray from my theme on this one a little. Melissa Burr was the first woman in history to reach the final table of the $50,000 Poker Players' Championship last year, and I think it would be a stretch to pick a woman to win the whole thing just a year later. Baby steps, ladies. I'm going with Phil Ivey. He plays all the games like a champ and remains motivated to win big buy-in tournaments, especially one with a trophy bearing the name of his late friend Chip Reese.
However, I will return for the $111,111 One Drop High Roller. If there's one female player who has the skills and bankroll to take on poker's elite in this event, it has got to be Vanessa Selbst. She made third in a $100,000 buy-in event at the PokerStars Caribbean Adventure last year and if she turns the other cheek and avoids all drama with the Evil Empire this summer, she looks ready to take the next step in these nosebleed events.
5. Which big-name pro will be the biggest disappointment?
Peters: Jason Mercier is coming off a hot PokerStars Spring Championship of Online Poker, but he'll have a bad summer in Las Vegas.
Holloway: Ivey. I have it on good authority he doesn't have any bracelet bets, so the motivation isn't there. Plus, he plans to spend some time in Macau, and when in Vegas will be prone to stick to the cash games.
Harris: Not a fan of this question, as it isn't really reasonable to call a one-series drought at the WSOP disappointing. I'll answer Antonio Esfandiari, who after a couple of monster years only had one small WSOP cash in 2014.
Op de Woerd: Ivey. He isn't as focused as he used to be. Maybe he has bigger games, bigger things, bigger bets to worry about? He's even doing interviews with PokerNews these days. He's a mark online, and I don't think he has any bracelet bets to keep him motivated. Unless he wins an event, it will be a disappointment to people as most still see him as the best. If he doesn't play as much as he used to, it's a disappointment as well. It's hard to live up to the dream if you're Ivey.
Besides Ivey, I think anticipation for a guy like Fedor Holz doing well is unrealistic. Of course he's one of the best in the world, of course he's very mature for his age, and of course he's a smart guy, but you only know what Vegas can do to you after you've really done it. I've seen countless guys doing well in Europe go to Vegas for their first time with big expectations, only to get tired of the grind and sick of the variance. I hope things will be different for Holz, but I fear the worst.
Pitt: Although he's won a bracelet in each of the past two years, I'm going with Davidi Kitai. I love how he reads players, makes huge calls for his entire stack, and like watching his weird style of play, yet I have a feeling he's going into this WSOP with high expectations — expectations that won't be met.
Nuwwarah: Ivey. I covered the EPT Grand Final, and I'm not sure I even saw him there. Tournaments seem to be very low on his priority list right now.
Derbyshire: When you have 13 bracelets, celebrity name drop on Twitter almost daily, and run around telling everyone who will listen that you are the greatest poker player in the world, anything short of a bracelet win means dissapointment. I think Hellmuth gets shut out this year. The fact is, we've all seen him berate other players, be short with fans, and rude and egotistical with the media. Treat that many people that badly and karma is bound to catch up one day. This could be one of those summers where it does for Hellmuth and he struggles to make a Day 2, celebs start avoiding him like the plague, and he floods the Twitterverse with whiny bad beat stories instead. Honey?
6. What unknown player will breakout and make a big impact?
Peters: Ben Heath. I would name Carrel, but he's already a bit of a name in poker after his recent success, so the breakout factor is rather small in my book. That said, I'll go with his good friend Heath, who is a very, very solid player in his own right. I also believe these two are sharing a house with Greg Merson and Tony Gregg, and those are certainly two poker minds you'll want to gain knowledge from during the summer.
Holloway: Samantha Abernathy. She's just venturing into the poker spotlight, and I have a feeling we'll see her make a name for herself at this year's WSOP.
Harris: Joao Vieira of Portugal isn't unknown in Europe where he just finished Season 11 second behind Dzmitry Urbanovich in the highest-tier of the EPT Player of the Year rankings. Not sure of his WSOP plans — he's never cashed there before — but I'll select him as one who'll do well should he play.
Op de Woerd: If he's really unknown, how would I know him? Most guys I know that aren't known to the public are no-limit hold'em players, and we all know how hard it is to have a break out year if you're just playing hold'em. Maybe Adrian Mateos or Fedor Holz can do what I don't expect them to do. If they do, I at least can tell you "I told you so" because I mentioned their names in here.
Pitt: Again, I'm going with Carrel. There aren't many out there who realize just how good this kid is. Remember when Jeff Madsen burst onto the scene a few years back, Carrel has the ability to eclipse that amazing run. I just hope that Carrel doesn't get drawn into the whole "I'm in Vegas" thing because he's going to be surrounded by distractions. That said, he does seem to be extremely professional in his approach to the game. I'm genuinely excited to see how he gets on.
Nuwwarah: I don't think it's really possible to predict a Melissa Burr-like breakout, but an up-and-comer who might make a big impact is Carrel. After covering his EPT High Roller win, I could see him making noise this summer.
Derbyshire: Two deep runs in the Canadian-based events on the World Poker Tour over the past year have Toronto's Lu "Chanel" Zhang feeling like she's ready to take on the best in the world and word has it she'll be heading to the WSOP to prove it. She narrowly missed the final table in Niagara Falls and was aces holding away from a commanding chip lead three-handed in Montreal earlier this month, eventually finishing runner-up. She's flown under the radar so far, mostly due to the fact the WPT TV cameras don't travel north of the border much, but the Chinese-born Canadian runs good, plays better, and should find her way into the spotlight at the WSOP this summer.
7. Will Phil Ivey, Daniel Negreanu, Phil Hellmuth, or Erik Seidel win a bracelet?
Peters: This foursome is just too good to say no to. Yes, between the four of them they'll win a bracelet, and they'll likely win more than one.
Holloway: Yes. If I had to pick, I'd say Hellmuth will get No. 14; however, I wouldn't be surprised to see Negreanu snag one.
Harris: Looking only at the WSOP in Las Vegas, Negreanu's last was 2008, Erik Seidel's 2007. Hellmuth won one in Las Vegas in 2012, and Ivey won one last year. I'll say no.
Op de Woerd: I am not really good at statistics. One might say, I suck at them. When Ivey and Negreanu first came out with the bet last year, I thought they were mental. A lot of guys who are really good with numbers didn't take the bet, so I assume they did the math. So I'd say yes, one of them will win a bracelet this year.
Pitt: You can't write off any of these players. I'd love to see Hellmuth win another as to wind up the anti-Hellmuth brigade, plus I'm a big Hellmuth fan. I do think Negreanu is the most likely of that quartet to bag some gold, though.
Nuwwarah: I picked Negreanu for the $50,000 Poker Players' Championship, so I'll go yay on him, nay on the others.
Derbyshire: Three out of four ain't bad. I like everyone but Hellmuth to score gold this summer. I certainly wouldn't bet against three of the best to ever grace the WSOP felt, and Negreanu, Ivey, and Seidel are all on that list. Hellmuth will be the first to tell you he is, too, but I just don't think it's his year.
8. Will Allen Kessler or Tony Cousineau win a bracelet?
Peters: There's a greater chance of the Colossus falling short of the guarantee than either of these two winning a gold bracelet.
Holloway: No. The streak of these two coming up empty handed will continue. I'll say that between the two of them they'll make three final tables, but won't finish higher than sixth place.
Harris: WSOP.com lists Kessler having 37 WSOP cashes and Cousineau 68, with the latter owning the record (by far) for most times in the money without a win. Cousineau's best was a fourth-place finish, while Kessler's gotten to heads-up three times. Would love to see either do it, but I'll answer no again.
Op de Woerd: No, but does anyone really care? This storyline got old for me a couple summers ago.
Pitt: They're both great grinders and will walk away with plenty of cashes between them, but I don't see them going all the way and winning a bracelet.
Nuwwarah: I'm always inclined to take the field, so no.
Derbyshire: Is this question real? Multiple min-cashes: Yes. Bracelets: No.
9. How many players will enter the WSOP.com Online Event?
Peters: Everyone's number seems to be 1,000 players, but I'm not so sure. A $1,000 buy-in for an online event is a big price. Plus, this isn't PokerStars or another major online poker site that operates on the global scale. The player pool is restricted to Nevada, which isn't exactly a thriving poker market, and then there's the issue of players being unable to play from the same IP address unless at a Caesars property. That means if five poker players are living in a house for the summer, only one of them will be able to play the event. That's cutting the entries for that household by 80 percent right there, and I think this is going to be a fairly meaningful issue.
For all of those reasons plus a few others, I'll go with 547.
Holloway: 1,000. I'm skeptical. I just don't think the event will appeal to the average player. A great marketing campaign by the WSOP could change that, but that remains to be seen.
Harris: 1,116 players? Hard to have a feel for this one. Scheduling it late (July 2-4) will increase the field somewhat, as that will give more of those in Vegas a chance to get on the site beforehand, but I'm not sure how big of a draw this will ultimately be.
Op de Woerd: This is going to be a disappointment, though I admit not knowing the expectations from players and organization. The WSOP is not about online, despite all their effort to make it exactly that. I must say that I hope I'm wrong, because a big online event could give a signal to the world that Americans like online poker and want it back. I'll go with 2,000.
Pitt: I actually think this will be a huge anti-climax. Unless they've refined the sign-up and deposit system, then players will be put off. I was going to play on WSOP.com last summer and had to jump through so many hoops to give them my money that I simply didn't bother.
I'm not a fan of this event at all and don't think it should be on the schedule. I see why it is, but it shouldn't be.
Nuwwarah: 1,500.
Derbyshire: Hopefully enough to convince lawmakers that Americans love online poker and have a real lobby. Unfortunately, the $1,000 buy-in appears a little too steep to do that. Let's say 500.
10. How many players will enter the Main Event?
Peters: Based on the trends from other events, I think it'll be right around 6,480.
Holloway: 6,400. I think the Colossus is going to be the "Main Event" for a lot of low-stakes players. The real Main Event will do just fine, but I think with all the WSOP's new offerings it will take away from the cornerstone event a bit.
Harris: 6,774.
Op de Woerd: 6,721 — just a little more than last year.
Pitt: The average entrants over the past four years is 6,624, so it would make sense to go with that figure. However, I'm going with around the 6,150 mark. I think there will be quite a few players who play a lot of the lower buy-in events instead thanks to the new deeper stacks.
Nuwwarah: 6,800.
Derbyshire: The average has settled in at around 6,500 the past few years and should hit that mark again. However, I do think the number of women entering the Main Event will go up. It has hovered at around five percent of the field for the past five years and any jump up from there will only serve to cement 2015's status as "The Year of the Woman" at the WSOP.
Want to stay atop all the latest in the poker world? If so, make sure to get PokerNews updates on your social media outlets. Follow us on Twitter and find us on both Facebook and Google+!