2016 World Series of Poker Predictions, Part 2: Colossus and Main Event Numbers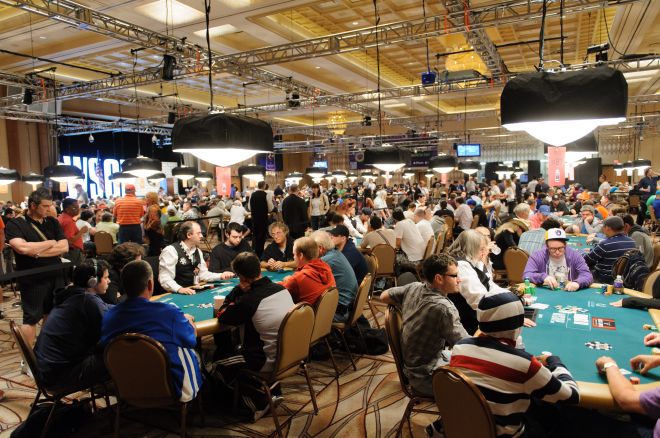 The 2016 World Series of Poker is here, with the 47th annual WSOP kicking off official gold bracelet play on June 1. The Rio All-Suite Hotel and Casino in Las Vegas will once again be home to poker's most prestigious tournament series all summer long, and this year there will be 69 official gold bracelet events.
It's without a doubt the most exciting time of the year, especially here in the PokerNews offices. As we enjoy doing every year, our team got together for a long list of 2016 WSOP predictions. For this year's edition of our predictions piece, our team of staff analysts consist of PokerNews Editor-in-Chief Donnie Peters, Strategy Editor Martin Harris, PokerNews.NL Editor Frank Op de Woerd, staff editor Mo Nuwwarah, Remko Report host Remko Rinkema, and contributor Marty Derbyshire.
These predictions were done in two parts. In the first part, we hit on big storylines, WSOP Player of the Year, big guns Phil Ivey, Daniel Negreanu, and Phil Hellmuth, and Howard Lederer and Chris Ferguson.
Now in the second part, we'll look at the Colossus and other events on the schedule, past champions, and more.
Here is the second batch of our 2016 WSOP PokerNews Staff Predictions.
11. How many players will enter the Colossus?
Peters: 35,400 entries this year. Just taking the average entries per flight from last year and multiplying it by the six starting flights this year would give you over 33,500, and knowing the WSOP is always about being "bigger and better" you would anticipate they'd push the heck out of this thing to increase the per-starting flight entries. With two additional starting fights, an increased prize pool guarantee from $5 million to $7 million, $1 million guaranteed to the winner, the ability to forfeit a stack after Day 1, and players reaching the money at the end of Day 1, I would be extremely let down as an organizer if anything less than 30,000 was the final tally.
Harris: It'll be huge again, although I think there had to be a percentage of folks who took their one shot a year ago and won't necessarily return a second time. Let's say 19,574.
Op de Woerd: 24,000 entries. A little up from last year, which was already a huge succes. With the bigger guarantee it might draw some more gold seekers, though there are lots of other tournaments for them to play during the Series this year as well.
Nuwwarah: There's a bigger guarantee, so I'll go with a bigger field. Let's go 25,525, like we used to bet online to make it look more intimidating.
Rinkema: They need 14,000 entries to hit the guarantee, and last year there were already 22,374. I think we'll go north of 30,000 this year with a guaranteed $1 million first prize, and I'll be avoiding the Rio on the first starting flights! It will be mayhem, in the best possible way, and I hope the Colussus sees some big names go deep for a fun sweat.
Derbyshire: They'll draw the unbelievable, yet predicted number of 25,000, and hail the entire 2016 WSOP a tremendous success by early June.
12. How many teams and players will enter the Tag Team event?
Peters: Lots of people are excited for this one, and I think you'll see an average of 2.5 players per team. It has decent timing on the schedule that I think will help it attract a fairly big number for this event, and I'll go with 400 teams and 1,000 players.
Harris: The WSOP brass surely has a good idea how to answer this question, but I really don't. It's going to be somewhat big, I think, with that low $1,000 buy-in (split 2-4 ways). I'll guess 890 teams and 2,195 total players. This could be a curious one to follow, especially once it gets to the final table.
Op de Woerd: Since payouts will be calculated based on number of teams and be distributed evenly amongst teammates, I assume the best strategy is to have a small team of just two players. For really skilled players, really looking for EV instead of just a good time, it might even be best to find one player to join their team and have him or her just play a single orbit for a small percentage of the prize or set amount, instead of a blind 50-50 deal. I'm going with 250 teams and 750 unique players.
Nuwwarah: Just speculating wildly, I'll say 270 teams with 900 players total.
Rinkema: It's hard to predict how this event will do, but I'll go with 1,000 teams in this event, and 2,500 total players.
Derbyshire: Is this really a thing I have to care about? Can I have those days off? All apologies to the Global Poker League's Alex Dreyfus, I just don't think poker is a team sport. Let's say 100 teams and 200 players and hope it all finishes up quickly and goes away.
13. How many players will enter the $565 Pot-Limit Omaha event?
Peters: Can we say record field for the largest live pot-limit Omaha tournament ever? A PLO event with a $565 buy-in and reentries? The number is going to be big. I'll say 3,753.
Harris: The low buy-in PLO events ($1K, $1,500) have been topping out at around 1,000-1,200 players, but this one will be much bigger. I'll guess 3,550 players (which would be ginormous).
Op de Woerd: This is a tough one. I really have no idea, to be honest. It's going to be big, but how big? Omaha is getting more popular by the day, and with the affordable buy in of just $565, I imagine a lot of players want to get it. Even I would like to play it, and I've hardly ever had four cards in my hand at the same time. I'll go with 3,500 entries.
Nuwwarah: The $1,000 PLO last year got almost 1,300 and this should be a decent bit bigger with the reentries, so 3,150.
Rinkema: Pot-limit Omaha is a popular format, and I'm expecting to see a huge turnout for this event. I'm going to say that this event will get 3,000 entries.
Derbyshire: While the popularity of PLO cash games has boomed in recent years, those players don't necessarily play tournaments. The low buy-in is bound to be a draw, but nothing like Colossus II. Let's say 1,800, putting it on par with your average $1,500 no-limit hold'em event.
14. Will the $25,000 Pot-Limit Omaha High Roller event draw more or less entries than last year's 175?
Peters: I thought last year's version of this event was a big success, both with the number of entries and the star power in the field. That said, this event feels like the new chest-puffing event on the schedule, and I think ego-driven poker players will push the number higher and closer to 200.
Harris: Strictly depends on who's left at the end of the summer with $25,000 still to fire (again, this one comes near the end as Event #62). I'll say fewer than 175.
Op de Woerd: I would take the over. PLO is still growing live, and it's such an interesting game. If you take a look at the players that cashed last year, I imagine a lot of (online) mid- and high-stakes PLO grinders would try to sell pieces for this event. Convincing investors with facts about how decent the field was last year might make it an easier sell.
Nuwwarah: Less, 164.
Rinkema: The number is right there, and I'll say that there will be a slight uptick, but it won't be far off.
Derbyshire: I think 175 is obviously a good over-under here. The high roller poker economy is in about the same shape it was last year. I'm going to say it'll draw exactly the same.
15. How many players will enter the Main Event?
Peters: This is the year, people. The year the Main Event returns to glory. Not that it's not the most glorified event of the year, but everyone, myself included, has been waiting for that big, booming uptick in entries. I don't think it'll hit the 8,773 entries from 2006 when Jamie Gold won, but I'm piling on the over of last year's 6,420. In fact, I'm taking the over on 7,000. My official guess is 7,218.
Harris: It'll increase from last year's 6,420, I think. I'll guess 6,613.
Op de Woerd: 6,700 — a bit more than last year, and even a tiny bit more than two years ago. They're paying 15 percent of the field now in the majority of the events, and they did the same last year in the Main Event. More players are going to cash, and hopefully more will save up to enter the big one, the Main Event.
Nuwwarah: Maybe a few more people enter because of the heftier starting stack? 6,505.
Rinkema: For the first year since 2010, I believe we'll hit 7,000 players this year. The deep payouts from last year will have many players excited to take shots in satellites — or even buy directly into the year's biggest event. Of course this is just me hoping for a big uptick, but I don't think it's impossible.
Derbyshire: They drew 6,420 last year and not much has changed. Perhaps better use of the WSOP's Twitter accounts with Kevin "Kevmath" Mathers at the helm will help promote the game a little and the number will go up to 6,500.
16. What will this year be "the year of" and why?
Peters: The year of one-hit wonders. I get the sense that with a schedule more geared towards recreational players than ever before, we're going to see a lot of unknown players win bracelets, but then not do much else in poker afterwards.
Harris: The "Year of the Multiple Bracelet Winner," as there will be at least three. (Should have saved that for my "bold prediction.")
Op de Woerd: The year of the Brazilians. Poker is insanely popular in Brazil these days as I understand it; online there's hardly a table to sit on without at least a couple of Brazilian players. They already have some very solid players, and a bunch of newcomers will try their luck. I can't wait to hear the Amazon Room sing the Hino Nacional Brasileiro. If you want to practice the lyrics to be part of the mania, go listen to it here.
Nuwwarah: The year of droughts ending when Stephen Chidwick and Mike Watson lead the way with their first bracelets.
Rinkema: This will be the year of the PokerNews Podcast run good. This is therefore an open invitation to players to appear on the #PNPod to get some of that run good, and then return on the show to talk about their accomplishments.
But in all seriousness, I hope it will be the year of mixed games, and an increase in their popularity. We'll be hosting many $4/$8 mixed games and playing the various low limit events around the city, and I hope to see an uptick as well in the fields of the WSOP events in those formats.
Derbyshire: It'll be the "The Year of Redemption" with multiple players on the "best without a bracelet" list finally getting over the hump. When I look around the poker community these days I see a number of players who have come close many times, but failed to close it out. I also see a lot of those players putting in the work and dedicating themselves to finally winning. I'm hoping this is the year the poker gods decide to smile upon them all.
17. Which 2015 November Niner will have the best 2016 WSOP?
Peters: Man, if only Daniel Negreanu reached the November Nine than this would be a slam dunk answer. I guess I have to go with Joe McKeehen because of his prowess in the bigger buy-in no-limit hold'em events. My answer is also considering that I don't think the other eight members of last year's November Nine, save for maybe Josh Beckley, will do much at all this year.
Harris: I'll pick Zvi Stern whom I just watched final table the €10,300 High Roller at the EPT Grand Final, finishing fourth. He was an unknown prior to last year's Main Event, though I'm guessing he'll be fairly conspicuous at the Rio this summer. McKeehen and Beckley (who also both enjoyed big high roller scores since last November) should do well, too.
Op de Woerd: Beckley. Solid player and likable guy. Hope he does well.
Nuwwarah: Beckley. He will probably play more volume than McKeehen.
Rinkema: It looks like many of last year's November Niners are playing a big schedule if we're taking their recent play into account. I believe that Pierre Neuville wants it the most, and it feels like a WSOP bracelet is just around the corner for him. Neuville lives for the game during the WSOP and won't be distracted on his grind, which makes him a favorite in my mind to do well.
Derbyshire: 2015 WSOP Main Event champ Joe McKeehen may have spent a lot of the time since his win going on a few wrong-headed Twitter rants, but his dominating performance at the final table and consistent track record before, and after, proves he's here to stay. I expect McKeehen will put up one of the best post-championship years ever.
18. Going back to Chris Moneymaker, only four of 12 Main Event champions cashed in the event the following year. Will Joe McKeehen cash in this year's Main Event?
Peters: It's easier to cash in the Main Event now than ever, with the increased percentage of places paid, so yes.
Harris: I'll guess no, just recognizing the variance of tournaments. I would expect McKeehen to cash in multiple events this summer, though, as he has done the last three years.
Op de Woerd: McKeehen is a solid player, so I'll gamble with yes on this one. I think four of 12 isn't that bad at all by the way.
Nuwwarah: Yes, McKeehen has a great record in these big fields.
Rinkema: I mean, will he even be trying?
Derbyshire: I wouldn't bet against it. The only real thing that can stop McKeehen is variance, and of course, McKeehen. Assuming he sticks to playing his A-game and avoids the pitfalls of Twitter wars and beefs with the media, he's a good bet to run deep again.
19. Which non-US country will win the most bracelets?
Peters: Let's gamble a little bit on Germany.
Harris: Oh, Canada. A lock for second-most cashes (which they achieve every year), and a favorite for second-most bracelets.
Op de Woerd: This is an easy one: Canada. It's always Canada, right? Followed by United Kingdom, Germany, and Australia. Unfortunately, it's such a bad investment for Dutch players to play the WSOP tax-wise. We'll never catch up, while we still have some incredible talented players around.
Nuwwarah: I'll go Russia, they always have a strong presence at the WSOP.
Rinkema: The United Kingdom, Canada, and Germany will always be battling for second place, and this year I'll go with Germany. There's just too much talent that's giving it a real shot this summer that I'm confident they'll do well. Especially with more and more German players playing the bigger buy-in mixed games they'll have a good chance.
Derbyshire: It'll be a tight race between the UK and Canada, with "America Light" winning by a nose.
20. Give us one bold prediction for the 2016 WSOP.
Peters: This will be the last year the WSOP is under the Caesars brand.
Harris: Mustapha "lasagnaaammm" Kanit will win his first WSOP gold bracelet. But wait, is that really so bold, bro? No, no, no... it will be no problem.
Op de Woerd: The new WSOP Main Event champion really likes the poker media and loves doing interviews. I know it's crazy, but this player really goes all out and is nothing but positive in general about poker and his love for the game and everything and everyone involved.
Nuwwarah: Chidwick and Watson both winning a bracelet is pretty bold, right?
Rinkema: A non-poker celebrity will create a lot of buzz during the World Series of Poker with a deep run. I'm hoping it will be a Tobey Maguire-level actor of Paul Pierce level personality on the Main Event featured table in Day 4 or 5, but in the end it will be good to get some more eyes on the game in every possible way.
Derbyshire: A woman is going to make the WSOP Main Event final table, marking the first time since Barbara Enright finished fifth in 1995. In the average year, women make up about six percent of the field in the Main Event. I'm thinking this is the year where that number goes up, and the last woman standing is still doing so come November.
Want to stay atop all the latest in the poker world? If so, make sure to get PokerNews updates on your social media outlets. Follow us on Twitter and find us on both Facebook and Google+!