Will Poker Players Miss the Rio All-Suite Hotel & Casino When It's Gone?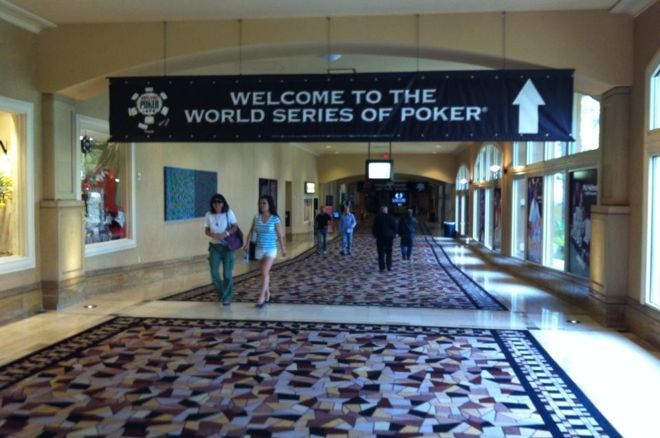 Despite the Rio All-Suite Hotel & Casino being the summer mecca for poker players and aficionados worldwide since 2005 — going on 15 years — recent rumors of the venue's potential impending demolition was welcomed by many in the industry.
You can read up on the potential sale of Caesars and the cloudy future of the Rio here. In this article, we take a look at the reactions that came out of the poker world.
Las Vegas Locally tweeted some scuttlebutt:
"Caesars is valued at $5.6 billion... but carries a whopping $18 billion in debt" https://t.co/K69sWfHzrk

— Las Vegas Locally 🌴 (@LasVegasLocally)
Some Caesars insiders believe a sale to billionaire Tilman Fertitta will happen within the next 2 weeks https://t.co/JCU3uX81Ph

— Las Vegas Locally 🌴 (@LasVegasLocally)
And in came the reactions on Twitter:
@LasVegasLocally No biggie, just bump the resort fees and maybe charge more for breathing on mini bar items. Problem solved.

— The LV Bar Man (@TheLVBarMan)
@LasVegasLocally Sounds like they made a big mistake by charging those #resortfees #ialto

— Rick (@pimpinwear)
@LasVegasLocally Stayed there once before we moved here. Our window literally faced a wall, room service was slow and incorrect. Meh.

— Dee Severe (@SevereSociety)
A source from Las Vegas Locally also posted the news that Rio All-Suite Hotel & Casino, the 15-year home to the World Series of Poker, may soon be no more...
David "ODB" Baker wondered if this would affect the upcoming WSOP, but it seems most likely it won't. Matt Waxman joked that the demolition could coincide with the summer series.
@audavidb @WSOP It's definitely at RIO - they're waiting until all of us are inside playing before they start the demolition. Lol

— Matt Waxman (@Matthew_Waxman)
WSOP put those concerns to rest with an official response on Twitter:
Some Rio WSOP regulars, both players and media, expressed their "concerns"...
And long-time WSOP ESPN commentator Norman Chad presented a viable solution:
BREAKING In an unprecedented promotion – if the Rio is demolished – the World Series of Poker will hold events scat… https://t.co/i6Z1yMp7l3

— Norman Chad (@NormanChad)
@NormanChad Seems plausible. They seated us outside a seafood restaurant a few times.

— Jamie Kerstetter (@JamieKerstetter)
@NormanChad If they held it at Roma Deli, everyone could have free soda @ToddBrunson

— Chris Schueller (@ChrisSchueller)
Make sure to return to PokerNews in upcoming weeks for updates on the status of Caesars as well as the future of the current home of the WSOP. Rumors will surely continue to swirl, and with so many false alarms over the years, players and industry observers will understandably want to wait for something solid. PokerNews will continue to monitor things to see if anything concrete develops.