The Poker World Reacts to Tiger Woods' Masters Win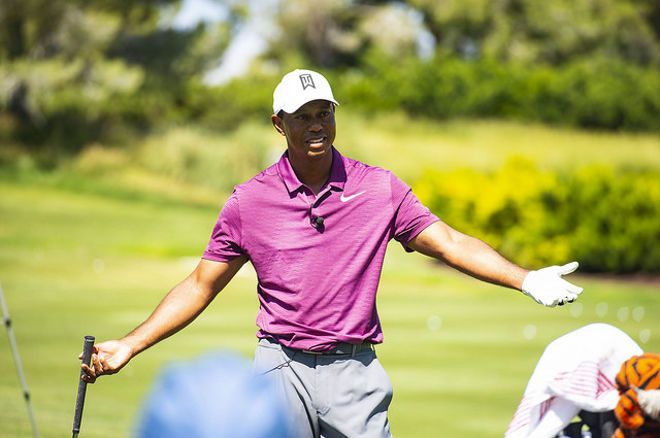 Table Of Contents
On Sunday, the world watched as Tiger Woods ended an 11-year title drought, winning the Masters. It was Woods' first Masters title since 2005 and the fifth in his impressive career which now includes 15 major titles, just three shy of the record 18 held by Jack Nicklaus.
Woods' win was a historic moment for golf and for sports, and it was witnessed by millions of people all over the world. Some big names in the poker world reacted to the victory, while you can bet that one sports gambler in particular was rejoicing a bit more than others.
Reactions on Social Media
On Instagram, Daniel Negreanu posted some photos of him with the golf legend along with a little message to the 'haters':
He also published a tweet with a video montage of all Tiger's haters saying he would never be back:
Some haters for real! Saying terrible things about Tiger, not just opinions but some really hateful shit. So fun to… https://t.co/MVRc48DdyH

— Daniel Negreanu (@RealKidPoker)
Guess you can stock up on your short-sleeve mock turtlenecks at the WSOP this summer...
If Tiger wins this, I'm renting a booth at the WSOP this summer and selling nothing but short sleeved mock turtlene… https://t.co/5QGlXrvvrW

— Lance Bradley (@Lance_Bradley)
Jon Aguiar is pretty sure he knows the kind of hard work Tiger puts in:
And others extended their congratulations for Tiger's inspirational win:
Congratulations to our friend @TigerWoods for winning @TheMasters! See you in a few weeks at #TigerJam! https://t.co/j1QhxJgH6B

— World Poker Tour (@WPT)
Seeing one of the goats quickly fall to the bottom due to both mental and physical issues makes them more relatable… https://t.co/Y8WdSFBKVQ

— David Williams (@dwpoker)
So proud of you @TigerWoods!! I know what you have overcome: the pain of hearing haters hate, and the frustration… https://t.co/is1rolBxB1

— phil_hellmuth (@phil_hellmuth)
Lost enough money to people betting on # that no rational person should have been rooting for him BUT MY GOD PLEASE TELL ME HE IS BACK

— Mike McDonald (@MikeMcDonald89)
Poker players wake up at 6am to watch the masters but can't get to noon starts on time #

— Chance Kornuth (@ChancesCards)
Cashing in on Tiger's Win
It wasn't only Tiger Woods that won a big amount for his Masters win Sunday. On Tuesday, April 9, 2019, one bettor placed an $85,000 wager on Woods to win for a potential $1,190,000 payout. The bettor placed this bet at 14 to 1 odds at William Hill's Las Vegas Sports Book. It was the largest payout the sports book ever paid out for golf.
"It's great to see Tiger back. It's a painful day for William Hill – our biggest golf loss ever – but a great day for golf," said Nick Bogdanovich, William Hill US Director of Trading.
I wonder how that guy that bet $85k on Tiger Woods to win #TheMasters is feeling right now.

— Kevin Mathers (@Kevmath)
Lead image courtesy of World Poker Tour / WPT Foundation Tiger Jam 2018.