Five Thoughts: Mercier vs. Selbst, Lederer Stays Quiet, and #Fight4Poker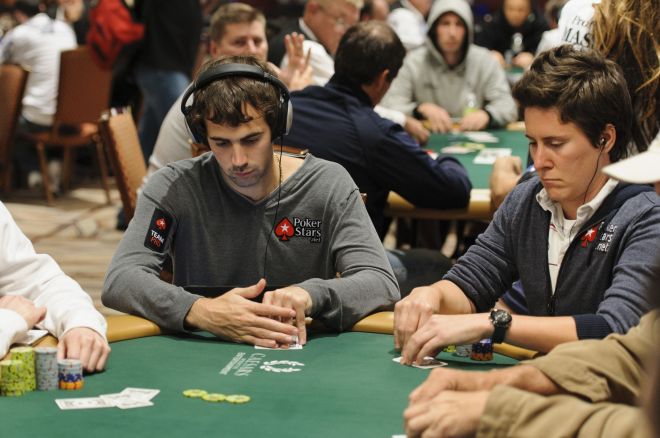 Jason Mercier is single-handedly bringing the excitement to this year's World Series of Poker.
The collective eyes of the poker community have been fixed on the Floridian poker superstar this week as he won one bracelet, and came runner-up in his effort to grab a second, collecting on some big bracelet bets, and threatening to break those who laid big odds against him winning two and three tournaments at the World Series this summer.
For many years, it was Phil Ivey driving the bracelet bet train. In 2010, Tom Dwan was on the verge of crushing the bankrolls of high-stakes poker players. Most recently, it was Daniel Negreanu teaming up with Ivey and taking action as a duo for either to grab gold.
All the side action at the WSOP has grown to be one of the more interesting storylines of the summer, sometimes more than even the tournaments themselves, and from a chair on media row, this stuff is just plain fun to watch.
1. A Question of Character
You can't blame Vanessa Selbst for wanting out of what suddenly seemed like a bad bet this week. After Mercier won a bracelet and seemed poised to grab a second, the 180-1 she gave him on $10,000 to win three bracelets became more of a reality.
However, the intoxication defense and antics she pulled on Twitter crossed the line. If claiming she was drunk when she made the bet and questioning Mercier's level of compassion in buyout negotiations was simply a ploy to get a better price, it was below the belt.
Mercier tweeted that Selbst had bought out of the bet, and word is she found a way to hedge or buy out before Mercier missed a golden opportunity to get two of the three bracelets he needs to win the bet. In the end, Mercier fell short in the $10,000 Razz Championship, so her buyout might've been a little premature with three bracelets being such a long shot, and let's hope there isn't any permanent damage done to Mercier's character through all of this.
2. Burying the Lede
The WSOP live stream provides audience members a great product for following the bracelet-chase. It's not a stretch to say that it isn't poker's most watched broadcast, as numbers for an internet stream pale in comparison to actual TV numbers, but it didn't do itself any favors in the ratings race with its coverage of the $10,000 Razz Championship on Wednesday.
The event was covered on the live stream, complete with new card graphics for stud games, which displayed well and made the game much easier to follow, but the lede was buried.
Mercier was on the cusp of winning back-to-back bracelets in $10,000 championship events, winning hundreds of thousands of dollars in bracelet bets, and getting two of the three bracelets he needs to collect on a massive 180-1 side bet that would pay him $1.8 million.
Instead of making what's clearly amounting to the biggest story of the summer a major topic of discussion on the broadcast, lead commentator David Tuchman chose only to say there was a lot of discussion on Twitter about it and they didn't want to get into it.
Rather than give viewers a rare glimpse into the side-action gambling so prevalent at the WSOP, it was left out. These stories are huge attention grabbers in the industry. Specifically for this event, it's the biggest reason why people were following, whether that be on the live stream, in the reporting blog, or elsewhere. Tell the story, don't bury it.
The reality is that players chop up prize money. They play props. They make side bets that sometimes dwarf the prize pools in events and talk about it openly in the community and on social media. The poker press reports on it regularly now, and the public laps it up.
3. In Came Lederer
Following in the footsteps of fellow former Fill Tilt Poker board member Chris Ferguson, Howard Lederer made his return to the World Series of Poker after a five-year absence this week.
As readers may remember, the U.S. Department of Justice shut the online poker operator down in April 2011, and eventually accused Lederer, Ferguson, and others of running a Ponzi scheme, pilfering players' funds that they had failed to segregate. PokerStars eventually came through with a bailout and a plan to pay back the players, and Lederer and Ferguson essentially disappeared.
Suddenly back now, Lederer followed Ferguson's lead in not talking to the poker press. Of course, he had already issued an apology for his role in the whole mess, but his refusal to even chat about the issue now has me thinking that his sentiments were a bit half-hearted, aimed more at paving his way back into the game.
If Lederer really was sorry, and accepting responsibility for his role in the scandal, wouldn't he at least be willing to talk about it? The sense I get is that the poker community hasn't really accepted this apology yet, and a sincere Mea Culpa in the press from both Lederer and Ferguson would go along way towards getting them to.
Of course, Ferguson and Lederer can go on like nothing happened and play in as many events they want without much recourse, barring the occasional profanity-laced Tweet or video. However, I have to think the truly apologetic would take a different approach.
4. Dreams Can Come True
No offense to poker pros Jason DeWitt and Garrett Greer, who finished one-two in the 2016 WSOP Millionaire Maker event, collecting a million bucks a piece, but most of the industry was rooting for the woman who finished third.
Lisa Meredith, a kindergarten teacher from Vancouver, Washington playing her first-ever WSOP event, came one spot from turning $1,500 into $1 million. She still took home $500,000 for her third-place finish, making this a poker dream come true story by any stretch, but it would have been nice to see it come to full fruition.
The reason why DeWitt, Greer, and any professional poker player can even call themselves that, the reason why this industry even exists, is because it allows home-game heroes and plucky amateurs the opportunity to make a dream come true. Of course, DeWitt and Greer didn't do anything wrong here, I'm just saying everyone was rooting for the underdog to come through, and the next time this situation arises, I'm betting they continue to do the same for the good of the game.
5. #Fight4Poker
The time to join the fight for legislated and regulated online poker in America is now. In New York, an online poker bill passed the state's Senate by a vote of 53-5 this week, and while a California online poker bill was also postponed, it's still far from dead. Plus, the idea of bills in Michigan and Pennsylvania are being bandied about as well.
There seems to be more momentum for this kind of legislation out there than ever before, and if you want to see online poker back in America, contacting your local representative to let them know how you feel about it can only help get it done.
Poker Twitch stream star Jason Somerville has made the call out to American poker players to make their voices heard and he's got it right. The more pressure the poker community puts on politicians to get something done, the more likely it is to happen. #Fight4Poker
*Please note that the thoughts and opinions expressed in this article reflect those of the author.
Want to stay atop all the latest in the poker world? If so, make sure to get PokerNews updates on your social media outlets. Follow us on Twitter and find us on both Facebook and Google+!