The 2016 November Nine: Seat 3, Fernando Pons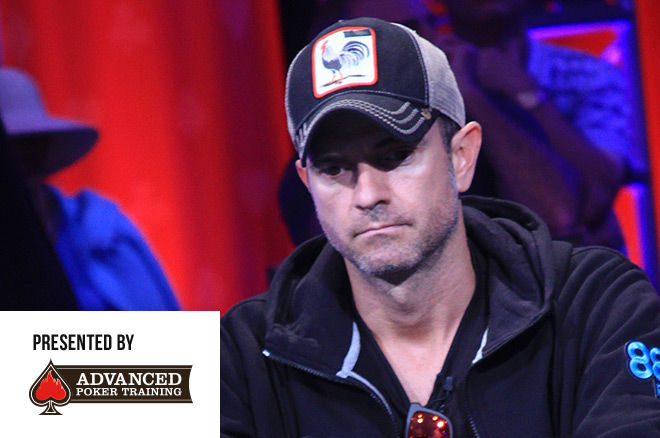 Each week leading into the World Series of Poker final table we'll profile one player who will be vying for the championship. Our profiles are sponsored by Advanced Poker Training, one of the world's top poker training sites. At AdvancedPokerTraining.com you can play up to 500 hands per hour of full-ring, six-max, sit-n-go, or full MTTs against thousands of intelligent computerized opponents, with instant advice, weekly training plans, and much more. It's the fastest way to ignite your game!
The mysterious European with few live results and about whom little is known has almost become an archetype at the World Series of Poker Main Event final table. Sylvain Loosli, Felix Stephensen, and Federico Butteroni have played the role in recent years, and for 2016, Fernando Pons has earned the part.
Hailing from Spain, Pons is a 37-year-old manager in a retail corporation. While the WSOP Main Event final table sees more and more professional players seemingly every year as the structure gets slower and slower, Pons very much represents the recreational player.
He picked up the game about five years ago, and it's been a small part of his life ever since.
"I play about three-to-five live tournaments per year," said Pons, speaking through a translator the day after he bagged his stack on Day 7. "I can't believe this result."
A glance over his list of live cashes, which totaled about $10,000 before his $1 million and counting score in the 2016 Main Event, shows just one result in a tournament with a buy-in over $1,000 – a cash for $4,059 in the 2014 Wynn Summer Classic Main Event. Normally, Pons sticks to local tournaments in Spain, with very modest tournaments such as €20 and €50 rebuys.
Typically, Pons splashes around in these events with many of the same people, competing for a few hundred euros in prize money. Now, he's going to be butting heads with the likes of Cliff "JohnnyBax" Josephy for the chance to win $8 million.
The idea of Pons, who is the shortest stack by a good amount at the final table with just 12 big blinds, overcoming such odds might seem daunting or even impossible. But, he's in a spot where he's truly already won.
It's common knowledge that pros often sell large amounts of their action to help deal with the insane variance of playing tournament poker for a living. Pons, though, qualified for the Main Event in a €30 satellite online at 888poker. Even a min-cash would have been a great result and a nice windfall for the Spaniard. Instead, he's locked up that six-figure sum that draws thousands of starry-eyed dreamers to this event every year.
"The first thing I did was call my wife," said Pons, who could be seen in an emotional conversation on the phone after most of the chaos had cleared around the main stage in the aftermath of the final elimination of the summer.
"This changed my life. I never imagined it, it's a dream."
How He Got Here
| Day | Final Chip Count | Rank |
| --- | --- | --- |
| 1c | 118,900 | 281/3,252 |
| 2 | 279,600 | 258/2,166 |
| 3 | 137,000 | 684/800 |
| 4 | 1,580,000 | 81/250 |
| 5 | 7,930,000 | 10/80 |
| 6 | 17,270,000 | 7/27 |
| 7 | 6,150,000 | 9/9 |
As a player miles off the established radar, Pons was, naturally, not the focus of much coverage during his unlikely run through the WSOP Main Event.
After a nice start to his tournament on the first two days, he clearly experienced a rapid decline in fortune on Day 3 of the event, when he slipped from the upper tier of stacks down to near the basement. He finished with less than half of the chips he began the day with, but no matter as Day 4 would prove to be his awakening as a force in the tournament. He multiplied his stack by more than 10 and grabbed a place among the leaders.
Day 6 of the event would see Pons nearly hit the exits despite an excellent starting position. He found himself down to 30 big blinds, which he four-bet all in from the cutoff after a three-bet from Kakwan Lau on the button. Lau called with
, and Pons needed serious help with
. He got it when a nine banged off on the turn, keeping his pulse alive.
In another critical Day 6 pot, Pons called a raise to 275,000 from Jan Suchanek with
during Level 29 (60,000/120,000/20,000). Adam Krach fired a reraise to 1.1 million, and Suchanek shoved for 5.42 million. Pons re-shoved with a stack that covered, chasing away Krach. Suchanek had
and hit an ace on the flop, but Pons found one of his two outs on the
river.
For the capper on Pons' amazing Day 6, he eliminated one of the true stars remaining in the tournament. The David-versus-Goliath clash began with Dan Colman opening to 360,000 at 80,000/160,000/20,000. Pons called the under-the-gun open from the hijack and the two saw
flop. They both checked the flop only to see to the
turn card. Colman checked, Pons bet 350,000, and Colman shoved all in for 3.6 million. Pons called with
and had Colman's
in awful shape. A
river was the last card Colman would see in the tournament.
Pons didn't play a ton of pots on Day 7, but he often found himself outmaneuvered by more experienced opponents when he did. In one such pot, blinds were 200,000/400,000/50,000 and Pons tangled with fellow November Niner Jerry Wong. Pons defended his big blind from an 875,000 button open and the two checked to fourth street on a board of
. Pons checked, Wong bet 1 million, and Pons made it 2.3 million. Wong called, and he then called a barrel of 4.6 million on the
river.
Pons could produce only pocket threes, while Wong had
for a straight. The Spaniard was left with only about 15 million and continued to trend downward, hanging on for a November Nine spot because Josh Weiss was even shorter-stacked than he was when the final 10 combined.
What to Watch For
Countless poker players would give up almost anything for even the seat at the November Nine with the lowest expected value. While there are no bad seats at the table in that sense, Pons is in about as unenviable a spot as one can be in at the WSOP final table.
Pons comes in with both the shortest stack and possibly the least experience, although Qui Nguyen might also have a claim to that title. The silver lining of having a mere 12 big blinds is that other players must adjust to Pons and work around his stack, while the only thing he has to worry about is picking good spots to shove all in, at least until he manages to double up.
How likely is it that Pons will find some good spots? He does have two experienced, aggressive opponents in front of him in Vojtech Ruzicka and Griffin Benger. Pons is going to have to figure out how loose those players are opening and how light he can shove over them. The spots should come, the only problem might how limited his fold equity is.
To Pons' left will be Nguyen and Josephy, the two biggest stacks at the table. Each has well north of 100 big blinds. While they won't exactly be looking to hand out charitable doubles, neither player will feel much of a pinch should he be facing a shove from Pons. Whereas if say, Michael Ruane and his stack of 30 million were in the next seat over, Pons would be forcing his opponent to think long and hard with even some solid hands before risking such a significant chunk of his stack.
All in all, Pons is in a less than desirable scenario at the November Nine, but that's like having the smallest mansion in Beverley Hills. In other words, things are still looking up for the amateur who has already won.
Be sure to check out our sponsor AdvancedPokerTraining.com for some of the best poker training in the world.
Be sure to complete your PokerNews experience by checking out an overview of our mobile and tablet apps here. Stay on top of the poker world from your phone with our mobile iOS and Android app, or fire up our iPad app on your tablet. You can also update your own chip counts from poker tournaments around  the world with MyStack on both Android and iOS.