After Epic Main Event Hand, William Kassouf Says "I Played My A-Game and Gave 'Em Hell"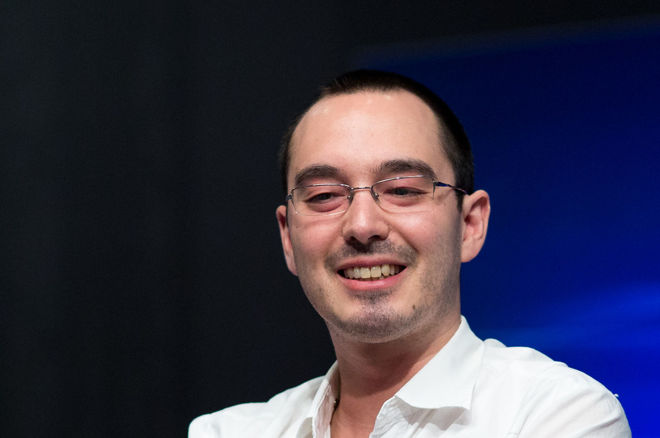 As it does every year, the 2016 World Series of Poker Main Event attracted all types of characters. William Kassouf was certainly one of the most vibrant in the field, using every opportunity he had to let his voice be heard in what he deemed "speech play."
Love him or hate him, Kassouf's verbal antics were part of his poker strategy. Time and time again, Kassouf would use his chatter to put his opponents on edge and out of their comfort zone. Throughout the event, several players made comments about Kassouf's act, but none more so than Griffin Benger with 17 players left in the tournament.
"This is verbal abuse!" shouted Benger in a hand against Kassouf on the main stage, pointing at the Brit from across the table.
On the feature table, surrounded by bright lights and cameras at every turn, Benger opened the action from the under-the-gun position to 875,000. The blinds were 200,000/400,000/50,000, and Kassouf opted to three-bet to 2.3 million from the hijack seat. Play then moved back to Benger.
"Griffin Benger raised under the gun, I three-bet, he four-bets, and I'm now giving him the speech to make myself look weak," Kassouf recalled after the hand was over. "He was counting out chips, he was looking like he wanted to four-bet. He was taking his time over it. I said, 'I've got a big hand over here.' I was looking at the TV crew and I said, 'Anyone know how many miles from here to Hollywood?' As if he's Hollywooding and he's not really going to four-bet me. But I know he's going to four-bet, I know he's got a big hand."
Benger then four-bet to 5.6 million.
The chatter from Kassouf continued as he went into the tank. He was sitting there with pocket kings, and it was all an act to fire up Benger and hopefully make him call off after he shoved.
"I've got a monster hand, I'm hoping he has ace-king or queens, one of the two," Kassouf said. "If he's got aces, it's an absolute cooler. If he has ace-king or queens, I'm making myself look weak."
All while he was in the tank, Kassouf was actually the one Hollywooding what he could only think it was a hand that would turn out in his favor. After all, he had two kings, the second best starting hand in Texas hold'em, and he knew that his antics fired up players enough that they could play back at him with weaker hands.
Kassouf kept at it as the time ticked away, and eventually Benger called the clock on him, he said. As if that wasn't enough drama on this epic stage, things escalated and they escalated quickly.
Benger snapped. He began yelling at Kassouf from across the table as his face turned more red with every word launched from his mouth. He started with the verbal abuse exclamation and kept going, yelling and pointing at Kassouf with a fury.
"I said, 'OK, let's gamble, I'm all in,'" Kassouf said. "He snap-called, he's got aces, and the rest is history."
The snap-call from Benger was another ferocious moment that will be fully entertained when the episode airs on ESPN in the coming months. Benger jumped from his chair, slamming down the
on the table, and storming around the feature table stage in enraged excitement.
"Whatever happens, my life is good!" Benger yelled out, pacing back and forth before settling in the arms of those on his rail.
Kassouf turned over the
and, like he said, the rest was history.
The flop, turn, and river were void of a king, coming
, and Kassouf was eliminated in 17th place. That hand put Benger up to nearly 34 million in chips, and he would go on to reach the final table with 26.175 million and seventh on the leaderboard.
"I've been here pretty much every year, although I missed it last year, and I came back this year," Kassouf said in an empty hallway after his elimination. "It's my first WSOP cash, and what did I cash for, $338,000? It's my first cash in the WSOP, so I'll take that. I'm the one who's going home laughing rather than all these other Americans. I say, 'Well played, thanks for coming to the other 6,720-odd that parted their way with $10,000. Thanks for that to boost the prize pool."
Indeed, Kassouf scooped $338,288 for the finish, easily his largest live tournament score to date and just about double his career live tournament earnings.
"No regrets," Kassouf added. "I played solid throughout the tournament. I had a strategy coming in that days one to three I would just play as a satellite. Literally just get through the first three days to the money, no need to make moves, grind it out, and like I said, on Day 3 before the money I had 45K, which was under starting stack and I still managed to cash. I got through to Day 4, Day 5, Day 6, made it through to Day 7, and eventually finished 17th for $338,000 and played it like a tournament from Day 4 on and crushed every table I payed. So thoroughly enjoyed it, no mistakes, no regrets. I played my A-game and gave 'em hell."
Want to stay atop all the latest in the poker world? If so, make sure to get PokerNews updates on your social media outlets. Follow us on Twitter and find us on both Facebook and Google+!