Nithin George Eapen Walks Away From the WSOP a Winner After Surviving a Heart Attack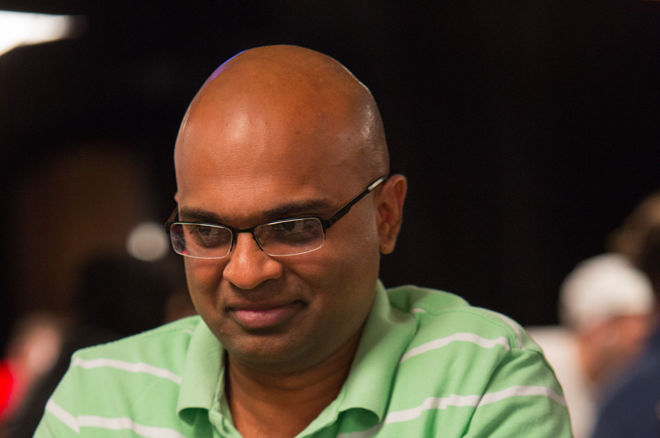 Scattered among the 6,737-player field that made up the 2016 World Series of Poker Main Event were countless satellite winners, each one riding a proverbial freeroll into the game's greatest spectacle.
But after what he's experienced during the last three weeks, Nithin George Eapen has them all beat.
The 40-year-old recreational player and resident of Stamford, Connecticut entered Day 3 of the Main Event with 127,300 in chips to work with — less than a month removed from a major brush with mortality.
On June 26, having bagged up the night before during Day 1b of Event #41: $1,500 Monster Stack No-Limit Hold'em, Eapen prepared to enter the Day 2 fray. As he did so, Eapen's body began sending warning signals, but with a potential bracelet run awaiting, his focus remained squarely on the felt.
"I bagged a healthy stack the night before," he recalled. "But the next morning, I woke up early with chest pains and found myself reading about heart attacks online. The pain went away but soon returned at around 9:30 a.m. I did not give it much thought though, as I wanted to play the tournament. My friend Tom suggested we visit the hospital as a precaution, but I told him that could wait. After all, I do not have any issues with blood pressure, blood sugar, or cholesterol, and I play squash most days."
Fittingly enough, following a full session of fine play the day before, Eapen's initial instincts proved to be spot on. Only two hours into Day 2, Eapen realized that he was experiencing symptoms severe enough to warrant voluntarily withdrawing himself from the tournament.
"I began feeling pain and uneasiness at the table," Eapen recounted. "Around 1 p.m., I started feeling nauseated, which was the next tick mark on the heart attack checklist. So I walked to the security person and asked them to please call an ambulance. The pain started getting worse by the time they arrived, so I was taken to Valley Medical."
Unlike many unlucky heart attack victims who aren't able to catch the symptoms in time, Eapen was fortunate enough to seek assistance before his health deteriorated further. Even so, his heart had experienced a traumatic event known non-ST segment elevation myocardial infarction, NSTEMI heart attack.
"My electrocardiogram (ECG) showed no variations," Eapen said. "So they were not sure if I had even had one, but the pain was too much to be anything else. Later in the day, they found troponin levels in my blood work, which is a protein that is usually released into the blood by dying heart muscles after they have been starved of oxygen and blood."
Eapen was administered an angiogram to check his blood vessels for blockages, which found less than 70-percent obstruction, before having a stent inserted to maintain adequate blood flow through the affected arteries.
Mortality and Marriage
As the doctors worked their wonders, Eapen, married with four children, had the discussion every family man dreads.
"I knew my wife was tense and would have an anxiety attack when I told her," Eapen said. "She was not able to sleep, and she really wanted to come to Las Vegas, but I told her not to. I was doing fine emotionally, and anyway, it's the doctor who does the surgery."
Put in a position where most men would not be doing "fine," Eapen found himself quite calm and collected at the time. While he considers himself a firm practitioner of the Catholic Church's Xi'an archdiocese, Eapen, a native of the Indian state of Kerala, relied on his homeland's Hindu traditions in order to deal with the idea of death.
"I am ritualistic in going to church," Eapen said. "But I do not believe in the concepts of heaven or hell. Instead, I like the Hindu philosophy of karma and rebirth when it comes to that. My feeling has always been, if I die early, it's like a VIP ticket I have in this queue towards death that we all wait in once we are born. Imagine if we are waiting in line to get a ticket, perhaps like the registration line at the Rio, and suddenly we get a VIP pass to skip the line. We would be happy right? It's the same way with life."
Despite this seemingly cavalier attitude when assessing thoughts of his earthly demise, Eapen wasn't afraid to admit how dearly every moment matters. Throughout his conversation with PokerNews, the happy husband returned repeatedly to the role played by his wife Priyanka, recognizing that without her winning a poker tournament is a worthless prize.
"I had no fear during the time of pain," Eapen remembered. "But family and friends are the most important thing in life for me. So it is a great thing to see one more day, to spend one more moment with your wife, your kids, and your friends.
"My wife and I have been together from elementary school onward. We dated for 10 years and have been married 13 more. She works as an actuary at GenRe, and it is a fact that I get to do all the things I like in life, like visiting the WSOP, because she works so hard. I really want to win for her most of all, along with our children Neil, Niya, Neha, and Noah. My biggest win ever was obviously being able to woo the girl I wanted, marrying her and having children. A win in the WSOP Main Event will never equal that, but it would be a cherry on top of the cake."
Eapen himself studied engineering academically, earning his undergraduate degree in India before adding his Master's stateside. Over the years he's worked as both a sales and manufacturing engineer, as well as in software development, and on Wall Street. Before deciding to run his own boutique software and business consulting firm, Eapen even took up life as a semi-professional cash-game player.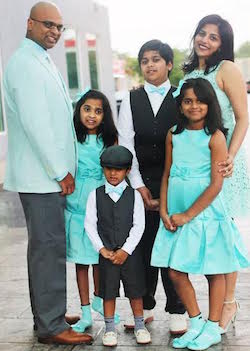 "I am basically an investor or gambler or risk taker," Eapen said. "I seek risk. I typically only get into partnerships with my close friends from college or school, be it investments in real estate or otherwise."
But all the while, Eapen says it was Priyanka who did the heavy lifting at home and in the office, allowing him the opportunity to freely pursue passions like poker.
"Priyanka is just an unbelievable superwoman," Eapen said proudly "She works, looks after four kids, and allows me the eccentricities of a hobby like poker. Even so, it has been very hard on my wife to support a losing poker player so long. For one, we come from India, where playing cards is a gambling game which is strictly frowned upon.
"But as I always tell people, everything in life is a gamble. As an example, in India parents marry their kids to someone they don't know, which is a bigger gamble, and one you which you cannot get easily escape. Losing money in poker can be stopped simply by stepping away from the game."
For the Love of the Game
Despite his stance on "stepping away" when the cards aren't cooperating, Eapen refused to let something like a heart attack cut his summer short.
An avid tournament poker enthusiast, Eapen had lived the WSOP dream once before, so he knew exactly what he'd be sacrificing by heading home early in light of his health.
In 2013, Eapen recorded each of his first three live cashes in a single WSOP, including a deep run in a $1,000 no-limit hold'em event en route to a 68th-place finish.
That year also saw Eapen grace the pages of PokerNews' coverage, as he managed to goad Quebecois pro Jason Duval into shipping his stack smack into the nut straight. Besting the pro in that particular pot helped Eapen make another extended run, as he placed 124th among the 4,756-runner field.
Eapen's breakthrough came nearly seven years after he discovered the game, but like many hometown heroes and aspiring amateurs before him, he spent the intervening time dutifully working his way up through the ranks while putting in the time and energy needed to excel.
"I started playing poker at home sometime around 2006 or 2007," Eapen said. "Along with Sridar, Narendra, and Madhu, who are my close friends in Stamford. From there I played single-table satellites and cash games at Foxwoods and the local Polish club. Eventually I started playing online poker, and in 2010 I won a $200 satellite to the Main Event on Full Tilt.
"That was an experience to be sure, playing on the feature table, and even though I have to say I was playing incorrectly, despite reading books, I luckily survived before busting on Day 2. That first WSOP trip was a tremendous experience, and I've been coming here ever since."
Astute poker fans may remember Eapen from an ESPN broadcast of that 2010 Main Event, as he (going by his middle name George at the time) clashed with the prior year's runner-up Darvin Moon. In the hand, which played out under the bright lights and cameras of the feature table, Eapen flopped a double belly-buster straight draw, before calling a bet and checking through the turn, only for Moon to river the nut flush.
Eapen failed to connect and checked the river, with Moon inexplicably checking behind while holding the stone nuts. According to Moon, he simply wanted to see Eapen's cards, but nonetheless his breach of poker protocol came at the cost of a one-hand penalty.
"I really love the game," Eapen said. "I am a hardcore libertarian and poker is the true egalitarian game, where a CEO and the person cleaning his office can enter the same tournament and become equals. In tournaments, there is no discrimination based on whether you are black or white, Chinese or Indian, male or female. When you meet people from different parts of the world, you hear their stories and share their experiences."
All told, Eapen has recorded seven live cashes while playing primarily as a satellite qualifier during his infrequent trips to Las Vegas or regional series closer to home on the East Coast.
"I usually come to Vegas four times during the summer with my friend Tom Thomas," Eapen reported. "Once during the first week, then one trip each for the Millionaire Maker, the Monster Stack, and during mega satellite season for the Main Event. That's my tournament budget for the WSOP.
"I come and play three satellites every year. The last two years I did not win a satellite, hence I did not play the Main Event. Despite the temptation of buying in directly, I decided not to, because if I cannot even win a satellite, I should not be playing the real thing. This year, I managed to satellite into the PCA Main Event, along with the WPT Seminole Hard Rock Main Event."
The latter tournament, boasting a $3,500 buy-in, took place in mid-April about two weeks before the WSOP kicked off. Eapen parlayed his satellite entry into a 118th-place finish for $6,350 in winnings, a strong performance which perhaps set the stage for a fateful decision, one made just a few days after he suffered a heart attack.
"I asked them to do the angiogram through my arm," Eapen said. "Because recovery is faster that way. I flew back home on Tuesday the 28th, and from there I had to convince my wife that the doctor had not put any restrictions on me except mountain climbing, bench pressing over 300 pounds, and gardening.
"The only question I asked the cardiologists was, 'Can I travel?' The doctor said yes, but my wife did not believe me and personally had to hear the doctor say so."
Only days removed from his first major health scare, a milestone that has sent many men into the metaphorical midlife crisis, Eapen was intent on returning to the Rio for the July 8-10 session of Main Event mega satellites.
"One week after the angiogram I told my wife I want to go back to Rio for the Main Event," Eapen remembered. "She asked me to think, 'Is this worth making her go through this kind of tension?' My question was, 'Are you worried I will die?' Because I can die just as easily in Stamford at home if it is really my time to go. I can just fall or have a car accident, who knows?"
Earning His Entry to the Main Event
Falling back on his usual strategy of using satellites to earn an inexpensive entry, Eapen played his way into the money in two of the four $1,100 mega satellites he entered, while also chopping up a couple single-table affairs.
According to him, recovering from his heart troubles and returning to the Rio was only half the battle, as playing well was also a priority. Even so, Eapen readily admits that if not for a few benevolent big stacks, he may have been heading home early once again.
"I have to say my mega tables were mostly very nice," Eapen observed. "And many guys decided not to go all in over my big blind when I was short stacked. I am really thankful for that. I do not remember all of their names of course, but one guy sitting next to me was a pro named Leif Force, and when he had a big stack, he open-folded ace-king to my big blind.
"As I always say, more than any skill, I give thanks to all those wonderful human beings who have helped me throughout my life. It means a lot to even play the Main Event."
With two $10,000 seats in the bag, Eapen entered Day 1c, sitting down for the third and final starting flight during Level 3 and quietly working his 50,000-chip starting stack up to 72,000 by night's end.
During Day 2c, Eapen opened his game up somewhat, while also benefiting from a pro's ill-timed bluff, along with the standard suckout every player needs to navigate the Main Event minefield.
"The second day was tough," Eapen said. "In 13 hours of play I only saw a single limped pot. There were too many aggressive players and famous pros on the table. Famous, but very good also. Josh Beckley, who took second place in last year's Main Event, was caught bluffing to me on a
board. I held pocket nines for a flopped full house, and he fired on every street, before mucking his cards when I called his all-in bet.
"Later, I called an all-in bet with pocket jacks and was racing against ace-king. An ace came on board, but also four spades, and I happened to hold the jack of spades. I think I played more hands than I should have played, but I plan to tighten up for Day 3. Even so, as I just learned, all this planning doesn't work in poker, or in life. You change plans as the situation comes up."
Eapen wound up surviving his tough table draw on Day 2c, ending the flight with 127,300 chips to give himself a fighting chance when the field combined for Day 3.
Given all that he has been through during the last three weeks, Eapen entered Day 3 knowing that no matter what odds he found himself facing going forward, he had already cashed in the most important "one time" of his life.
"I'm just happy to see another day," Eapen said. "Both in the tournament, and in general. I hope I can bag for Day 4, but for me it's one day at a time.
"This tournament is like a seven-day trek through a dense forest, with each day lasting 13 grueling hours. And along the walk, there will be tigers, lions, elephants, swamps, killer bees, and all those things. People will fall off and die along the way. It's like a difficult pilgrimage, as only a few will ever find bliss at the end of the journey."
Unfortunately, Eapen's Main Event journey came to an end in cruel fashion, after he got the last of his stack into the middle holding king-queen to flip the proverbial coin against an opponent holding pocket jacks. The flop brought Eapen the king he was looking for, but fortune swung to the other side of the table when a jack fell on the turn.
"It is an experience to either cherish, or be bitter about," Eapen observed. "That totally depends on the person you are. I have cherished every moment to date in my life; when I have won, and when I have lost."
Want to stay atop all the latest in the poker world? If so, make sure to get PokerNews updates on your social media outlets. Follow us on Twitter and find us on both Facebook and Google+!