Five 'More' Thoughts: What to Expect at the 2016 WSOP Main Event Final Table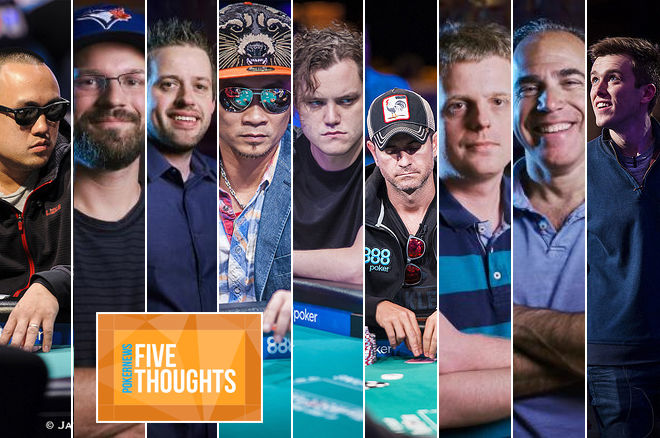 The more-than-three-month wait is almost over as the 2016 World Series of Poker Main Event will begin to play out inside The Penn & Teller Theater at the Rio All-Suite Hotel and Casino in Las Vegas Oct. 30.
The plan is relatively straightforward: The nine players remaining will play down to four, return the next day to play down to two and a champion will be crowned Tuesday, Nov. 1. It'll all play out live on-delay on ESPN or ESPN 2.
How it will all go down is another story altogether.
The final nine will be playing for a piece of $25,432,920 remaining in the prize pool. Each are guaranteed the $1,000,000 reserved for ninth with a few smaller pay jumps up until the fifth-place finisher collects $1,934,579. The money goes up significantly from there with the runner-up earning $4,658,452 and this year's World Champion receiving a life-changing $8,000,000.
In between coverage of the rise and fall of William Kassouf, millions have now watched the story of each of this year's November Nine unfold on ESPN. How they got here is no secret now, but where they will end up and who will end up the winner of the 2016 WSOP Main Event has yet to be determined.
That brings us here, to a special edition of PokerNews' Five Thoughts, where we look back on our coverage of the Main Event, our own series of November Nine profiles and final table simulations, our reflections of the ESPN coverage and the hand histories on WSOP.com, to bring readers some insight into how it will all go down.
We expect Cliff Josephy to live up to his legendary status, Qui Nguyen to play the gambler and Fernando Pons and Jerry Wong to get it in early and often. We also expect Vojtech Ruzicka and Griffin Benger to have opposite reactions to playing on such a massive stage and suspect Gordon Vayo, Kenny Hallaert and Michael Ruane will be as worthy a champion as any of the November Nine. We discuss it all in Five 'More' Thoughts below.
1. He Is Legend

An online poker legend and two-time World Series of Poker bracelet winner, Cliff Josephy is far and away the most experienced player in the 2016 November Nine. He also happens to have the most chips.
As a result, you can expect Josephy to employ a style of play that takes advantage of all that. He'll liberally put the short stacks to a decision for their tournament lives and he'll put pressure on the players in the middle of the pack, knowing they won't want bust before the real short stacks do.
All Josephy's experience means he isn't likely to make many mistakes, and while no one is perfect, you can expect him to pretty much play that way. We don't expect Josephy to give chips away, but we do expect he'll make an attempt to run away with the title playing a relatively loose-aggressive style until the other players at the table put up a stand and try to stop him.
2. The Gambler

Qui Nguyen has admitted he's more of a gambler than a poker player, with a penchant for baccarat trumping his love of Texas Hold'em.
Since the other players have been made keenly aware of this fact, you can expect Nguyen to use that image to his advantage.
Nguyen's got the second most chips on the table to start out, meaning he can bust every player in a single hand outside of Josephy, and is likely to employ an aggressive style against the opponents he deems are afraid to risk it all and gamble with him.
In a series of online Main Event final table simulations run by PokerNews and Advanced Poker Training, using artificial intelligence bots designed to play like the November Niners, the Nguyen bot did much better than it was predicted to based on chip stack statistics, winning the most sims overall.
The bot was designed to be a gambler and was one successfully. After looking at the numbers, the folks at APT believed in Nguyen's ability to win the tournament so much, they decided to sponsor him. This sponsorship will come with more than just a patch; however, as APT plans on passing along some advice to Nguyen based on what they learned about his performance in the simulations. This is yet another reason you can expect to see Nguyen trying to gamble his way to the win.
3. The Short-Stack Shuffle

The players at the bottom of the chip counts are not going to win this tournament unless they double up early and often. Since the first couple of pay jumps are the least significant, you can expect those players to take some chances early on.
Fernando Pons is the shortest stack of nine, and since he qualified for the event through an 888poker satellite, he's the most likely to consider it a victory just to have made it this far. As a result, you can expect Pons to pick a hand and go with it early, rather than make an attempt to ladder up through other means.
Jerry Wong is the next up the chip count list, and as an experienced player, he will likely come in having studied optimal shoving ranges and be ready to go with them. With only a few hundred thousand dollars' difference between ninth and seventh, Wong is another player you can expect to look for a hand to shove with early, rather than wait for others to bust out first.
4. Lights, Camera, Action

The two players sitting in sixth and seventh on the current leaderboard are the most likely to be polar opposites in their reaction to the weight of the moment when play begins.
Czech player Vojtech Ruzicka and Canadian Griffin Benger have about the same size stacks, but that appears to be one of the only things they have in common.
There's little doubt Ruzicka has the poker chops to make it at this level; the question is, does he have the intestinal fortitude? On breaks in the lead up to the November Nine, Ruzicka was often seen nervously smoking outside the Amazon Room, looking like a man with the weight of the world on his shoulders. His discomfort with both the English language and the stage also appeared evident on the ESPN coverage, with Ruzicka rarely seen uttering a single word.
In contrast, Griffin Benger was the only player to outspeak vaunted speech-play expert William Kassouf, and with a background that includes time as a Counter-Strike pro when he was a teenager, Benger is as comfortable in the spotlight as anyone.
When the lights come on and the cameras start rolling, the pressure will mount. It looks like Ruzicka could be the most affected by that, while Benger will be the least likely to be fazed.
5. Forget About It

At one time, this space contained the sarcastic opinion that Gordon Vayo, Kenny Hallaert and Michael Ruane were among the most likely to finish runner-up this year because they may not be the characters some of the other finalists are.
Obviously this kind of thing has no bearing on how any of these players will end up when the final table plays out. Plus, it's ridiculous to even suggest that the backstories of Vayo, Hallaert and Ruane are any less compelling than the other players at the table.
Whether it's one of a pair of online poker players from the United States, a veteran tournament director from Belgium, an online legend and two-time WSOP bracelet winner, or a Vietnamense gambler who lives in Las Vegas, a Canadian video game pro who finally shut William Kassouf up, a rising star from the Czech Republic who has said very little, or a short stack who came out of nowhere, whether he happens to be an 888poker qualifier or not, I'm sure whoever wins this year's 2016 WSOP Main Event will have run well, played well, and be a fitting champion.
Be sure to complete your PokerNews experience by checking out an overview of our mobile and tablet apps here. Stay on top of the poker world from your phone with our mobile iOS and Android app, or fire up our iPad app on your tablet. You can also update your own chip counts from poker tournaments around the world with MyStack on both Android and iOS.