The 2016 November Nine: Seat 9, Jerry Wong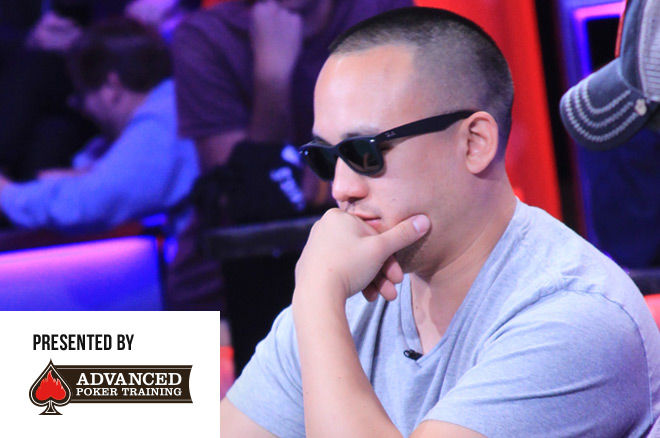 Each week leading into the World Series of Poker final table, we'll profile one player who will be vying for the championship. Our profiles are sponsored by Advanced Poker Training, one of the world's top poker training sites. At AdvancedPokerTraining.com, you can play up to 500 hands per hour of full-ring, six-max, Sit & Go or full MTTs against thousands of intelligent computerized opponents with instant advice, weekly training plans and much more. It's the fastest way to ignite your game!
Jerry Wong is far from a household name to poker fans. Even among poker media, despite some good results, he's something of a face in the crowd – he didn't appear much in the live updates until just a few hands before he bagged the chip lead on the night of Day 5 of the World Series of Poker Main Event.
And that's the way it appears he wants to keep it, as he found little time to speak to media during and after his run to the November Nine.
What is known about Wong is this: He has some results that certainly suggest he's a hell of a poker player.
Even before the 2016 WSOP Main Event, Wong had tallied more than $1.2 million in online cashes. Chief among them was a $750,000 score for third place in the 2013 PokerStars Caribbean Adventure Main Event eventually won by Dimitar Danchev. The 34-year-old Brooklyn native has also won and cashed in numerous smaller events in his adopted home state of Florida.
The virtual felt has been even more lucrative for Wong, whom November Niner Gordon Vayo called "an OG online player."
According to online database PocketFives, Wong has cashed for more than $3.3 million online, most of it coming on PokerStars under the name "hummylun". Just this May, he finished fourth in a Spring Championship of Online Poker $1,000 event for over $270,000. He's even got a World Championship of Online Poker bracelet, taking down a badugi event in 2014 for $16,146.
So, when the November Nine begins, don't just gloss over Jerry Wong. His might not be a face or a name that stands out, and he doesn't exactly have a big stack, coming in eighth in chips; but if his results are any indication, he has both the game and the big stage experience to be a factor.
How He Got Here
| Day | Final Chip Count | Rank |
| --- | --- | --- |
| 1c | 45,700 | 2,113/3,252 |
| 2 | 235,000 | 398/2,186 |
| 3 | 784,000 | 97/800 |
| 4 | 1,969,000 | 44/251 |
| 5 | 11,555,000 | 1/80 |
| 6 | 12,975,000 | 13/27 |
| 7 | 10,175,000 | 8/9 |
When approaching the latter days of the WSOP Main Event, Wong said his mentality was to shut out the world and isolate himself as much as possible.
"Just going day by day, [I'm] trying to be a creature of habit, a creature of routine," he said of his thought process. "Simplify my life so I can put all of my mental energy into poker. Try not to think too much about the outside stuff."
Wong, it seems, was able to do that well enough, although he certainly drew the media spotlight after Day 5 when he bagged the chip lead with 80 players left. After putting his chips in the bag, Wong declined to offer comment to the assembled media, preferring to hustle on his way and get ready for the intense pressure of the coming days.
One big pot at the end of Day 4 propelled him to that lead. It came at the expense of start-of-day leader Bryan Piccioli, who opened to 140,000 in the hijack at 30,000/60,000/10,000. Wong made it 405,000 in the small blind and called when Piccioli shipped for about 2.6 million.
Wong:

Piccioli:
The board ran out eight-high to send the pot to Wong and he would bag the lead in short order.
Unfortunately for Wong, a continued climb wouldn't be in the cards. He started Day 6 well enough, taking a pot early on from Griffin Benger by flatting aces in the big blind and calling a double-barrel after flopping the top set. He worked his way up around 18 million but would ultimately bag just under 13 million.
One of his best chances to get some chips came early on Day 7, when he turned a set after defending his big blind from a Vojtech Ruzicka cutoff raise to 480,000. Both checked the
flop and a
hit. Wong bet 700,000 and called when Ruzicka raised to 2,550,000. Both checked the
and Wong won the showdown with
, unable to get any more chips out of his fellow November Niner.
Wong managed to work his way past the 20 million mark, but lost the big flip to another fellow November Niner, Vayo, who chopped down his stack considerably. They got in for Vayo's last 15 big blinds with Vayo holding tens and Wong ace-queen. A clean runout for Vayo sent the pot his way while Wong dipped under 16 million.
From there, Wong ended up one of the shorter stacks, but he attacked late, not content to limp into the final table.
"I wasn't afraid to bubble," he said. "I tried to make the play that was going to yield me the most money."
He got some shoves through and managed to put 20 big blinds in the bag. It wasn't a pile, for sure, but a workable enough stack for a player with Wong's experience level.
What to Watch For
Wong said things were "a blur" in the aftermath of putting chips in a bag for the final time during the 2016 WSOP, but they'll have to come into sharp focus quickly when play resumes at the end of October.
That's because Wong is coming in with only barely more than 20 big blinds and that will only be for half an hour. After that, the big blind kicks up to 600,000. Wong will really be under some pressure if he hasn't managed to find a double in the early stages.
Luckily for Wong, his seat at the table could be plenty worse. The biggest stacks at the table, belonging to Cliff Josephy and Qui Nguyen, are seated as far away as possible. They can most easily absorb the hit of shipping Wong a double, so they are the players who can most easily attempt to bust him.
Also, Wong has experienced and aggressive opponents who have plenty of chips on his right: Kenny Hallaert and Vayo. Their opens should present nice opportunities for Wong to shove over.
Furthermore, a short stack is always best off if the players behind him or her would take a real dent to their stacks by calling a shove. That's definitely the case here, as neither Benger (26 million) nor Ruzicka (27 million) would be in a very comfortable spot if Wong were to double through. They'll have to give Wong respect, which should help him steal some pots.
In the meantime, Wong has hit some other live tournaments and managed cashes for $21,228 at World Poker Tour Choctaw and $25,575 at a $2,650 event at Seminole Hard Rock Poker Open.
He said he'll be consulting with sharp poker-playing friends in advance of the November Nine, so he expects the break to be beneficial.
But, more than anything, he just wants to catch up on the rest he was deprived of on his way to the WSOP Main Event final table.
"I'm gonna nap for three months," he said.
Be sure to check out our sponsor AdvancedPokerTraining.com for some of the best poker training in the world.