The 2016 November Nine: Seat 8, Kenny Hallaert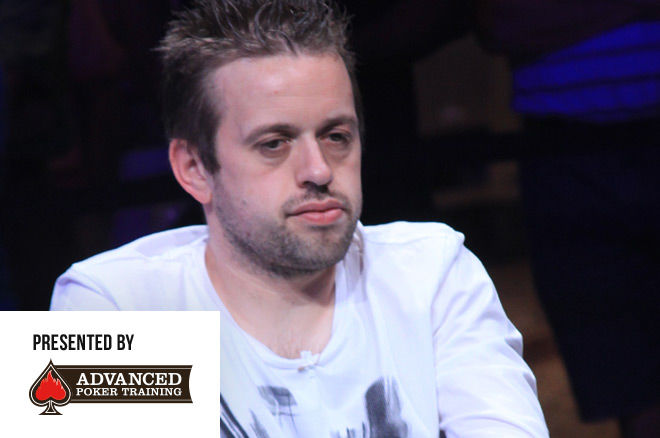 Each week leading into the World Series of Poker final table, we'll profile one player who will be vying for the championship. Our profiles are sponsored by Advanced Poker Training, one of the world's top poker training sites. At AdvancedPokerTraining.com, you can play up to 500 hands per hour of full-ring, six-max, Sit & Go or full MTTs against thousands of intelligent computerized opponents with instant advice, weekly training plans and much more. It's the fastest way to ignite your game!
Maybe Kenny Hallaert learns best by example.
Three years ago, he kept a close eye on the World Series of Poker Main Event final table coverage, watching and cheering as his friend Michiel Brummelhuis made the November Nine. Two years ago, he did the same when another Dutch friend, Jorryt Van Hoof, went in as the chip leader only to fall in third during Martin Jacobson's incredible run. Finally, in 2015, Hallaert's fellow Belgian, Pierre Neuville, got himself a seat in the November Nine and Hallaert actually railed his friend's seventh-place finish in person.
Now, it's Hallaert's time. The 34 year old watched and waited his turn. Advancing to the final table of the 2016 WSOP Main Event brings closure to a strange set of feelings he has harbored the past few years.
"I was happy for them," he explained. "They deserved to be there but I wanted to be there as well. It's hard to put it into one or a couple of words. It's an amazing feeling right now."
Hallaert isn't an easy player to categorize. He has won over $2.3 million in live poker, but he considers himself a recreational player since it's not his primary means of making a living. He has a youthful enthusiasm that shines through when he talks about the feat he pulled off to make poker's biggest stage, yet he's been around the game for most of his adult life.
A card game enthusiast even before he was dealt his first poker hand, Hallaert discovered the game in 2004 and had fun playing it for a few euros a week. He loved it enough that he decided on a career change and he took a job at a local casino marketing their poker room.
Eventually, Hallaert said that work "transformed" into him becoming a tournament director and organizer for a number of series in the area. He has put his stamp on events such as the Belgium Poker Challenge and the Unibet Belgian Poker Championship.
That's the work he's still doing to this day and it's truly been a labor of love for Hallaert. Pocketing scores like $210,962 (sixth place, European Poker Tour Deauville in 2011) and $182,348 (fifth place, WSOP Colossus in 2015) would make most people think twice about continuing to show up for their day jobs. But Hallaert is adamant the life of the poker pro never had much allure for him.
"The pressure can be high," he said. "It's not always easy. I never wanted to quit that job."
Of course, Hallaert is around the game enough that he feels he gets the best of both worlds. He makes a steady living with his regular work in the industry but still has easy access to poker and can play whenever and for however much he feels comfortable.
"It was an ideal combo for me," he said.
The formula has certainly worked, and now Hallaert is headed back to the November Nine for the second straight year. Only this year, instead of playing the role of cheerleader for his countrymen, Hallaert is strapping on the gloves and stepping into the ring himself.
"It's something I have dreamed of since I started watching World Series episodes more than 10 years ago," he said. "After making it, it's an indescribable feeling."
How He Got Here
| Day | Final Chip Count | Rank |
| --- | --- | --- |
| 1b | 269,400 | 2/1,301 |
| 2 | 410,100 | 23/760 |
| 3 | 1,709,000 | 1/800 |
| 4 | 1,684,000 | 69/251 |
| 5 | 10,050,000 | 3/80 |
| 6 | 15,465,000 | 9/27 |
| 7 | 43,325,000 | 4/9 |
Looking at Hallaert's finishing position at the end of each day of the tournament, one might think he had it pretty easy. Three times he bagged a top three stack to end the day. In fact, his "worst" ranking relative to the field is the fourth place he sits in with the tournament on recess until the end of October.
The Belgian admitted that's exactly how smooth it's been.
"Everything was on my side; nothing went wrong basically," he told PokerNews' Remko Rinkema.
At his lowest point, Hallaert said he did fall to about 10 big blinds early on Day 5, which had followed his worst of the tournament when he actually finished below his starting stack on Day 4. However, he was dealt kings against queens doubled up. It was the only time he has been all in and at risk for his tournament life with cards to come.
From there, he built back up, knocking out former WSOP Main Event champ Greg Raymer with 10s against nines at one point. Later in the day, he took a three-way all in with
against one opponent with
and another with
. An ace flopped, but a board of
gave Hallaert a winning flush.
Day 6 was slower for Hallaert, but the accumulation resumed on Day 7. The key pot came early on, when Hallaert tangled with Valentin Vornicu with blinds and antes at 100,000/200,000/30,000. Hallaert opened to 475,000 in the hijack and got three-bet to 1.1 million by Vornicu. He called, seeing a
flop.
Hallaert check-called 1,225,000, then 2,200,000 more on the
turn. He checked the
river as well and then shoved for 8,690,000 after Vornicu bet 2,650,000. The WSOP Main Event first-timer called and saw the bad news: His queens were no good against
.
"Bit of an unfortunate situation for him," Hallaert said. "That was a very important hand."
Hallaert would later score a knockout of notable opponent Jared Bleznick with
against
all in preflop. A ten flopped, but Hallaert turned a pair of winning jacks.
From there, he was able to bag the fourth-place stack.
What to Watch For
When most people think of running good, they think of good fortune when the cards are dealt, picking up big hands likes aces and ace-king. Or, perhaps, they think in terms of equity, such as a player running good when he or she seems to always win the critical showdowns.
Another form of running good is getting favorable table draws, though. That can make all the difference in the world and be just as important as the more traditional ideas of running hot. A tough table can handcuff even a world-class player, while a merely above average one can accumulate chips in bunches against a table of ranked amateurs.
Hallaert admitted that table draw has been a definite factor in his success in the 2016 Main Event and he expects that to continue at the final table.
"Looking at the draw, I really can't complain," he said. "At the final table, the bigger chips tend to be more to my right."
Indeed, three tough, deep-stacked opponents occupy the three seats immediately preceding Hallaert. There's Gordon Vayo on his immediate right with almost 100 big blinds, Michael Ruane in the next spot with more than 60 big blinds and chip leader Cliff "JohnnyBax" Josephy next with almost 150 big blinds. Hallaert has almost 90 big blinds himself and can put tons of pressure on these players with a big stack and position.
On the other hand, he is going to have to be careful early on about opening and three-betting too much, as having a short-stacked player to the left can really put the clamps on a player's ability to steal and re-steal. That's the case here as Jerry Wong is on Hallaert's left with a nice 20 big bind shoving stack.
Hallaert's plans for preparation include getting tips from his friends who have battled in the November Nine arena. Whatever happens, he said he isn't going to let the moment affect him either in life or on the felt.
For the former, he's going back to his usual routine and job.
"It will be weird running a tournament as a November Niner," he said. "But I'm a true professional and I'll organize those as I always have been, trying to make it a good experience for the players."
For the latter, he declares himself ready to play fearlessly and go for the win.
"I'm not going to dream already of eight million and a bracelet," he said. "I don't look at the money. It sounds stupid, but I know I made $1 million now. Obviously, that's a lot of money. I've never in my life played for this kind of money and I probably never will."
Be sure to check out our sponsor AdvancedPokerTraining.com for some of the best poker training in the world.