A Retrospective: WSOP Main Event Final Tables of the "November Nine" Era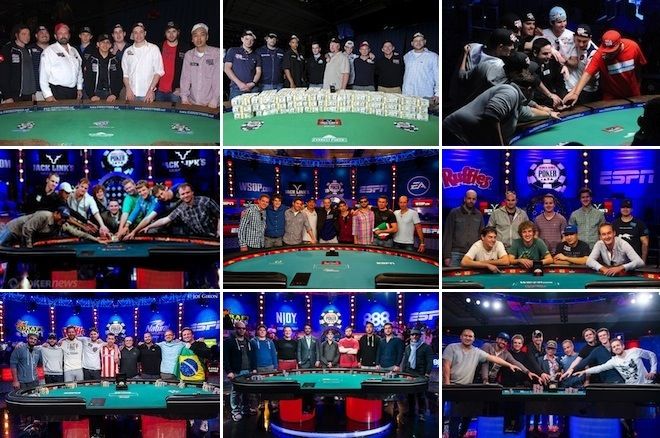 The "November Nine" is almost here, with the final table of the 2016 World Series of Poker Main Event set to start this Sunday at the Rio All Suite Hotel & Casino's Penn & Teller Theater in Las Vegas.
Granted, it will still be October when the first final table hand is dealt, but that doesn't stop us from referring to the event and the participating players as the "November Nine." After all, this will be the ninth November Nine, which means the entire Main Event final table delay has by now transformed from an "innovation" to a "tradition."
As we ready for the excitement of watching a new WSOP Main Event champion being crowned, let's look back to the beginning when the November Nine idea was still new and strange (and more than a little bit controversial). We'll then walk through the eight previous installments of the November Nine to recall some of the storylines surrounding those memorable final tables.
Introducing the "November Nine"
The unveiling of the "November Nine" idea didn't occur until May 1, 2008, less than a month before the start of that summer's World Series of Poker. In his announcement of the plan, then WSOP Commissioner Jeffrey Pollack noted the change had to do with "offering fans an enhanced way of following the excitement and drama" of the Main Event — in a sense making it more like a live sporting event than the documentary-like, edited shows that would appear on ESPN months after the tournament had already completed.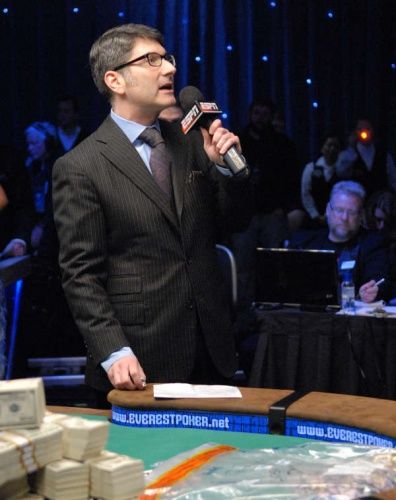 "Now fans will ask 'who will win' our coveted championship bracelet and millions of dollars instead of 'who won?'" added Pollack. "The excitement and interest that will surround our nine players will be unprecedented."
Rumors of the idea began circulating a few weeks before. In fact, as early as the previous October, author Michael Craig had shared on his blog a conversation he'd had with Ty Stewart about an idea "to play down to the final table and then adjourn the Series" for a couple of months in order to arrange to televise the final table live.
Few paid much attention to the idea at the time, but by April, the buzz about it — and arguments for and against the idea — had already started to increase. At the time the WSOP made the announcement, many commenting on the change voiced objections to it. If you were reading the forums, blog posts and articles at the time, more seemed opposed to the idea than in favor of it, with many arguing the change too greatly altered the traditional tournament format, never mind the tradition established by nearly four decades' worth of previous WSOP Main Events.
Some said it lessened the importance of players' stamina and endurance, since the final table would no longer be played out by players who'd been at it for seven, eight or nine long days of tournament poker already. Others worried about tournament integrity, wondering if the delay would increase the chance of collusion. The biggest objection had to do with players receiving coaching during the delay, something that by now has been taken as a given.
"I am very torn over this proposal," said 2004 WSOP Main Event champion Greg Raymer at the time. "It might be huge for the continued growth of poker; however, the downside is this long gap allows the players to become completely different people between the time they make the final table and when they play it."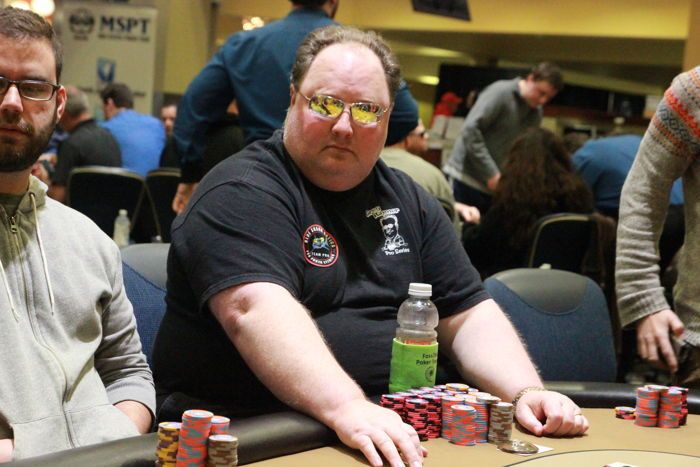 Others were enthusiastic from the start, including some players and WSOP brass who maintained the delay would provide a chance to build interest in the nine players, attracting attention from the "mainstream" or non-poker audience (as well as extra sponsors). While that didn't necessarily happen to the degree some expected, many who originally opposed the November Nine idea eventually came around not only to accept it, but to appreciate it as something unique and even appropriate for what is already the most special tournament in poker.
Let's look back briefly at those eight previous November Nines. Remember these players and stories?
2008
| Name | Chips | Finish |
| --- | --- | --- |
| Dennis Phillips | 26,295,000 | 3rd ($4,517,773) |
| Ivan Demidov | 24,400,000 | 2nd ($5,809,595) |
| Scott Montgomery | 19,690,000 | 5th ($3,096,768) |
| Peter Eastgate | 18,375,000 | 1st ($9,152,416) |
| Ylon Schwartz | 12,525,000 | 4th ($3,774,974) |
| Darus Suharto | 12,520,000 | 6th ($2,418,562) |
| David "Chino" Rheem | 10,230,000 | 7th ($1,772,650) |
| Craig Marquis | 10,210,000 | 9th ($900,670) |
| Kelly Kim | 2,620,000 | 8th ($1,288,217) |
Storylines
A 53-year-old amateur player from St. Louis working for a trucking company named Dennis Phillips emerged from the summer as the chip leader among the final nine. Phillips embraced the opportunity to share his story during the nearly four-month-long wait for the final table. When I interviewed him in late October, he mentioned that he'd been keeping a count and it was his 155th interview at that point. It was no surprise, then, to see a lot of support for Phillips at that final table, with many in the audience wearing the same St. Louis Cardinals hat and white shirt he wore during his run.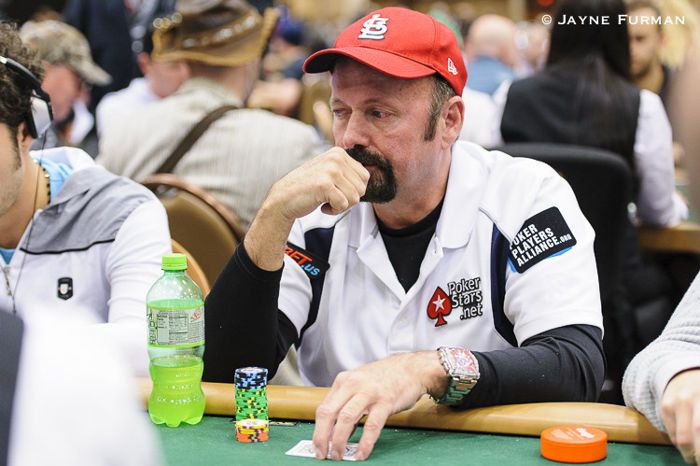 Ylon Schwartz, a highly-ranked chess master from Brooklyn, got some coverage from The New York Times in early November. Meanwhile within the poker world, David "Chino" Rheem was given a better-than-average chance despite his short stack, given the fact that at that point he'd earned a lot more in tournaments than the others. From a group of five Americans and two Canadians, Peter Eastgate of Denmark ultimately outlasted the Russian Ivan Demidov to take the top prize.
Key Hand
By the end of the second orbit, Demidov had barely edged ahead of Phillips to take the chip lead. A massive hand between the two resulted in Phillips losing most of his stack. After months as the WSOP Main Event chip leader, it had taken less than an hour for him to become ninth of nine.
After Phillips limped from under the gun with
, Demidov raised from the button with
, Phillips reraised, Demidov re-raised again and Phillips called. The pot was suddenly over 17 million — more than what either player had left behind.
The flop came
, and Phillips led with a bet of 4.5 million. Demidov then shoved his almost 14 million, and after tanking, Phillips had to let his hand go. The hand positioned Demidov well to make his run to heads-up. Meanwhile Phillips fought gamely to battle back and finish third.
2009
| Name | Chips | Finish |
| --- | --- | --- |
| Darvin Moon | 58,930,000 | 2nd ($5,182,928) |
| Eric Buchman | 34,800,000 | 4th ($2,502,890) |
| Steven Begleiter | 29,885,000 | 6th ($1,587,160) |
| Jeff Shulman | 19,580,000 | 5th ($1,953,452) |
| Joe Cada | 13,215,000 | 1st ($8,547,042) |
| Kevin Schaffel | 12,390,000 | 8th ($1,300,231) |
| Phil Ivey | 9,765,000 | 7th ($1,404,014) |
| Antoine Saout | 9,500,000 | 3rd ($3,479,670) |
| James Akenhead | 6,800,000 | 9th ($1,263,602) |
Storylines
The 46-year-old Maryland logger and amateur player Darvin Moon carried a big chip lead to the second edition of the November Nine, evoking for some a parallel with Phillips from a year before. Moon's shunning of endorsements meant he'd be the only player without a patch at the final table. His New Orleans Saints cap was the only logo he wore; the team happened to win that year's Super Bowl.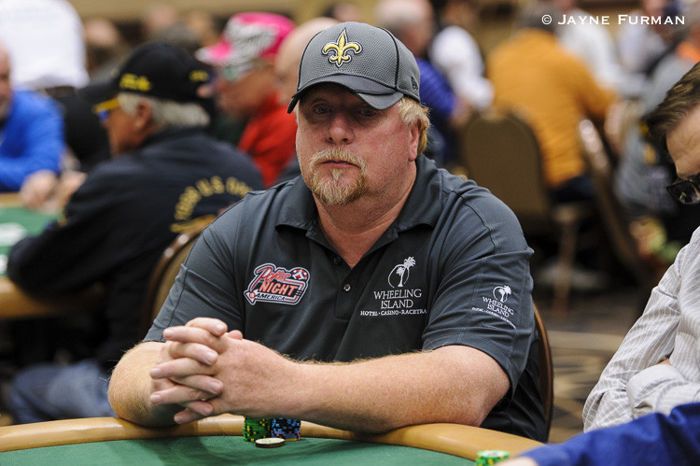 Jeff Shulman's return to a second WSOP Main Event final table after finishing seventh in 2000 also drew attention, as did Shulman's critical statements about the Series and the much-reported claim he'd throw away the bracelet if he were to win. The only non-Americans were the United Kingdom's James Akenhead and Antonie Saout, the first ever Frenchman to make a WSOP Main Event final table. And while Joe Cada flew under the radar during the lead up, his victory made him the youngest-ever Main Event champion at 21. His being backed by Cliff "JohnnyBax" Josephy would be reprised as a storyline since Josephy made the final table this year.
Of course, all of these threads were overwhelmed by one other story in 2009, that of Phil Ivey. Ivey had already won two bracelets that summer (his sixth and seventh) and was making the top 25 of the WSOP Main Event for the fourth time in eight years. Alas for Ivey, he couldn't spin up his short stack and his run ended in seventh.
Key Hand
Near the end of the long first day, it was three-handed when the short stack Cada four-bet all in with
and was snap-called by Saout who held
. Cada, who'd earlier at the final table survived all-in bets with pocket fours (versus Ivey) and pocket threes (flopping a set versus Shulman's pocket jacks), again would find good fortune with a small pair, flopping a deuce to survive and take the chip lead.
Saout went out four hands later in third. Cada would outlast Moon heads up — coming back again to do so — to win.
2010
| Name | Chips | Finish |
| --- | --- | --- |
| Jonathan Duhamel | 65,975,000 | 1st ($8,944,310) |
| John Dolan | 46,250,000 | 6th ($1,772,959) |
| Joseph Cheong | 23,525,000 | 3rd ($4,130,049) |
| John Racener | 19,050,000 | 2nd ($5,545,955) |
| Matthew Jarvis | 16,700,000 | 8th ($1,045,743) |
| Filippo Candio | 16,400,000 | 4th ($3,092,545) |
| Michael Mizrachi | 14,450,000 | 5th ($2,332,992) |
| Soi Nguyen | 9,650,000 | 9th ($811,823) |
| Jason Senti | 7,625,000 | 7th ($1,356,720) |
Storylines
Like Ivey the year before, Michael Mizrachi earned a lot of the focus leading up to this November Nine. With the most decorated tournament résumé (by far) among those at the final table, Mizrachi had a shot at the 2010 WSOP Player of the Year thanks to his victory in that year's $50,000 Poker Players Championship (plus two other final tables), although he'd come up short to double bracelet winner Frank Kassela.
The final table featured two Canadians — Matt Jarvis and eventual champ Jonathan Duhamel — along with six Americans. Meanwhile Filippo Candio was making the first-ever Italian final table appearance and some of his celebrations after hands shown on ESPN during the lead up drew even further attention to him. Sadly, Matt Salsberg reported via Twitter just a week ago that the well-liked ninth-place finisher Soi Nguyen passed way this month.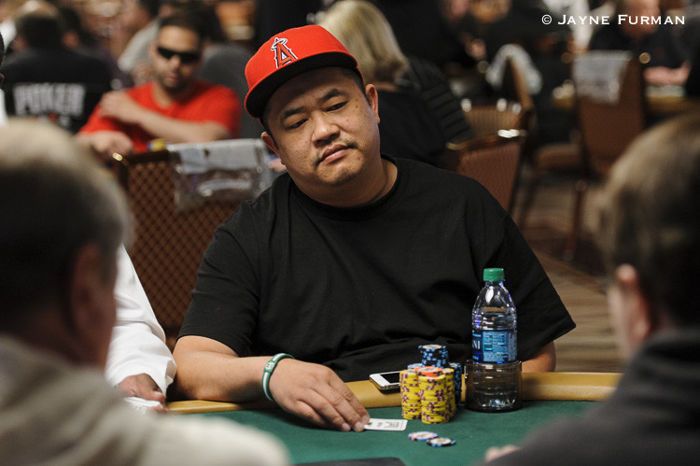 Key Hand
The choice of a key hand is easy for this final table. With three players left, Joseph Cheong had the chip lead with about 90 million, Duhamel was next with 83 million and John Racener was a distant third with about 36 million. Cheong opened with a raise from the small blind, Duhamel re-raised, Cheong four-bet, Duhamel re-raised again and Cheong six-bet jammed all in.
Duhamel tanked then called with
, while Cheong had
. The queens held, and though Cheong would double-up his short stack a couple of times over the next half-dozen hands, he'd eventually go out in third. Duhamel finished off Racener the next night.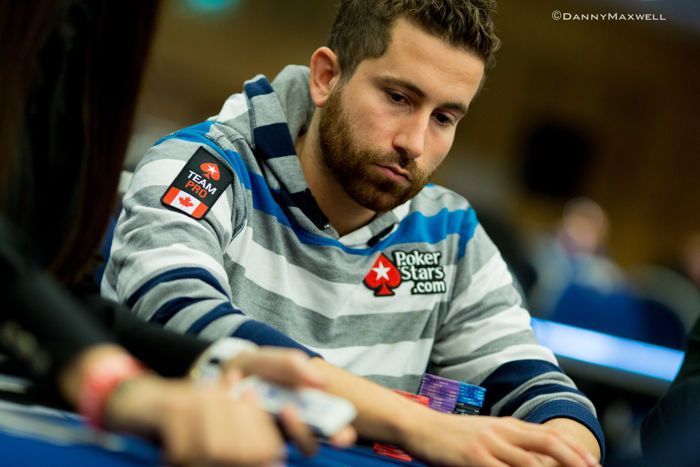 2011
| Name | Chips | Finish |
| --- | --- | --- |
| Martin Staszko | 40,175,000 | 2nd ($5,422,086) |
| Eoghan O'Dea | 33,925,000 | 6th ($1,720,831) |
| Matt Giannetti | 24,750,000 | 4th ($3,012,700) |
| Phil Collins | 23,875,000 | 5th ($2,269,599) |
| Ben Lamb | 20,875,000 | 3rd ($4,021,138) |
| Badih "Bob" Bounahra | 19,700,000 | 7th ($1,314,097) |
| Pius Heinz | 16,425,000 | 1st ($8,715,638) |
| Anton Makiievskyi | 13,825,000 | 8th ($1,010,015) |
| Sam Holden | 12,375,000 | 9th ($782,115) |
Storylines
It was the most international WSOP Main Event final table ever, with no less than seven countries represented among the nine players. Germany, Czech Republic, Ireland, Belize, Ukraine and the United Kingdom each sent one player and the United States sent the other three. It also marked the first-ever WSOP Main Event final tables for Ukraine (Anton Makiievskyi), Czech Republic (Martin Staszko) and Belize (Bob Bounahra).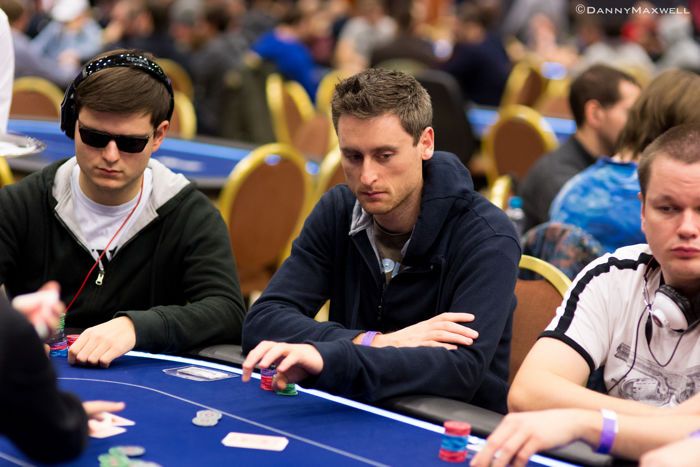 Ireland's Eoghan O'Dea was following in the footsteps of his father Donnacha O'Dea who made the WSOP Main Event final table in 1983 where he finished sixth. Coincidentally, that's exactly where Eoghan would finish. Meanwhile Ben Lamb's WSOP POY-worthy hot summer (five cashes, four final tables, one bracelet) was another attention-getter during the lead up to the final table, as was his having finished 14th in the Main Event just two years before.
Key Hand
After three years of playing down to two players on the first night, then having heads-up play out on the second, the 2011 November Nine was played down to three players the first night. Players returned with Pius Heinz in front with 107.8 million, Lamb next with 55.4 million and Staszko third with 42.7 million.
On the very first hand of that final night, the blinds were 600,000/1,200,000 with a 200,000 ante when Lamb opened for 3 million from the small blind, Staszko made it 7.5 million to go from the big blind, Lamb shoved all in and Staszko called to put himself at risk. Stasko had
and Lamb had
. When the board ran out ten-high Stasko doubled and Lamb was suddenly crippled. Lamb would go out three hands later. After a lengthy heads-up battle Heinz would prevail.
2012
| Name | Chips | Finish |
| --- | --- | --- |
| Jesse Sylvia | 43,875,000 | 2nd ($5,295,149) |
| Andras Koroknai | 29,375,000 | 6th ($1,640,461) |
| Greg Merson | 28,725,000 | 1st ($8,531,853) |
| Russell Thomas | 24,800,000 | 4th ($2,850,494) |
| Steven Gee | 16,860,000 | 9th ($754,798) |
| Michael Esposito | 16,260,000 | 7th ($1,257,790) |
| Robert Salaburu | 15,155,000 | 8th ($971,252) |
| Jake Balsiger | 13,115,000 | 3rd ($3,797,558) |
| Jeremy Ausmus | 9,805,000 | 5th ($2,154,616) |
Storylines
Like this year, the 2012 presidential election meant the WSOP Main Event final table played out a little earlier than usual at the end of October. That led some to try to call this one the "Octo-Nine," but the name didn't really take. In any case, the lead up to this final table was somewhat dominated by the near-misses of Elisabeth Hille (in 11th) and Gaelle Baumann (in 10th), each of whom was trying to become the first woman to make the WSOP Main Event final table since Barbara Enright did it in 1995.
Andras Koroknai knocked both Hille and Baumann out in July and he became the first Hungarian player ever to make the WSOP Main Event final table. He also was the only non-American to make it, contrasting sharply with the previous year's mix of nationalities. Meanwhile Greg Merson won the $10K Six-Max event at the end of the summer and needed to win the Main Event in order to surpass Phil Hellmuth for WSOP POY honors. Hellmuth had three runner-ups that summer and would finish second one more time when Merson won the Main Event.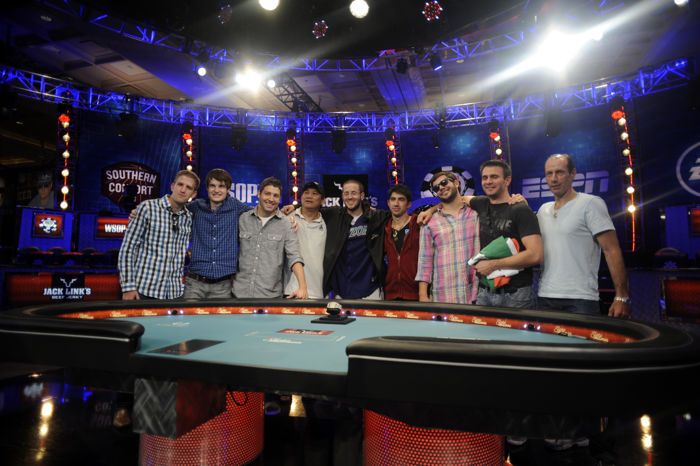 Key Hand
They again played down to three the first night, with the subsequent epic three-handed battle between Merson, Jesse Sylvia and Jake Balsiger, featuring some stellar poker. The night before, however, came a big hand between Merson and Koroknai, who at the time were second and third in chips, respectively, behind Sylvia.
With six players left, Merson had just over 42 million and min-raised to 1 million from the button. Sylvia (with about 54 million) re-raised to 2.6 million in the small blind, then Koroknai (who had 41.2 million to start) four-bet to 5.3 million from the big blind. Merson came back with another re-raise to 9.2 million, Sylvia folded and Koroknai shoved all in.
Merson called immediately, showing
, while Koroknai had
. The board came eight-high. Suddenly Merson had a big chip lead, while Koroknai was eliminated in sixth.
2013
| Name | Chips | Finish |
| --- | --- | --- |
| JC Tran | 38,000,000 | 5th ($2,106,893) |
| Amir Lehavot | 29,700,000 | 3rd ($3,727,823) |
| Marc-Etienne McLaughlin | 26,525,000 | 6th ($1,601,024) |
| Jay Farber | 25,975,000 | 2nd ($5,174,357) |
| Ryan Riess | 25,875,000 | 1st ($8,361,570) |
| Sylvain Loosli | 19,600,000 | 4th ($2,792,533) |
| Michiel Brummelhuis | 11,275,000 | 7th ($1,225,224) |
| Mark Newhouse | 7,350,000 | 9th ($733,224) |
| David Benefield | 6,375,000 | 8th ($944,593) |
Storylines
Like Phil Ivey and Michael Mizrachi before him, JC Tran came to the 2013 final table with one of the more impressive tournament pedigrees in poker; and in his case, he too had the chip lead after knocking out 2001 WSOP Main Event champion and 2016 Poker Hall of Fame inductee Carlos Mortensen in 10th. With $8.3 million in cashes at the time, including two bracelets and a World Poker Tour title, Tran was the betting favorite to win it all.
Meanwhile Michiel Brummelhuis became the first Dutchman to make the WSOP final table (Marcel Luske having coming closest before, finishing 10th in 2004). Amir Lehavot was just the second from Israel to do it, following Tomer Benvenisti who finished fifth in 2003. Aside from the Frenchman Sylvain Loosli, the only other non-American was Marc-Etienne McLaughlin, 2010 champ Duhamel's friend who'd finished 30th in the Main Event in 2009 and 86th in 2011.
Nightclub promoter Jay Farber was the truest amateur among the final nine, while it was something of a comeback story for Mark Newhouse who'd won a WPT in 2006 for over $1.5 million though he had but one six-figure score since.
Key Hand
Ryan Riess, a regular on the WSOP Circuit during the previous year, would emerge as that year's champ after defeating Farber heads-up.
Earlier in the final table with six players left, Riess had the lead and Farber was close behind with just over 60 million. Meanwhile Tran was far back in third with just over 21 million when he raised from the small blind to 1.4 million (a little over two times) with
. Farber had picked up
in the big blind and three-bet to 3.1 million, then Tran made it 6.4 million to go.
At that, Farber shoved all in and Tran tanked before folding. Tran would survive a bit longer before going out in fifth.
2014
| Name | Chips | Finish |
| --- | --- | --- |
| Jorryt van Hoof | 38,375,000 | 3rd ($3,807,753) |
| Felix Stephensen | 29,700,000 | 2nd ($5,147,911) |
| Mark Newhouse | 26,525,000 | 9th ($730,725) |
| Andoni Larrabe | 25,975,000 | 6th ($1,622,471) |
| Dan Sindelar | 25,875,000 | 7th ($1,236,084) |
| William Pappaconstantinou | 19,600,000 | 5th ($2,143,794) |
| William Tonking | 11,275,000 | 4th ($2,849,763) |
| Martin Jacobson | 7,350,000 | 1st ($10,000,000) |
| Bruno Politano | 6,375,000 | 8th ($947,172) |
Storylines
It was another internationally-flavored final table in 2014, with six countries represented and Brazil sending its first-ever player to the final table, Bruno Politano. World foosball champion William Pappaconstantinou brought a big name and a big following to the final table. While Martin Jacobson returned to the shortest stack, he had the tallest tournament résumé including two European Poker Tour Main Event runner-ups and a sixth-place finish in the $111,111 One Drop High Roller in 2013.
A change in the payouts to award the winner an even $10,000,000 was part of the hype leading into the Main Event two years ago, but the biggest story by far was the return of Mark Newhouse to the final table for a second straight year. It was an incredible achievement and has so far been the only instance of a two-time "November Niner" (as Shulman's previous final table had come prior to the Nov. 9 era).
Key Hand
While Jacobson's amazing comeback from eighth place to victory was marked by an incredible 19 all-ins, it was an early hand involving Newhouse that proved especially memorable — and uncannily undid Newhouse's incredible pre-Main Event tweet when entering the tournament, that he was "not f*cking finishing 9th again."
Then chip leader Jorryt van Hoof opened with a just-over-min-raise to 1.1 million from the hijack seat. Then Newhouse, in the middle of the pack with 22 million behind, called from the cutoff with
. William Tonking (who had about 24 million) then re-raised to 3.75 from the small blind with
, and after van Hoof folded, Newhouse called.
The
flop brought a bet of 3.5 million from Tonking and Newhouse called again. After the
turn, Tonking checked, Newhouse bet 4.5 million and Tonking called to push the pot over 25 million.
The river brought the
, and when Tonking checked, Newhouse shoved his last 10.2 million in the middle. Tonking thought about 45 seconds and called, and suddenly Newhouse was out in ninth again.
2015
| Name | Chips | Finish |
| --- | --- | --- |
| Joe McKeehen | 63,100,000 | 1st ($7,683,346) |
| Zvi Stern | 29,800,000 | 5th ($1,911,423) |
| Neil Blumenfield | 22,000,000 | 3rd ($3,398,298) |
| Pierre Neuville | 21,075,000 | 7th ($1,203,293) |
| Max Steinberg | 20,200,000 | 4th ($2,615,361)[/B] |
| Thomas Cannuli | 12,250,000 | 6th ($1,426,283) |
| Josh Beckley | 11,800,000 | 2nd ($4,470,896) |
| Patrick Chan | 6,225,000 | 9th ($1,001,020) |
| Federico Butteroni | 6,200,000 | 8th ($1,097,056) |
Storylines
The presence of 61-year-old Neil Blumenfield and 72-year-old Pierre Neuville skewed the average age much higher than usual at last year's November Nine, with Neuville becoming the oldest player ever to make a WSOP Main Event final table. The Belgian Neuville joined Italian Federico Butteroni, Zvi Stern of Israel and six Americans at the final table.
Thomas Cannuli was the youngest at 23, while two other younger players — Joe McKeehen and Josh Beckley (both 24) — would be the ones making it to heads-up, with McKeehen winning. McKeehen brought the biggest chip lead of the November Nine era to the final table and he'd stay in front, wire-to-wire, to earn the victory.
Key Hand
Having moved to a three-day format (playing from 9 to 6, then 6 to 3, then 3 to 1), there was a hand early on the third night at the start of three-handed play that all but assured McKeehen would remain in control to the finish.
McKeehen had almost 128 million — way ahead of Blumenfield (35.625 million) and Beckley (29.1 million) — when he limped in from the small blind. Blumenfield raised to 3 million and McKeehen called. McKeehen would then check-call bet on all three postflop streets as the board came
, ultimately showing
for top pair.
Blumenfield had tried to bluff with
and he was down under 20 million after the hand. McKeehen would need just 36 more hands to earn the win.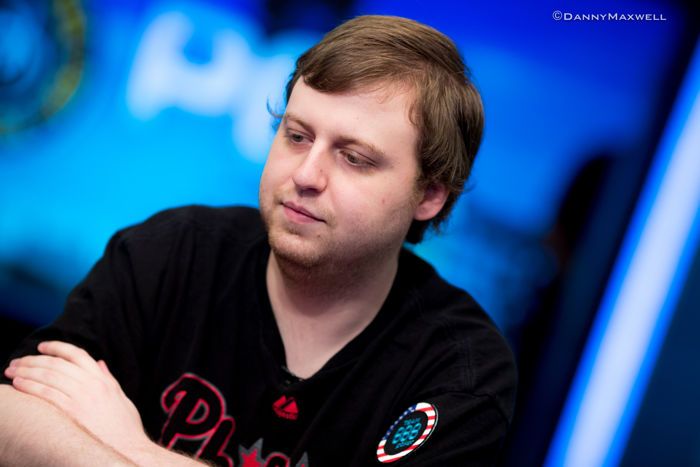 2016
| Seat | Player | Country | Chips |
| --- | --- | --- | --- |
| 1 | Griffin Benger | Canada | 26,175,000 |
| 2 | Vojtech Ruzicka | Czech Republic | 27,300,000 |
| 3 | Fernando Pons | Spain | 6,150,000 |
| 4 | Qui Nguyen | USA | 67,295,000 |
| 5 | Cliff Josephy | USA | 74,600,000 |
| 6 | Michael Ruane | USA | 31,600,000 |
| 7 | Gordon Vayo | USA | 49,375,000 |
| 8 | Kenny Hallaert | Belgium | 43,325,000 |
| 9 | Jerry Wong | USA | 10,175,000 |
The 2016 World Series of Poker Main Event final table has been set, and the final nine players will now take a break until the end of October when they resume to battle it out for $8,000,000 and the most coveted title in all of poker. Cliff "JohnnyBax" Josephy finished with the chip lead after bagging up 74.6 million in chips.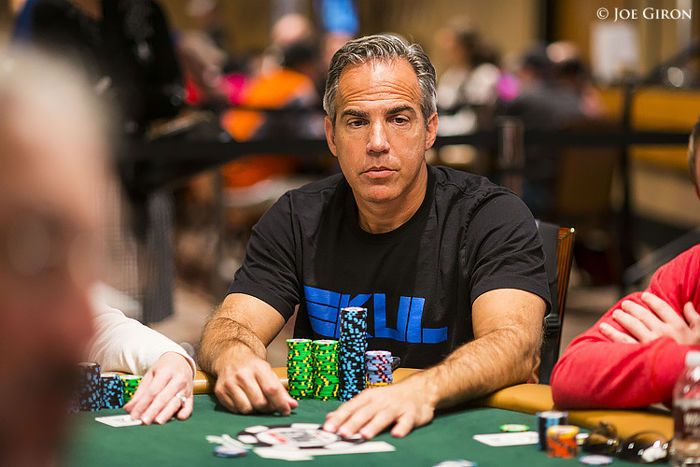 Check out our series of simulations from Advanced Poker Training, where artificial intelligence bots are programmed based on player bios and playing styles to predict who will win the final table.
Keep coming back to PokerNews for continued November Nine coverage!