Tweet, Tweet, Bad Beat: Over the Emails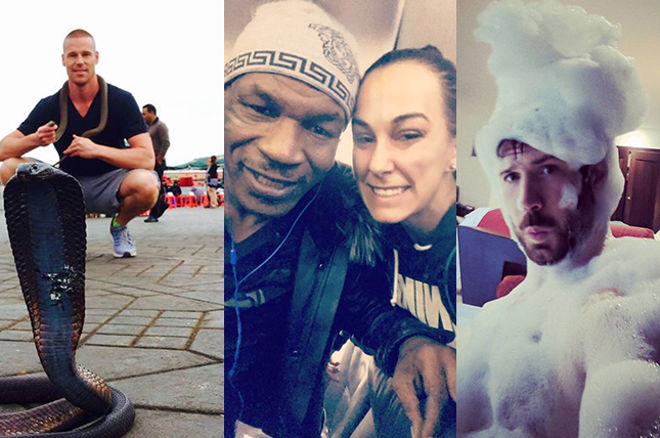 If you're like me, you're over the Black Friday and Cyber Monday sales that have somehow managed to last the entire week, unlike the rest of us who were so ready for the weekend and a blip in the email train.
So, in our attempt to get over the emails, here's the best in social media this week from the poker community. Enjoy.
You aren't anyone until you've met Mike Tyson. BOOM.
The celebrity heater is real! Sat behind @MikeTyson on plane ride home. He was super nice. Back to boring old Vegas… https://t.co/Kes29Hs6ET

— Danielle Andersen (@dmoongirl)
Aww family loyalty. Touching. And spot the resemblance.
The GPL was going…and so were the young minds of other poker stars.
Don't ever say poker doesn't give back.
Vegas or Paris? Can you spot a difference? ;)
Special appearance from Paris Hilton.
The Patrik Antonius Social Emergence
Post-Thanksgiving training taken waayyyyy too hard. Just kidding, we envy you, Patrik Antonius.
Thanks for the World Class Gym and its great staff! My trainer Jerome has had a very positive impact on my training… https://t.co/Lm9BYfzkPD

— Patrik Antonius (@Patrik_Antonius)
The family man. Kudos to the child who chose a book?
And snakes to launch your Facebook page. #solid
Facing the Facts
Reality sinks in…for those who can't tell, this is a real true statement (and he's engaged).
TMI. No, really. I didn't want to know. [Try to read this without cringing]
Taking an @Uber back to hotel yesterday driver says he really has to go, proceeds to pullout a cup and piss in it without missing a beat.

— Jason Koon (@JasonKoon)
SHOW OFF. And, honestly, calling out the opportunity for Cristiano Ronaldo to wear close to nothing. Is this an underwear commercial or Raise It campaign?
YIKES.
Weddings and things.
Also doubling as an Abercrombie model. We can smell the store all the way from here.
Got to get in the right mindset even when looking in the mirror. $$$
Hardcore Gaming
Let's make memes great again.
Old school gold shoes.
Game face on.
Taking warmups way too seriously.
Kitty for sale, $5.
Momma is saying it's time for another win.
Lead images courtesy of Patrik Antonius, Danielle Andersen and Mark Radoja.
Finding a trustworthy room to play online poker can be a monumental burden. That's all the more true if you're just looking for a place to play poker for free. We've listed five of the best play-money poker sites to enjoy and help hone your skills.