NFL Wild Card Betting Odds, Predictions and Picks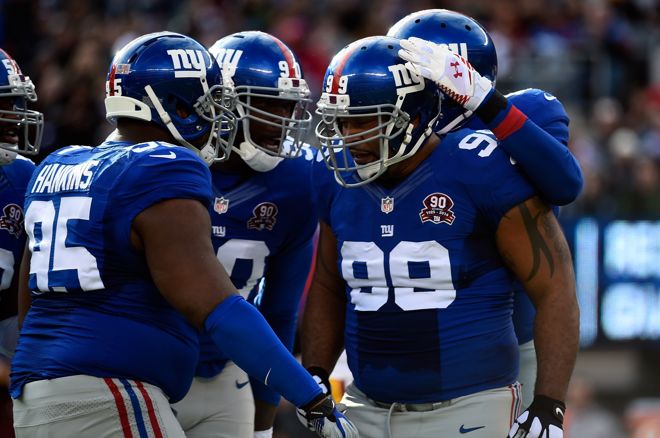 Enjoy playing fantasy sports and betting on games? PokerNews will be providing more strategy and news in 2017! Keep an eye out for top picks, predictions and best bets across a wide range of sports throughout the year.
The 17-week NFL regular season has come to a close. Although it was just a few months ago that fans of every team were filled with optimism about the 2016 season — or optimistic pessimism in the case of Browns fans whose team secured the hoped-for top pick in the draft — only 12 teams now remain in contention.
They'll play out the remaining games in the familiar single-elimination playoff format, starting with this weekend's Wild Card round. That will see the top two teams in each conference sit on the sidelines while the lower-seeded teams battle it out for the right to hit the road on for the Divisional Round next week.
Here, we'll look over the betting odds and matchups for the four Wild Card games and try to pick out some bets that might bear fruit for those looking to get a monetary sweat on the games.
Saturday, Jan. 7
Oakland Raiders at Houston Texans (-3.5) — O/U 37
A battle of two bad QBs will commence in Houston when Connor Cook, a rookie with all of 21 NFL passes under his belt, leads the Raiders against the Texans and Brock Osweiler, who was benched in favor of a QB who didn't throw a pass last season.
These teams actually already met this season, on Nov. 21 in Mexico City. The Raiders beat the Texans 27-20 on the neutral field but are now decent-sized underdogs on the road. That's likely because the loss of star QB Derek Carr is rightly seen as much more difficult to overcome than the loss of a former fourth-round no-namer in Tom Savage. Further driving public perception to the Texans is Oakland's horrific showing against Denver in Week 17. In their first game without Carr, the Raiders put up a pathetic 4.4 yards per play.
However, keep in mind that game came against the top-rated defense in the NFL. The Broncos also grabbed an early lead that forced Oakland to pass. That's probably not going to be the case in a game with a total of 37 here. Oakland has a decent running game, rated 15th overall and gaining 4.4 yards per rush, and they'll need to utilize their stable of backs and excellent offensive line to keep Cook out of trouble. The Texans have Jadeveon Clowney, who has been a monster on the defensive line, and solid corners, so minimizing their impact will be key.
Osweiler led the Texans to a piddling 5.6 YPP in their November loss to Oakland. The Raiders defense has been a punching bag for much of the season but improved from historically awful to just pretty bad by year's end. Further muddying things for Houston is the status of Lamar Miller, the RB who has been their best offensive weapon. He's going to play, but how healthy is he?
Best Bet: Raiders +3.5
Detroit Lions at Seattle Seahawks (-8) — O/U 42.5
The Lions stumbled into the playoffs at 9-7 after dropping their last three games, all by decisive margins, causing them to fall to the sixth seed for a road date with the Seahawks.
Detroit overall appears to be a bit of a paper tiger, feasting on an easy schedule and a steady diet of close wins. Their wins came against a bunch of bad-to-mediocre teams, including having the good fortune of both Vikings matchups coming after Minnesota's collapse began. However, Seattle isn't exactly the team it appears to be on paper either, mostly owing to the loss of star S Earl Thomas.
The Lions do sport a pretty sharp passing offense behind the improved play of Matthew Stafford at QB, and the offensive line appeared capable of opening holes for new RB Zach Zenner in the closing loss to the Packers. A Seattle defense that was looking like a typical strong point for the Hawks ended up ranking just 13th against the pass and can be expected to probably be worse than that at this point after losing Thomas. Aaron Rodgers absolutely eviscerated them in the first game Thomas sat, and their only really strong performance after that was against the Rams. That's a bit of a special case because, well, they're the Rams.
On the other side of the ball, expect plenty of success for QB Russell Wilson against a Lions pass defense that's the league's worst and allows 7.2 YPP. They did actually rise up and play fairly well for awhile against Rodgers, getting pressure on him and beating a strong Green Bay OL. Seattle's is quite a bit worse, which does open up a possibility for the Lions to slow down Seattle if they can corral Wilson in the pocket. His elusiveness makes that tough, though. Missing WR Tyler Lockett also won't help the Hawks' cause, but if pass-catching RB CJ Prosise can come back from injury, it adds another weapon.
Best Bet: Lions +8
Sunday, Jan. 8
Miami Dolphins at Pittsburgh Steelers (-10) — O/U 47
The second of three rematches on tap for Wild Card weekend will see the upstart Dolphins head to Pittsburgh to take on the red-hot Steelers, who have won seven straight games and seven of eight overall since QB Ben Roethlisberger returned from injury.
The previous meeting between these two represented major turning points for both teams. The Steelers fell into a three-game slide after Roethlisberger attempted to play through injury and missed subsequent weeks, while the 1-4 Dolphins reeled off nine wins in 10 games after the 30-15 beating they handed the Steelers.
There's plenty of reason to think this one will be different, and the betting market certainly expects that to be the case with this heavy line. Pittsburgh is rounding into good health and has been crushing on offense recently. They've been pummeling bad defenses recently and now get to unleash RB Le'Veon Bell against the 22nd-ranked run defense of the Dolphins.
In a reversal of fortune from the last time these two teams played, Miami is the team struggling with QB injury. Ryan Tannehill is reportedly a candidate to suit up and play after missing the past few games, but it would be a surprise if he does go and he may not even be 100 percent. If he doesn't, it will be up to longtime backup Matt Moore. Moore performed well against the putrid Jets and Bills but turned in a stinker against the improving Patriots defense in Week 17. The Dolphins have been riding RB Jay Ajayi since he carved up the Steelers for over 200 back in October, but a once-healthy OL has given way to a patchwork crew, and Ajayi's output has fallen recently.
It's just hard to see how the Dolphins can move the ball against a competent defense, so unless Ajayi's line starts bulldozing again, their only chance is to slow the game down. Coach Adam Gase has been conservative so far, and the guess here is he stays that way.
Best Bet: Under 47 Total Points
New York Giants at Green Bay Packers (-4.5) — O/U 44.5
Probably the most anticipated matchup of the weekend closes things out on Sunday with Aaron Rodgers and a surging Packers offense taking on a very stout Giants defense.
Both defenses played really well when these teams met in early October in Green Bay, resulting in a 23-16 Packers victory. However, that was at a time where Rodgers hadn't yet returned to the MVP form he has displayed for the past six games.
Ever since then, with Green Bay's season on the verge of collapse if even one more loss was suffered, Rodgers has been playing as well as a QB can conceivably be expected to play. Injuries to the RBs may have been a blessing in disguise for Green Bay as well as the team has transferred even more offensive responsibility and control to their MVP candidate. Ty Montgomery has also been a nice surprise in a scatback role. However, a Giants defense that finished second in the league and just finished strangling the high-flying Washington passing game will be a very tough task for even Rodgers and Co.
Rodgers' return to dominance wasn't the only reason Green Bay turned its season around. The defense also came back to par thanks in large part to the return of Clay Matthews. However, Green Bay still struggles to defend the pass some. In particular, WR1s have given them big trouble all year, and that's not a good look with Odell Beckham Jr. coming to town. The Giants have a pretty uninspiring offense, but if Eli Manning can raise his game once again in the playoffs, throwing to Beckham Jr. early and often looks like the recipe. Rookie RB Paul Perkins has also given some life to a stale running game.
Congratulations if you hopped on the crazy opening line of +7 in some places, but there should still be value on Big Blue and this ferocious defense in what should be a chilly game in Lambeau Field.
Best Bet: Giants +4.5
Everybody needs an account at one of these online poker rooms! They're the biggest, the best, and we get you the best poker bonuses. Check out our online poker section for details on all the online poker rooms around.