Making it in the Micros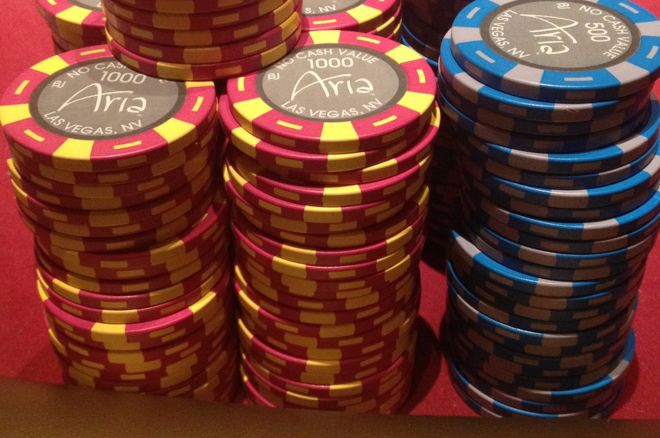 It's 2 a.m. Monday morning on Aug. 21, 2016, I'm 10 hours into a poker session and I'm sitting in total darkness, with only the glare of my laptop screen illuminating the room.
I remember my eyes started to fade, but the adrenaline kept my brain wide awake. It was a situation I couldn't have imagined myself in just four weeks earlier, but for me, it was a positive change.
Rewind a month and my Sunday evening would have consisted of halfheartedly paying attention to whatever TV show happened to be on, finishing preparation for my week ahead in the world of work and proceeding to get my head down by 11 p.m.
Now it was all different: I was trying to play the best poker I could whilst forcing myself to stay awake. That night I finished sixth in the PokerStars $11 Sunday Kickoff for a score of $1,400. It was a buzz to get the money, but more so that the field had nearly 6,000 runners.
I wanted to concentrate on the aspects of my life that brought me enjoyment.
The reason for this drastic change was that I wanted to concentrate on the aspects of my life that brought me enjoyment. I needed to focus my time and energy on a project I would be proud of. Which is why I took the decision to leave my full-time job and start afresh. I knew I had a passion for poker and the industry as a whole, so I decided to lay my new foundations around that.
I started playing No-Limit poker in 2007, as many people do in a crowded kitchen with mates using any chair they can find in the house. None of us were 18 years old yet, so we couldn't even get a £5 game in a local pub. We just played for fun and the joy of winning more than anything.
Five years later, I had graduated from University with a degree in Sports Journalism. When I read interviews with young British poker players, a lot of them said they found their way into poker during their time at Uni. They had a lot of spare time on their hands, disposable money and access to casinos and poker societies they never had before. I wasn't based in a large city with casinos, nor did I have a social poker society, so my time spent playing was limited to a few home games and evenings online every once in a while.
But in my final year of Uni, I scraped together some pennies to book a trip to Vegas with my mates. The idea of the holiday had been on our minds for some time and I couldn't wait to go. I wanted to get some live play under my belt and so I started buying into a few local tournaments.
About a month after the trip had been paid off, I entered a £50 festival event, which was one of my biggest single buy-ins at the time. I was nervous but excited, and definitely overconfident for a player who really didn't have much of a strategic game plan.
I remember keeping to a solid preflop opening range, but it really didn't get much more advanced than that.
With a bit luck, and some fantastic play (I wish!), I finished second (bottled first place haha) out of 100 entries and bagged about £950, which more than covered the flights to Vegas. In my mind, I was free-rolling before I even got there.
With a bit luck, and some fantastic play (I wish!), I finished second
The trip was amazing (but I want to save those stories for another post).
Returning home I found myself in a mindset I had never felt before. I was confused as to what I wanted to do. I had focused my whole education around my passion for writing and sport, but now I was having doubts. At the time, I had never thought of poker as a career option, despite one of my close mates already being in a staking deal and showing it could be done. It was a hobby and nothing more, and yet I found myself watching every episode of the EPT coverage and thinking to myself "One day."
I was fortunate enough to get an internship at a London based Digital Sports Agency and spent a whole month writing about football with like-minded people. My confidence grew as I was offered a place on the freelance team covering weekend shifts. I felt I was finally reaching the end goal of paid work in the field I was trained in. I was even looking into ways that I could pitch poker stories to the editor to try and broaden the website's audience.
Unfortunately, cuts were made and the budget for the freelance team was abolished after eight months. It was out of the blue and hit me hard. As the freelance work was on a casual basis, I was still working part time at a job I had through my time at Uni, but I had to get out and progress.
In two nights I had made more than what I would've in a month at work.
Poker had forced its way into my mind once again and I was winning on the iPoker network consistently. I remember two weeks in a row I got home at 10 p.m. from an eight-hour shift, instantly registered a 20 Euro Deepstack and won both times for a combined profit of over £1,000. In two nights I had made more than what I would've in a month at work. So you can see why I was confused.
A couple of months later I had to make a decision which I knew would shape the next few years of my life. I had two offers on the table: One was a job with a local recruitment organization which included a guaranteed monthly salary, commission bonuses and promotion options; the other was an expense paid six-month placement with a gambling industry publication in London. With no savings, I chose money over passion.
Although my new career gave me a platform to save money and the opportunity to build a solid career, ultimately after two years, I found myself wanting out.
So I decided to invest in myself. For the past eight months, I have been building a career in poker. It was such a rush to get playing again, knowing I was going to wake up and enjoy work. My self-motivation was through the roof. The first thing I did was manage and plan my finances for six months. I knew I only needed a small bankroll of about $500 to start with and got used to playing again.
I tried to be as professional as possible. I created Excel sheets to document my bankroll at the end of every session and recorded daily stats on tournament entries and cashes. I achieved some very early success which increased my confidence, but I still haven't proved to myself that I am where I want to be profitwise to continue solely as a full-time player.
Looking back I feel like I did rush into playing. But with the freedom and eagerness to get going, I didn't stop and think about a study plan. Thankfully over the past four months, I have majorly improved this.
Looking back I feel like I did rush into playing.
But more importantly what I have learned is that my passion for the industry as a whole is well and truly still there. Making it as a professional player is hard. There are many ways to do it, but it needs dedication. Playing the micro stakes, being part of forums and discord communities and studying the game has made me more determined than ever to forge a career in the poker industry.
It's the main reason why I am writing this post: to share the beginning of my story and also get back my enthusiasm for writing too.
I will be producing posts of different varieties of poker content very soon.
Next weekend I will take part in the Unibet UK Tour in Brighton, so as a practice, I headed down to my local casino last night.
My next post will share my experience and how I did getting back into the swing of live poker.
Follow Aaron McBride on Twitter @AMcBrideSJ.
This article was written by one of our community members as part of the PN Blog. The thoughts, opinions, and strategy are those of the user only and do not necessarily reflect the positions of PokerNews. We appreciate your feedback, but ask that you be respectful of our PN Blog users who have generously donated their time. You can learn more about the PN Blog here.
Everybody needs an account at one of these online poker rooms! They're the biggest, the best, and we get you the best poker bonuses. Check out our online poker section for details on all the online poker rooms around.