Tweet, Tweet, Bad Beat: Mad Hatter Parties and NBA Champs in Vegas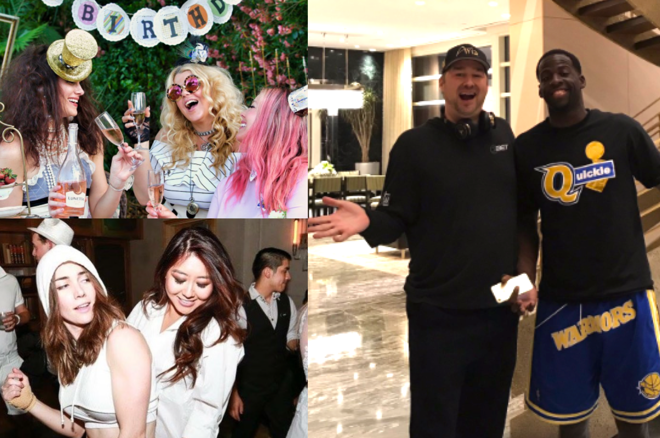 The 2017 World Series of Poker is in full swing and champions have ready been crowned in twenty-six events. There have been some interesting poker antics over the past week memorialized on Twitter and Instagram that we could not resist featuring in this week's edition of Tweet, Tweet, Bad Beat. As you'll see, life during the WSOP is not just poker, but parties, travel adventures, new babies, and so much more.
It's going to take more than a prayer to cure that hangover!
And on that not, welcome to the world, Silas "Baby Boss" Springsteen Tuchman!
The brick phone confirms that this was without a doubt a 90s party, nice touch!
Don't you have a white PH hat, Phil? If not, time to make some.
Unfortunately, the Cavs did not get one more win…looked like fun, though!
Stunning scenery, but is that snow in June???
A man and his best friend, doesn't get any better than that!
The lifestyle of a first-time selfie taking yacht sailing high roller.
In Tiffany's words: "Best. Party. Ever." Cheers!
There's no way you can have a fear of heights! Great view.
You say you piped it 320…was that in the water or the rocks?
Seriously…we want your life! We never get tired of seeing your posts, and neither do your fans.
Okay, now we are motivated to get off the couch and do some work!
From one party to another. Hellmuth hangs with all the cool peeps, even NBA champions.
I guess it really is true – you have retired from poker. Congrats on the new gig!
Matt Salsberg creates an entire storyline with bad-smelling food. And actually, it's pretty hilarious. Here, the hashtag says it all - #SalmonHimToDeath.
That's what happens when you angle with canned fish…what did you expect?
The breath mints seem pointless…can't possibly be strong enough!
Is Stevie's mustache friendlier grown out? You decide, because we can't. (Read entire thread)
We'll be the first to admit that Uncle Ron can be a bit much, but we couldn't help but fall in love with this photo of the ever-adorable and fan-favorite John Smith. That smile!
We usually never post about poker, but c'mon! It is PLO, so this happens all the time, right?!
Have you ever wanted to write your own articles about poker? Maybe you've got some experiences or opinions about poker that you'd like to share. PokerNews is proud to launch The PN Blog where you can have a platform to make your voice heard. Learn more here.