Craps Stories: Stanley Fujitake and the Longest Craps Roll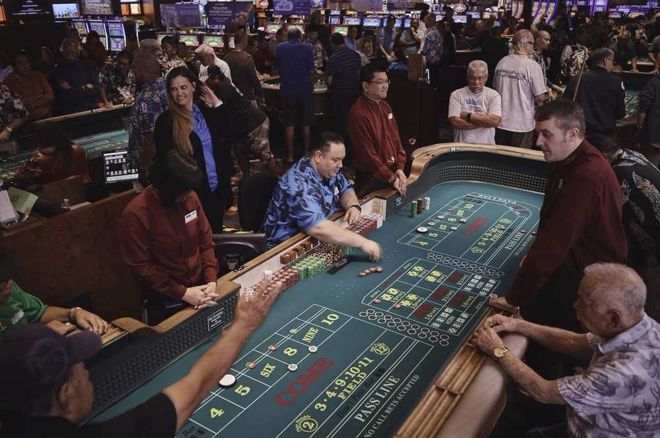 With the busy World Series of Poker schedule behind us, PokerNews brings you a Vegas tale from Sin City's past.
Take a break from the poker action and check out one of gambling's most amazing runs at the craps table.
The California Hotel and Casino sits a bit off the beaten path. Located far away from the Las Vegas Strip, the old casino founded in 1975 sits at the intersection of East Ogden Avenue and North Main Street.
Main Street Station is across the street, but the Cal sits a bit outside the unique festive atmosphere of the Fremont Street experience.
The casino has long catered to residents of Hawaii and a trip inside exudes that relaxed atmosphere that founder Sam Boyd brought to the property.
That effort attracted many gamblers from the islands looking for a good gamble and they still flock to the action there today.
The state doesn't have casino gambling and from its early days, Boyd offered cheap vacation packages for islanders and even island culinary delights, and still does. Deals on chartered flights from Hawaii sometimes were as low as $9.90.
The Cal's website even uses the tagline, "Aloha Spoken Here," and dealers even sport Hawaiian-print shirts.
The casino has become so ingrained with many island gamblers that in 2008 the University of Hawaii Press published the book California Hotel and Casino: Hawaii's Home Away From Home.
Flying over for weddings and other special occasions at the downtown casino became a regular for many islanders.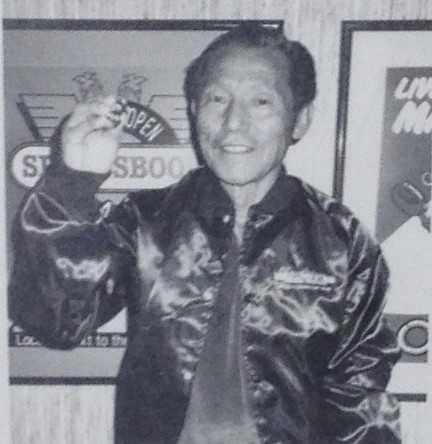 Craps is a fairly easy game. In essence, a shooter rolls to establish a point number (4, 5, 6, 8, 9, 10) and then attempts to roll that number again before hitting a seven (crapping out).
Wagers on the board vary, but if the shooter hits that point number without rolling a seven, those betting with the shooter win. A few nice rolls can certainly make for a fun night.
However, rolls rarely even make it into the double-digits and streaks of more than 30 minutes are rare.
But on May 28, 1989, Oahu native Stanley Fujitake defied all the odds. A regular at the Cal, Fujitake was also a regular dice player. Around midnight, he dropped $5 on the pass line and took the dice in hand.
What followed became a Las Vegas legend.
"There were at least 30 to 40 people trying to place bets at his table."
Fujitake continued to roll for just over three hours. Crowds gathered around throughout the night to take in the mystical roll – those red dice bouncing along the green felt and hitting point number after point number.
Guido Metzger was dealing craps at a table next to Fujitake's table that night. Now director of casino operations for Boyd Gaming's downtown properties, Metzger remembers the as something he had never seen before at a casino as dealers struggled to keep up with players' wins as more and more players tried to squeeze into the action.
"They had trouble keeping up with the chip payouts that night," Metzger said in 2014 in an issue of Boyd Buzz. "My table was empty. But there were at least 30 to 40 people trying to place bets at his table. They couldn't get fills to the table fast enough and had to start issuing scrip [casino credit] because not enough people were going to the cage and cashing in their chips."
During his historic night, Fujitake rolled 118 times for 18 pass line winners. After beginning with the table minimum, the sharpshooter had increased his bet to the table maximum of $1,000 when he finally passed the dice. Friends said on a previous trip Fujitake has rolled the dice for an hour and 45 minutes. Casino staff were astounded at the scene.
"Half an hour is average, over an hour is amazing, but more than three hours is totally astounding," casino manager John Repetti told the News at the Cal in July of '89 after Fujitake's accomplishment.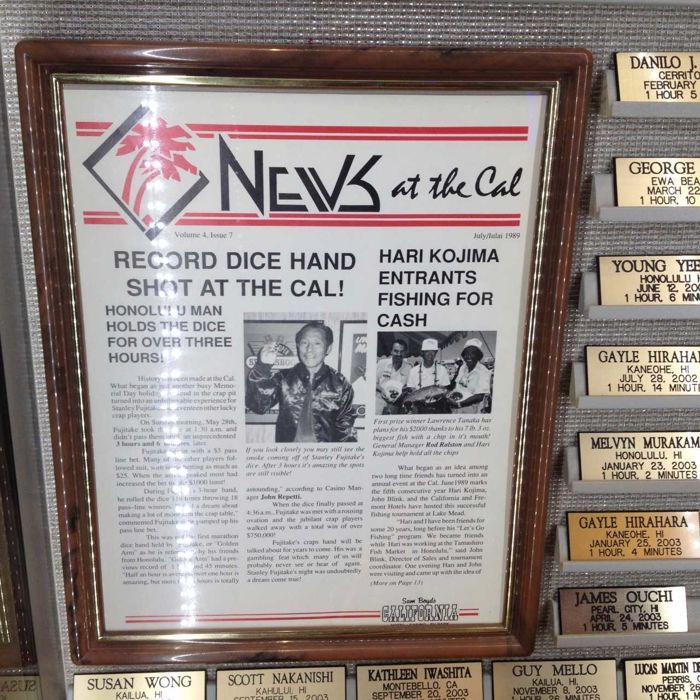 The craps king passed away in 2000, but his widow Satsuko recently spoke with Hawaii News Now about that amazing night.
"It was a miracle, because it's impossible to hold the dice," said Satsuko, who introduced her husband to the game. "It doesn't happen all the time, maybe it's only once in a lifetime deal."
Fujitake took home about $30,000 that night, Satsuko said, and the California Hotel and Casino paid out about $750,000 in winnings to players gathered around with their pass line and other bets at the table.
"That was one of the ironic things about his roll – the other players at the table ended up winning a lot more money than Stanley did!" says David Strow, Boyd Gaming vice president of of corporate communications.
While the casino may have lost big bucks that night, Boyd took it in stride and turned the legend of Stanley Fujitake into a marketing opportunity, and reward, for craps players. He was nicknamed "The Golden Arm" and the casino has since hosted the the Golden Arm Club. Inside a glass trophy case, Fujitake's hand is cast in bronze holding those winning dice from that night.
Next to the case, small golden plaques display the names of all those players who have rolled for an hour or more become members of the club, which averages about on player a month.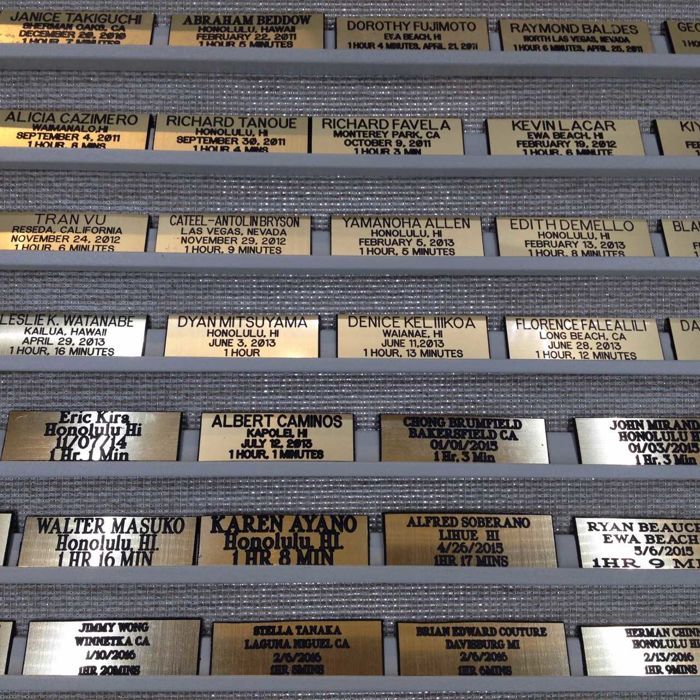 How does one earn entry into the Golden Arm Club? Simply roll without sevening out for an hour. More than 300 players can now call themselves members. Roll for 90 minutes or obtain Golden Arm status more than once and your name gets placed on the even more exclusive Platinum Wall located on the mezzanine level of the casino. Fujitake was a platinum member himself after reaching the one-hour threshold a staggering four times.
The Fujitakes visited the California often and while he may be gone, the Hawaiian craps champ won't be forgotten. The Cal even hosts the annual Golden Arm Craps Tournament in his honor. His wife Satsuko told Hawaii News Now: "As my husband of 54 years, in my heart, he is still the champ to me and will be forever."