A Look at Some of the Biggest Movers on Day 4 of the WSOP Main Event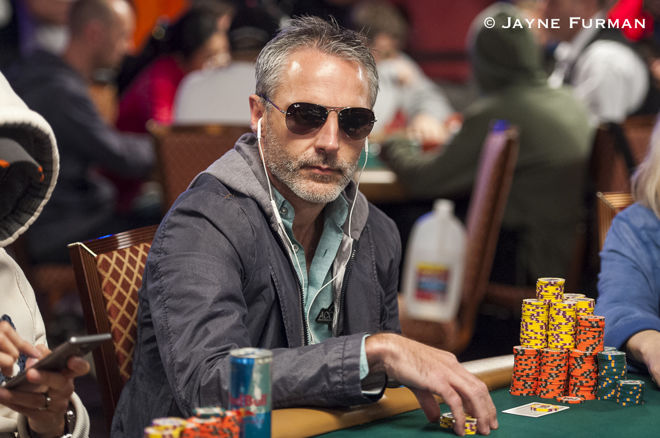 Day 4 of the World Series of Poker Main Event started with a flurry of exits as the short stacks that were holding on just to collect a paycheck came back just to bust out and get on with their day.
After losing about 400 players within the first few hours, reality began to dawn on the rest of the field. And as players began to wonder if this was their year, chip stacks started to consolidate.
Here are a few of the big movers from Day 4. You'll want to keep an eye all of them on during Day 5.
Damian Salas
Salas (pictured above) started Day 4 near the top the chip counts with 1,028,000. He now sits alone at the very top.
Salas scooped some big pots late in the night, including one where his sevens full of fives raked in a million-chip pot when his opponent paid him off holding the nut flush.
It was a set of fives, though, that awarded him a monster pot and the chip lead right before dinner break when he out-flopped his opponent's kings. Once Salas was in the lead, he stayed there, ending the day at 4,678,000.
His opponents have called the clock on him, questioned his play and shook their head in disgust as they hit the rail. Salas is taking it all in stride and collecting their chips along the way.
Mickey Craft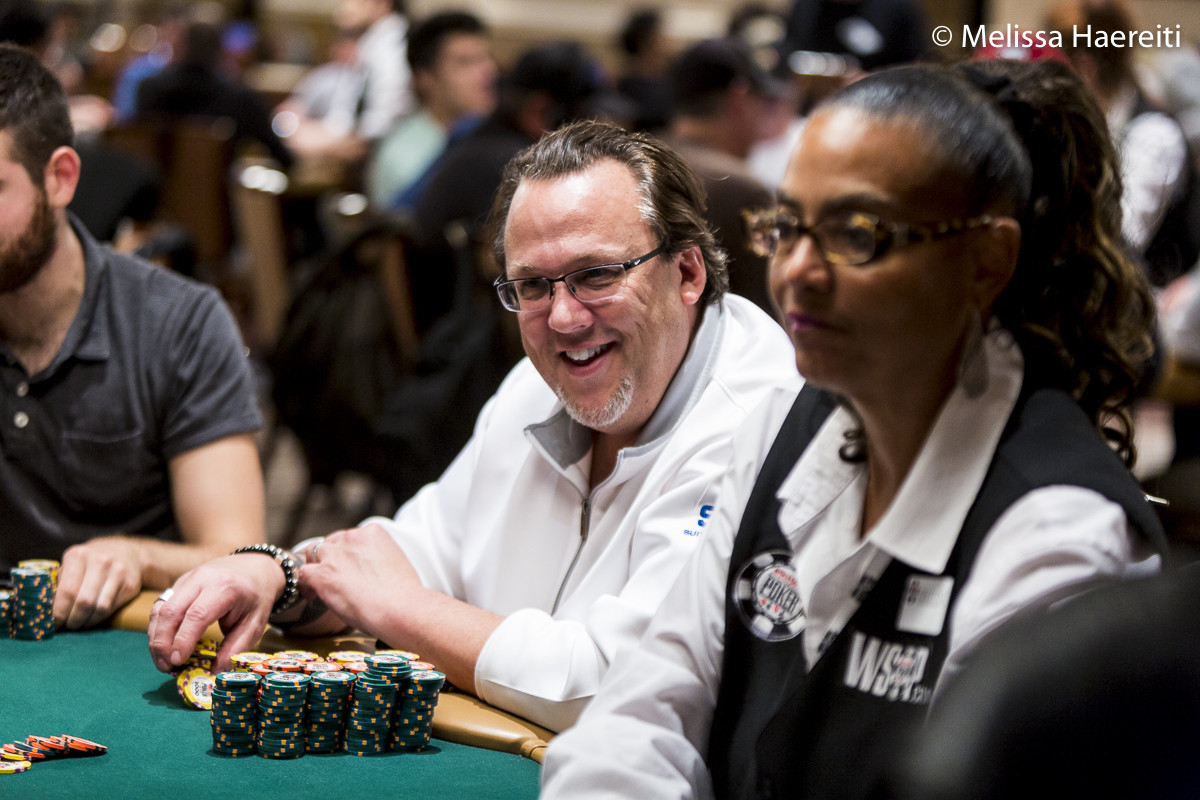 Craft spend much of Day 4 in the spotlight. ESPN swarmed his table as the first player to hit 3 million in chips and then his table was moved to the secondary feature table where everyone could keep an eye on him.
Craft started the day with 1,345,000, and he won some and lost some. For the most part, the pots he won were large, and the pots he lost weren't. Which, when you think it, about is probably a good way to win a poker tournament.
"You might give away twenty or thirty thousand here and there, but then someone is gonna shove all in for seven-hundred and you got it," said Craft as play for Day 4 was ending.
By now, we all know you have to get a little lucky to win one of these things, and Craft certainly had his share of luck, when his kings beat queens and when his king-six beat Nick Pentrangelo's aces. That helped him close to double his starting stack, giving him 2,389,000 to bring into Day 5.
"If you got a lot of chips and aren't playing a lot of hands, you might as well get out of poker," Craft told us.
According to his philosophy, Craft is exactly where he's meant to be.
Kenny Hallaert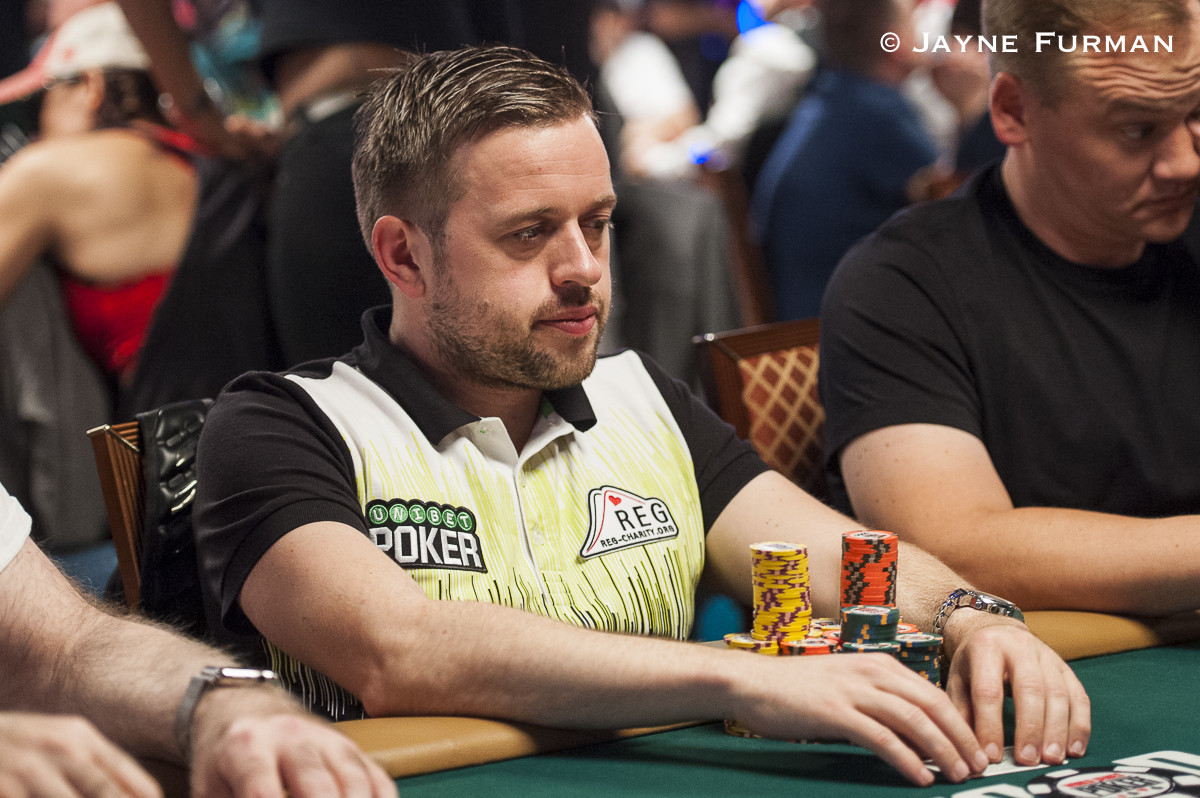 Kenny Hallaert has enjoyed a pretty good WSOP this summer. He's logged eight cashes and two final tables. But the only final table that matters right now is the one that will be determined at the end of Day 7.
Hallaert began the day with 1,258,000, and if anyone knows how to use a stack to progress through a deep tournament, it's Hallaert, who made last year's Main Event final table. His experience showed as he collected 4,145,000, good for the third largest chip stack in the room.
"Last year I only had 1.6 million after Day 4, so that gives me good hope for the coming days," said Hallaert as the field was bagging up for the day.
Even though it seems like the final table is close, there's still a lot of play between now and the final nine. Hallaert is smart enough to recognize that.
"An important part of being successful is your big hands holding up."
"I don't want to focus too much on making back to back final table. The road to the final table is still so long; we need to play three full days. I can just finish 250th tomorrow; it can happen. I don't have high hopes just yet."
We didn't capture any huge pots or a lot of fanfare to document Hallaert's rise in the chip count. What we did catch was solid play and picking his spots to chip up.
"It was a really good day for me today. I started with 1.3 million and climbed without any major hands to 2 million. In the last level, everything went my way. I busted two players, in one of them we both flopped top pair and I had the better kicker. After that, I also won a huge pot where I flopped a set in a three-bet pot, a good sign. Someone flopped the nut flush draw, so I had some outs against. Luckily my hand held up. And that's the story of my WSOP really. In all the big pots, my hand held up. An important part of being successful is your big hands holding up."
Sometimes it's best to stay under the radar. Well, as under the radar as a former November Niner can be.
Eugene Kotlyarevskiy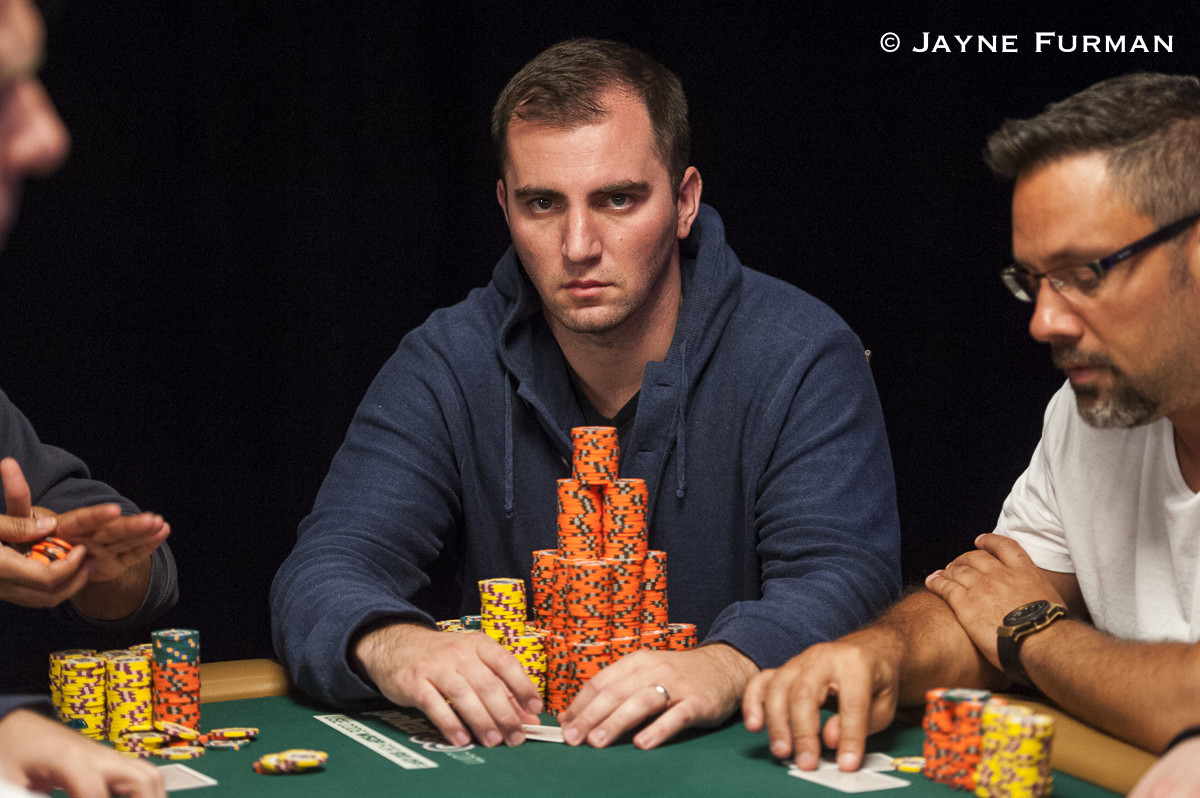 Eugene Kotlyarevskiy was sitting second in chips heading back from the second break of the day. The East Coast grinder started the day with 971,000 and now sports a healthy 2.4 million.
He's already guaranteed a payout of just slightly less than his biggest cash to date, which he earned in last year's Main Event after placing 278th for $36,708.
PokerNews met up with Kotlyarevskiy to get the dirt on how he built his stack.
"I won most of my chips from two big hands," he said. "The quads over quads hand and then a very friendly run out when I had ace-queen against aces. Then I've been playing small pots ever since to chip up."
Kotlyarevskiy seems comfortable holding position of table chip leader. When asked how he sees the rest of the day, he didn't hesitate.
"I have 200 big blinds, I don't want to do anything stupid. I'm going to keep it on cruise control for now and see what happens."
At the end of the day, Kotlyarevskiy is still sitting pretty with 1,900,000. It looks like cruise control is working.
Randy Pisane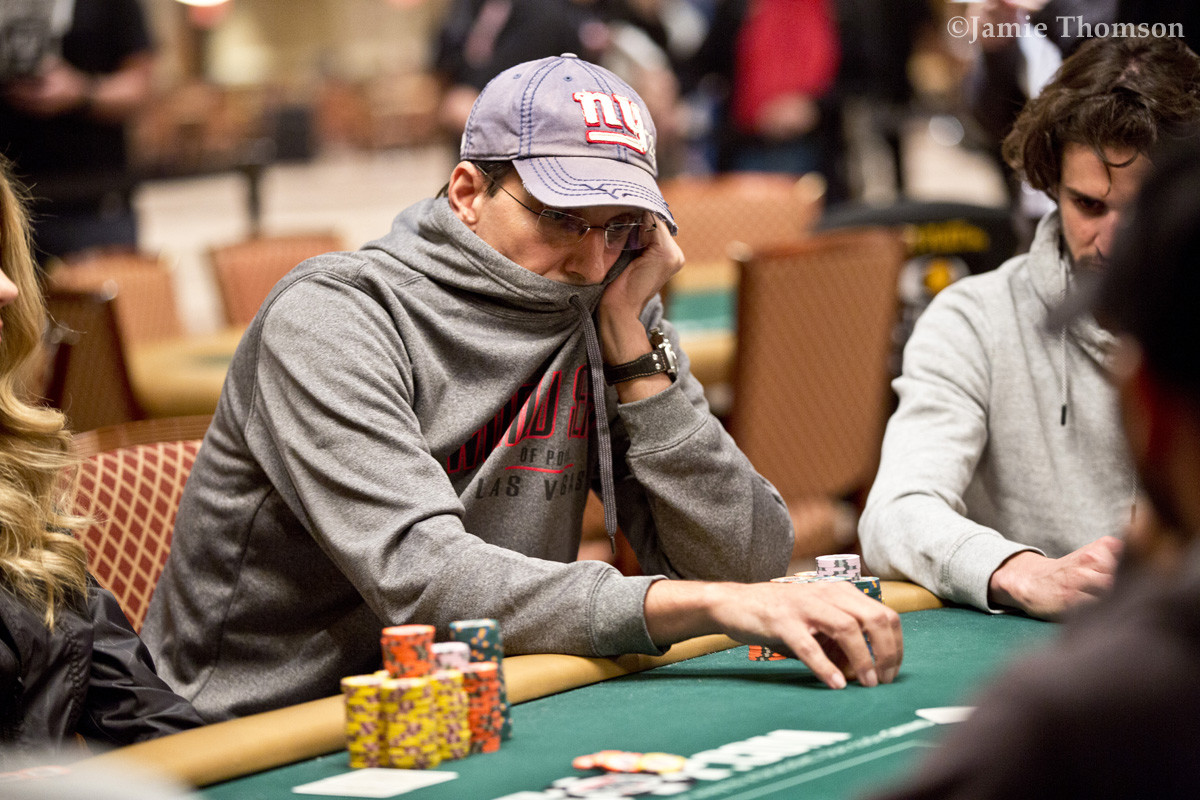 Randy Pisane, who is as much a fan as a player, started Day 4 with 600,000 and a guaranteed cash in the Main Event. That's a big deal for a "hardcore student" of the game.
Pisane started playing poker in the early nineties and paid the hefty price to learn the game from some of the best in the most famous underground poker clubs in New York, the Diamond Club and The Mayfair. To be here in the Main Event guaranteed to collect a paycheck is what poker dreams are made of, just like his incredible run today to 2.5 million in chips.
PokerNews met up with Pisane as players went to dinner and their last break of the day to see how he made the climb.
"I had some of those standard double up spots of kings versus queens and catching cards at the right time. I may have had some good cards, but I also made some good moves at the right time. I even put my tournament life on the line a couple of times on bluffs that thankfully worked out."
As for how he's feeling and how he's playing, you can tell Pisane is soaking it all up.
"It feels great. It's been a great day. I feel pretty good about how I'm playing. I've made some good reads on people. I've definitely caught some good cards, but I'll tell you up until today, I was only dealt aces once, and I lost with them. Today, the run of cards has been a little bit better."
Be sure to follow all of these players right here on PokerNews as the field is trimmed below 100 on Day 5 of the World Series of Poker Main Event.
Be sure to complete your PokerNews experience by checking out an overview of our mobile and tablet apps here. Stay on top of the poker world from your phone with our mobile iOS and Android app, or fire up our iPad app on your tablet. You can also update your own chip counts from poker tournaments around the world with MyStack on both Android and iOS.