72-Year-Old Former Federal Prosecutor Makes Day 4 in First Main Event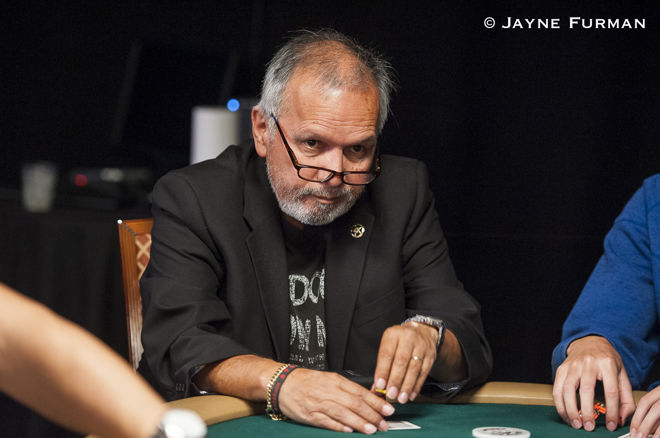 As players returned for Day 4 and in the money of the World Series of Poker Main Event, Jesse Rodriguez took his seat at Table 703 biding his time with a short stack. It's been his first Main Event and is pleased that he's already assured himself a cash. The 72-year-old is laid back and quiet. He's dressed in a sports coat and his hair is graying. But don't pretend that this affable poker player from Houston, Texas, can just be run over. Nothing could be further from the truth.
A former federal prosecutor, Rodriguez faced some of the toughest crooks, criminals, and bad guys around from Mexican drug cartels, organized crime, and more. Facing players in hoodies, sunglasses, and baseball caps must seem like a breeze in comparison.
A quick search of some of the cases Rodriguez was involved with is like a crime show come to life. One case he was involved in prosecuting featured drug payouts to Mexican government officials and crooked cops on the take from drug cartels. In 2009 as an assistant U.S. Attorney, he was part of a team that broke up a cocaine distribution ring from Texas to Tennessee. A few years later, Rodriguez was part of a team that prosecuted a major cocaine kingpin who smuggled tons of cocaine into the U.S. and laundered millions of dollars.
Despite all his success in the courtroom, Rodriguez would decided not to go into too many details about some of his cases.
"If I told you more I'd have to kill you," he said with a laugh.
Rodriguez began playing poker several years ago, and built up a bankroll over the last few years to enter this year's Main Event.
"When poker became popular, I started playing in smaller tournaments around town out here for $60, $80," he says. "I used to play table games, but since I started playing poker, that's all I play now."
"I've had my ten grand in my pocket, so to speak, tucked away at home for about 10 or 12 years and I finally decided to come do this."
In years past, Rodriguez played a few events including a cash in the 2014 seniors event where he finished 185th out of a field 1,940. He's notched a few other tournament cashes through the years, including at the Choctaw and Winstar casinos in Oklahoma, as well for a bit over $17,000 in tournament winnings. Entering the Main Event is something he's been planning for a long time.
"I've had my ten grand in my pocket, so to speak, tucked away at home for about 10 or 12 years and I finally decided to come do this," he said.
The decision paid off and Rodriguez has enjoyed mixing it up in the Super Bowl of poker.
When not playing poker, Rodriguez helps his wife in their real estate business – in a booming Houston housing market. How's the business going?
"I'm retired, but I'm working harder now than I ever did, helping her out," he says.
With one of the short stacks at his table, Rodriguez had work to do to advance on to Day 5. Ultimately, Rodriguez finished 718th for a $18,693 score. Always hoping for better, the lawman can still be happy that his dream of a big run through the Main Event certainly came true.
Everybody needs an account at one of these online poker rooms! They're the biggest, the best, and we get you the best poker bonuses. Check out our online poker section for details on all the online poker rooms around.