Inside Gaming: DFS Companies DraftKings and FanDuel Scrap Merger Plans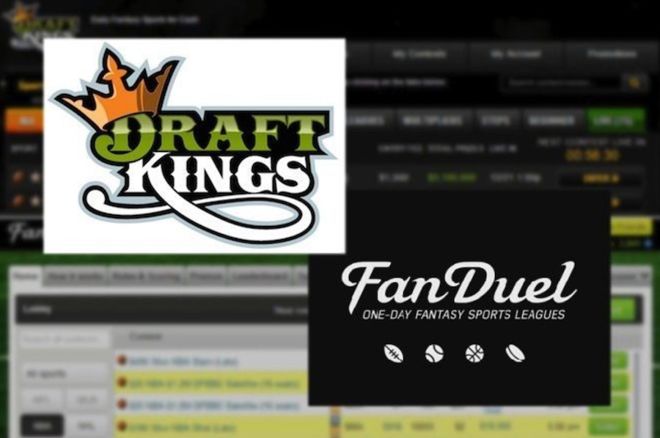 This week's installment of Inside Gaming focuses on a single story of particular interest to daily fantasy sports players — yesterday's news that after announcing plans eight months ago to join together as a single company, the two biggest DFS players will not, in fact, be merging after all.
There was significant news in the world of daily fantasy sports yesterday. The long discussed and planned for merger of the two largest DFS companies DraftKings and FanDuel is no more. In the wake of federal regulators' stated intentions to pursue legal means to block the merger, the companies yesterday each issued statements that they would no longer continue with their plans to join together.
As Reuters explains, last month the U.S. Federal Trade Commission said "it would seek to stop the deal because the combined company would control more than 90 percent of the U.S. market for daily fantasy sports contests."
Both companies' statements were similar in message, focusing more directly on their individual interests and goals and not addressing the potential legal difficulties that had undoubtedly caused the decision no longer to join forces.
Nigel Eccles, CEO of FanDuel, described the decision not to continue with merger plans as being "in the best interest of our shareholders, customers, employees and partners." Meanwhile DraftKings CEO Jason Robins similarly looked ahead, focusing on the company's growth thus far and noting how it "look[s] forward to kicking off what is going to be our best NFL season yet!"
Following more than a year of intense speculation, it was last November the two companies announced their plans to merge. Immediately most industry observers anticipated the agreement would receive close scrutiny from regulators.
In response to the FTC's lawsuit to stop the deal filed in June, a federal judge temporarily halted the merger and had scheduled an administrative trial for November of this year.
As The New York Times reports, Markus Meier, acting director of the FTC, was pleased about the companies' decision not to merge, calling it a "clear win" for consumers.
"For years, the vigorous competition between DraftKings and FanDuel has spurred innovation and favorable pricing," Meier told the NYT. "If this merger had been allowed to go through, those benefits would likely have been lost."
FanDuel was founded in 2009, and shortly after DraftKings entered the market in 2012 the companies soon occupied the top spots in terms of market share by a wide margin. A rivalry ensued marked by heavy volume advertising campaigns that reached a peak in the fall of 2015.
That's when numerous challenges brought by states challenging the legality of the games began in earnest, creating a complicated patchwork of allowed and prohibited states while requiring considerable cost and effort by both sites.
Some were surprised at the companies' decision to scrap their merger plans. Both had already filed legal briefings as recently as Wednesday and already spent considerable time and resources, making it appear as though they were ready to commit to a legal battle in order to ensure the merger could take place.
David Purdum of ESPN who reports on sports betting, including daily fantasy sports, led by describing the news as "an abrupt end to a deal that many viewed as the best path forward for both companies" despite the pushback it had invited from regulators.
Purdum notes that the calling off of the merger wasn't necessarily a surprise to those who had been following the story closely. He quotes an anonymous source "with close ties to the companies and their CEOs" as saying "the merger was off the second the FTC's decision was announced" in June.
"Both companies can use the money that would have been spent on litigation," the source adds, calling it a "sign of maturation" that the companies are not willing to "burn a pile of cash with little to show for it" in favor of using those funds to continue pursuing current legal challenges in several important states for DFS.
Daniel Barbarisi, author of a book about the DFS industry's recent history, expressed a similar view to the NYT that "given the legal and legislative battles the two companies have poured resources into in recent years, it is not surprising they both balked at the prospect of fighting another costly case."
That said, the "timing of the withdrawal from the FTC suit has also spawned questions from legal experts," says Purdum. Rachel Hirsch, a D.C. attorney, suggested to him that the time "appears to indicate that there is more behind the decision than cost savings."
"Perhaps these companies were worried about the information that would be revealed at the [preliminary injunction] hearing and how they would tarnish their brands," Hirsch speculates. "Win or lose, at the end of the day, image is everything to these companies."
"One thing is for certain," Hirsch adds, "After a failed merger, it will no longer be business as usual for one or both of these companies."
It does appear that with the upcoming NFL season starting in September, DraftKings and FanDuel will once more be ramping up competition with one another over attracting the interest and business of DFS players.
Barbarisi suggests that if the rivalry between the companies is to resume, he'd give DraftKings the edge going forward thanks to the way that company operated over recent months "as if the merger was no guarantee," raising money and creating new initiatives he sees FanDuel as having neglected somewhat since the merger was first announced.
Everybody needs an account at one of these online poker rooms! They're the biggest, the best, and we get you the best poker bonuses. Check out our online poker section for details on all the online poker rooms around.