Inside Gaming: DFS Leaders Join Forces as DraftKings, FanDuel Announce Merger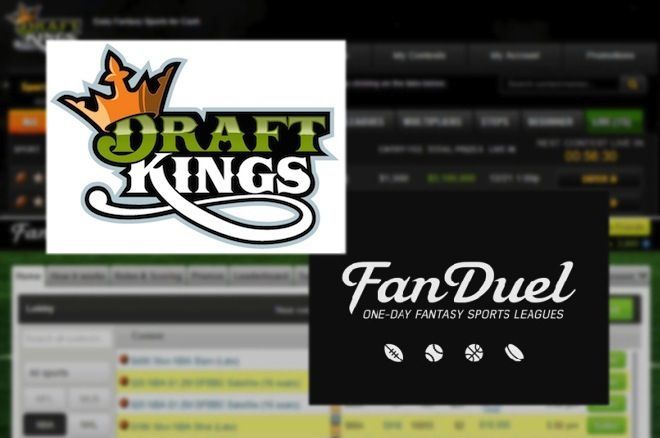 This week's installment of Inside Gaming kicks off with this morning's news that the two largest daily fantasy sports sites, DraftKings and FanDuel, have announced plans to merge. Also on tap this week, a casino in upstate New York will be opening sooner than expected, another in Macau reopened after being closed for eight years, and a group of Rhode Island illegal sports betting operators were indicted.
DFS Leaders DraftKings and FanDuel to Merge
There is breaking news this morning regarding the long-awaited merger of the two largest daily fantasy sports operators, DraftKings and FanDuel. Representatives of the two companies announced this morning they would be joining forces, culminating many months of negotiations and an even longer period of speculation regarding the possibility of a merger between them.
As David Purdum reports for ESPN, the merger still requires regulatory approval, meaning the sites will continue to operate distinctly until such approval is granted, likely not until the latter half of 2017. Indeed, both sites have already made it known they will each be running separately at least through the end of the 2017 National Football League season.
No new name for the merged company has been shared. Nor have terms of the deal been disclosed, although sources have described it to ESPN as "basically a 50/50 split between the two fantasy giants." Each site will have three seats on the newly-merged company's board, plus one independent director. Jason Robins, DraftKings CEO, will continue in the CEO role going forward, while FanDuel CEO Nigel Eccles will be the chairman of the board.
Both were predictably sanguine about the two companies' prospects moving forward. "Joining forces will allow us to truly realize the potention of our vision," said Robins, while Eccles described the merger as presenting "a tremendous opportunity for us to further innovate and disrupt the sports industry."
Rumors of a potential merger between the sites stretch back even before their explosion in popularity over a year ago and the subsequent legal battles taken on by both over the last 12 months. It was at the start of last year's NFL season that speculation about the two sites' possible futures began to receive widespread notice. Representatives of both sites continued to fend off suggestions of an impending alliance in June of this year, although many industry insiders believed a merger was still a distinct possibility.
Purdum notes that the merger will be closely considered by the Federal Trade Commission, given that the two DFS sites presently comprise more than 80 percent of the marketplace.
For a thorough overview of the companies' recent history and the potential implications of the DraftKings-FanDuel merger, head over to ESPN.
Rivers Casino Opening Ahead of Schedule in Schenectady
More often than not news regarding the building and opening of new casinos includes reports of delayed openings due to construction, legal issues, and other factors.
However this week came news of a planned-for casino that will open ahead of schedule — the Rivers Casino and Resort at Mohawk Harbor in upstate New York. As announced by Rush Street Gaming on Wednesday, the spring opening for the $330 million hotel-casino has been moved up to February 8, 2017.
As WAMC details, Rush Street Gaming (based in Chicago) partnered with the Galesi Group of Schenectady, New York to develop the hotel-casino along the Mohawk River.
The Rivers Casino and Resort will feature a 165-room hotel, a 10,000-square-foot banquet facility, and a 50,000-square-foot gaming floor featuring more than 1,110 slot machines, 67 gaming tables, and 15 poker tables.
Almost exactly three years ago New Yorkers voted to expand casino gambling in the state. In December 2015 those in Schenectady were awarded a full-scale casino license, paving the way for the Rivers Casino.
Read more about New York's new casino at WAMC.
SJM Holdings Reopens Casino Taipa in Macau
Speaking of openings, from Macau comes news this week of another casino opening its doors, although to only moderate fanfare and much less optimism.
According to Union Gaming Securities Asia Ltd., the casino operator SJM Holdings Ltd. has reopened the Casino Taipa in the Regency Art Hotel located near the city's center. The casino was last in operation in 2008.
However, as GGRAsia reports, expectations aren't especially high for the modest-sized casino.
"It [the casino] is small, with just five tables and about 112 electronic gaming seats (a mixture of slot machines and ETGs [electronic table games]) spread across 795 square metres (8,600 square feet)," explained gaming analyst Grant Govertsen to GGRAsia, suggesting whatever revenue it might generate for SJM Holdings would be small.
Union Gaming echoed such sentiment, noting its belief that "SJM effectively reactivated the dormant license associated with the Regency Art Hotel building rather than [having] applied for the issuance of a new licence," and as a result would not be altering its estimates regarding the casino operator.
"To put the scale of Casino Taipa in perspective," continued Union Gaming, "we note that its five tables represent just 0.3 percent of SJM's total supply, while its 112 slots represent 4 percent of company-wide supply."
For more on the reopening of Casino Taipa, see GGRAsia.
Twenty Indicted for Illegal Gambling in Rhode Island Following "Operation Free Roll"
Finally, there was news this week of 20 people being indicted by a Rhode Island grand jury for having participated in "a multimillion dollar organized criminal gambling conspiracy," reports the Providence Journal.
The indictments stem from the April arrests of individuals involved in two different bookmaking operations, resulting in a host of charges including organized criminal gambling, conspiracy to commit organized gambling, and various drug charges related to the seizure of 330 pounds of marijuana, worth about $1.5 million.
The arrests concluded an eight-month investigation by law enforcement dubbed "Operation Free Roll."
The two bookmaking operations, run from restaurants located in Warwick and Narragansett, involved suspects taking illegal wagers on sports contests, setting betting lines, and collecting money, using offshore gambling sites to make the bets.
Those indicted are scheduled to be arraigned in December.
Learn more about the sting, arrests, and indictments at the Providence Journal.
Everybody needs an account at one of these online poker rooms! They're the biggest, the best, and we get you the best poker bonuses. Check out our online poker section for details on all the online poker rooms around.