Inside Gaming: DraftKings, FanDuel Consider Futures; Cherokees to Open 2nd NC Casino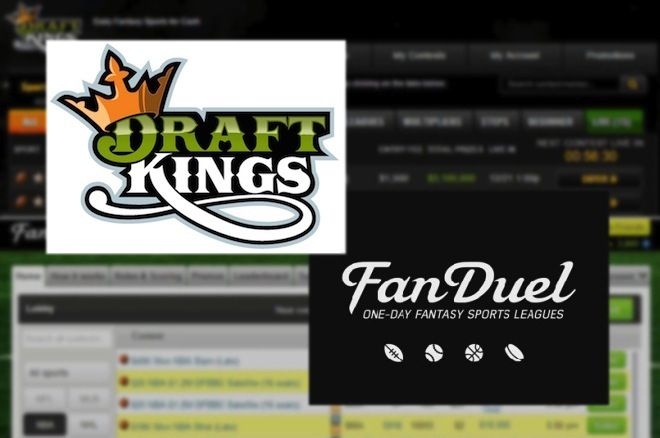 This week's installment of Inside Gaming takes a quick look at the prospects for the fast-growing daily fantasy sports sites, DraftKings and FanDuel, notes the Cherokee tribe's plans to open a second casino in North Carolina, and shares news of a junket theft contributing to a stock slide for Wynn Macau.
IPOs, Merger Talk, and Other Speculation for DraftKings and FanDuel
Anyone watching last night's game between the New England Patriots and Pittsburgh Steelers that kicked off the 2015 National Football League season no doubt noticed the high volume of advertisements for both DraftKings and FanDuel, currently the two leading daily fantasy sports sites.
The rapid rate of growth experienced by both companies has led to a flurry of speculation this week regarding their respective futures, including whether one or both may launch an initial public offering (IPO) sooner than later.
The St.Louis Post-Dispatch yesterday shared a overview of both sites' currently sanguine circumstances. There DraftKings CEO Jason Robins is quoted wondering aloud "should we go public?" FanDuel CEO Nigel Eccles likewise speaks of the company's plans to wait for January to "go to the bankers and say 'this is how football has gone, this is what we think 2016 looks like, when does it make sense (to go public)?"
Both companies have enjoyed significant private investment to this point. Robins is reported saying how "DraftKings is set to grow its NFL customer base by ten times from its level last year, thanks to an aggressive advertising campaign across television, digital platforms and billboards." Meanwhile Eccles also notes how its advertising budget currently represents the company's biggest expense.
The possibility of the two companies merging has also marked this week's conversations about the future of daily fantasy sports, with both Robins and Eccles well aware of such discussions.
"Eccles, who said he is not interested in a tie-up, said he has heard investors compare it to the 2008 merger between Sirius and XM Radio, when two unprofitable upstarts merged to create No. 1 satellite radio provider Sirius XM Radio Inc." reports the Post Dispatch. Meanwhile "Robins said he would consider a merger, but that it would take two to tango."
At present both companies are more focused on continued growth than immediate profitability. "Neither of the companies are yet profitable," reports the Post Dispatch, "and the CEOs said they are in no immediate hurry to change that, instead spending money on attracting more customers and growing revenue."
Read more about how the heads of both companies are considering their respective futures at the St. Louis Post Dispatch.
Cherokees to Open Second Casino in North Carolina Later This Month
On September 28 the Cherokee tribe is set to open a second casino in western North Caroina. The new Harrah's Cherokee Valley River Casino & Hotel is located near the Tennessee border in Murphy, North Carolina, not quite 60 miles southwest of the state's only other casino, Harrah's Cherokee Casino Resort.
The Las Vegas Sun reports that while the tribe "concedes the new site in Murphy could cannibalize some traffic" from the Cherokee casino, the proximity of Murphy to Atlanta, Chattanooga, and Knoxville makes the site favorable to "accommodate overflow and draw gamblers on day trips from neighboring states."
In late July the National Indian Gaming Commission issued its report on the performance of Native American-owned casinos on reservations and tribal lands during 2014, showing overall growth for the industry albeit not at the pace of previous years. Meanwhile the Eastern Band of Cherokees has enjoyed relatively greater growth than the industry as a whole, thereby encouraging such expansion.
The new $110 million facility will feature 50,000 square feet of gaming space, 1,000 slot machines, and 70 traditional table games, along with a 300-room full service hotel.
Harrah's Cherokee first opened in 1997, only introducing table games in 2012. Since then the casino has hosted several well-attended World Series of Poker Circuit stops, including the 2015 WSOP National Championship in late July won by Loni Harwood. The WSOP-C will be visiting Harrah's Cherokee twice during the 2015-16 season, in late Nov.-early Dec. and again next April.
Read more about the new casino's opening and further speculation regarding its prospects at the Las Vegas Sun.
Wynn Macau Stock Drops Following Theft from Junket Group
On Thursday Bloomberg Business reported that Wynn Macau Ltd.'s Macau gaming stocks' recent decline came in the wake of a report that the company's Macau casino was the victim of a theft to the tune of as much as HK$ 2 billion (or about $258 million USD).
A report by Daiwa Capital Markets notes uncertainty regarding the amount stolen from Dore Holdings, a "middleman for high rollers," stating that the amount could range from HK$200 million up to HK$2 billion.
Wynn Macau's stock fell 3.6% at the close of trading in Hong Kong yesterday, while Wynn Resorts Ltd. of Las Vegas also dropped 4.6% on NASDAQ. Bloomberg notes that Wynn "gets almost 70 percent of its revenue from the Macau unit."
Wynn spokesman Michael Weaver downplayed the significance of the theft. "Dore owes no money to the company and continues to operate in Wynn Macau," said Weaver, adding that issues with Dore "have no direct financial impact on Wynn Macau."
Find out more about the theft — not the first endured by a Macau-based casino — and other issues affecting Wynn and other casinos in Macau at Bloomberg Business.
Want to stay atop all the latest in the poker world? If so, make sure to get PokerNews updates on your social media outlets. Follow us on Twitter and find us on both Facebook and Google+!