The Muck: Kyle Cartwright's Video Poker Legend Grows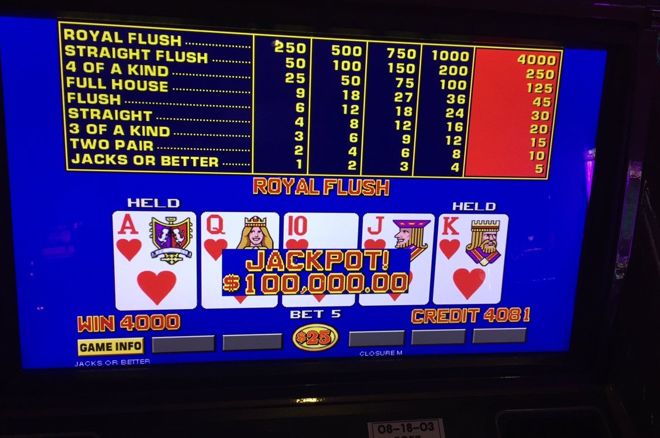 After a quiet few weeks where there was more politics than chip counts in our feeds, poker is once again dominating our timelines. We have Poker After Dark, Poker Night in America, World Cup of Cards, and PokerStars Championship Barcelona capturing our attention and data plans.
So much poker, so little time - just the way we like it.
May the Hearts Be With You
It seems you don't have to hit the felt for several days to claim a six-digit payday, you just need a good pull.
The odds of hitting a royal flush on a video poker machine are 40,390 to 1. That is unless you're Kyle Cartwright, who seems to have defied the odds.
Cartwright, a poker pro with nearly $1.5 million in live tournament earnings, has gone on a video poker heater, hitting a royal flush three times in just over two months. That's 3 x $100,000 on video poker.
What's even more odd-defying? He hit all three royal flushes holding hearts.
Cartwright who used to play when he traveled for poker, around once a month, doesn't play much anymore because he rarely travels. On his string of wins, he said, "It obviously feels amazing to win $100,000 from a slot machine. Not one, not two, but three times in a couple months. I've hit maybe 6-7 royal flushes in my lifetime of gambling of 7+ years. To hit 3 in 5 sessions is quite absurd."
Sooooooo dead serious first night playing since vegas.. Lets gooooo https://t.co/QhZsURL4TH

— Kyle Cartwright (@da_kyky)
Holy fucking shit u guys. once again this is fucking real.. let's gooooooooooo https://t.co/myw5qQ0hQ6

— Kyle Cartwright (@da_kyky)
His latest win came on the very next hand following his second win. Granted, there was a little over a month in between the two wins, but Cartwright tweeted, "Had not played one single hand since the last one I hit in Vegas.. so fucking wild."
When big jackpots and machines are involved, the question on everyone's mind is, "How much did you invest?" Cartwright graciously answered that question.
"I don't know the exact amount I was in for on my first two in Vegas but I'm pretty sure it was $7k and $9k. So a $93k and $91k profit, give or take a couple of thousand. My last one in Tunica I was down somewhere around $2-3k before I hit it."
Cartwright answers what inquiring minds want to know, what's more exciting going deep in a tournament or a string of royal flushes?
"Going deep in a tournament is much more exciting. I know that the only skill involved in video poker is holding the corrects cards. Anybody can learn that just from reading online. Poker tournaments are much more skillful and there isn't a better feeling than beating out hundreds or thousands of players to win a poker tournament. After I hit the last royal flush there was the RunGood Main Event at Horseshoe Tunica. A lot of my fellow poker players/friends said I shouldn't even play it because I just won $100k and I wouldn't play my best. I didn't listen to them and ended up finishing in 2nd place."
Cartwright admits to never playing the video poker machines in Tunica. He explains why this weekend was different.
"I forgot to mention why I even gambled this weekend in the high limit room in Tunica. Those video poker machines have always been there but the payouts were so terrible I would never consider playing them. When I gambled last time in Tunica in May, the payouts were 7/5 for jacks or better. I was walking up to my room and decided to check the payouts. It was 9/5. So I stuck in a $2,500 ticket and bam, not 10 minutes later I was dealt AKQ9J all hearts. Obviously pitched the 9h and I hit it. So if Horseshoe had never changed the payouts I would never have stuck in any money. So thank you Horseshoe Tunica!"
But there's always one to rain on the parade ...
And in this case, that one is Mike Matusow. Leave it to Matusow to try and rain on Cartwright's heart-colored parade.
This guy doesnt know it but hes dead broke within 5 yrs worst thing ever is to win a jackpot like this https://t.co/XMYpwC4K4i

— Mike Matusow (@themouthmatusow)
Cartwright takes it all in stride but can't help himself.
@da_kyky i dont even know you i was giving you good advice take it how you take it

— Mike Matusow (@themouthmatusow)
We're just guessing, but we're sure Cartwright is taking it just fine.
Speaking of Matusow ...
Did you know his voice carries? Well, of course, you did.
Voices that Carry was the name of the latest Poker After Dark episode and table talk was the main attraction.
The obvious voices included Jean Robert-Bellande, William Kassouf, and Matusow. Less obvious voices included David Williams, Matt Berkey and Nick Schulman. The structure was a $25,000 winner-take-all sit-n-go and much of the attention was on Matusow and Kassouf.
Kassouf is known for his relentless and annoying table talk, and of course, Matusow is "The Mouth."
It didn't take long for the banter and antics to get on someone's nerves and that someone was Robert-Bellande, who offered a $1,000 bounty to the person who knocked out Kassouf. It seems like that $1,000 hit the road when Robert-Bellande was knocked out in sixth place.
And you know it's bad if Matusow reacts to William Kassouf's constant table chatter by offering an apology to every poker player.
"I apologize to everyone I've ever offended over the last 25 years," he said. "I now understand why the earplugs go in when I sit down. I'll tell you what, can you just stay quiet until I win an ante? For every word I say, you say one less."
Kassouf responded without missing a beat: "that'll be hard."
But it seems as if Schulman was speaking for everyone when he quietly said, "Will, Please leave me alone."
What do Con Artists, Sherlock Holmes & Erik Seidel Have in Common?
It probably comes as no surprise that mindset plays an important role in your success - whether in poker or in life. In fact, table talk is a tactic that is designed to intrude on your positive mindset and compromise your decision making.
And that is what con artists, Sherlock Holmes and Erik Seidel have in common ... they pick out nuances in a situation and use them to fleece their victim, solve a case, or pick off a bluff.
Maria Konnikova, a "journalist moonlighting as a professional poker player," is working on an interesting project that looks at poker and its relationship to life. PokerNews' Sarah Herring talked to Konnikova about the project, her podcast and some of the interesting stories she's collected along the way.