PN Blog: Life as a Homeless Poker Pro in Las Vegas

Andrew Pieper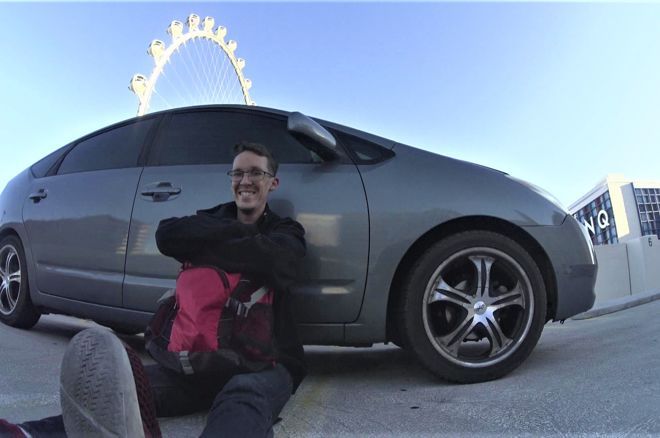 Tap, tap.
I raised my head off the back seat of my 2004 Toyota Prius to see a man in a hoodie standing right beside my car at 5 a.m. The dark tint and sunshade prevented him from seeing me inside. The first thought that popped into my mind was, "Oh it's parking garage security telling me I have to move."
But there was no identifying uniform or badge visible. When the man proceeded to go around to each door, rocking the car back and forth attempting to open a door, I rapidly came to the conclusion he was not a security figure of any kind. Slowly and carefully, I reached under my driver seat where I kept my security figure, a Glock 9 millimeter pistol. Check the magazine: full. Check the chamber: empty. I decided to keep it that way so long as the situation did not escalate further.
I remained laid down in the back seat when a car door shut nearby. Peering out from the rear window, I could see a black car parked right beside me, and the man who had just been testing the security of my door locks sitting there.
"Oh good, he can't get in and is leaving."
Letting out a sigh relief while simultaneously realizing I had been holding my breath, I decided to keep the firearm in hand until I saw the car actually depart. Five minutes passed. Then ten. And then thirty. He was just sitting in his car, sometimes with the door open. A few times he got out of his car and once again tried the doors and the trunk in case they had unlocked while he was waiting.
"As surprising as it may sound, I'm living this lifestyle by choice."
Glancing at my watch it had been nearly a full two hours since the would-be intruder tapped on the window. Finally, I heard the car next to me crank to life and exit the parking garage. I finally sat up, replaced the pistol to the secure case underneath the seat, shook my head and shrugged.
"Just one of those things I deal with being homeless, I guess."
I've been living life as a professional poker player for eight months now. For four of those, I've called my car "home." Are things really that bad? Am I losing at the tables and under-rolled? As surprising as it may sound, I'm living this lifestyle by choice.
When I first arrived in Vegas, I had a house to live in with a roommate I had known since high school. It was a large three bedroom, three bath residence and for two bachelors, it also came with a higher-than-average rent. But for such comfortable accommodations, I was willing to pay it. My roommate's occupation was with the Air Force and he was scheduled to be deployed overseas. One night, he talked with me saying he was uncomfortable leaving the house with someone living off an unsteady income. I offered many options, even paying the three months that he would be gone up front; however, a mutual agreement could not be found.
We had signed a month to month contract when I moved in and I only had a matter of days to seek out new living arrangements. I nearly moved in with a couple different people but for one reason or another the deals ended up falling through. Moving day came with no place to move into. I reserved a storage unit in town and made the necessary trips back and forth until the majority of my possessions occupied a six by twelve-foot unit. I kept a couple suitcases with the necessary clothing and toiletry items I would need along with the non-perishable food items for a very condensed pantry, and spent my first night sleeping in my car.
The next day was spent mostly online at the library researching if and how living out of my car was going to be sustainable. While a van or something that provides more room is preferred, a Prius was one of the few smaller vehicles that were recommended: the major factor being the gas engine will only run for a few minutes at a time with the A/C running so it's possible to keep the car running overnight for a few bucks a night. I could keep a small cooler with items that needed to be kept cold and having it stocked with ice was fairly easy as most hotels had an ice machine available.
My gym membership was valid at several locations around town, all of which contained showers and lockers as an amenity. Suddenly I had an even better reason to keep up with my gym routine knocking out fitness and hygiene in one. I had never been to a laundromat in my life, but I was soon making a weekly trip to one, which proved to be a great time to catch up on the poker podcasts I listen to. I had imagined receiving mail was going to be a big complication; however, via some quick research, I found I was able to rent a mail box which also provided me with a physical address and not just a P.O. box for 15 bucks a month.
Things such as rake and living expenses are the killers for low-limit players such as myself. Bart Hanson had this to say on low-limit games: "If you're Phil Ivey, you can't beat them because the rake is too high."
I interviewed Daniel Negreanu in one of my Vlogs on YouTube and he seemed to be in agreement with this.
"The most important aspects...cost and expenses."
When I asked what tips he had for someone like me, he advised: "If you want to move up and build a bankroll, the best way to do that is to lower expenses... I know some guys, who were probably the best players in the game, but they have to buy thirty thousand dollar watches... You're never going to have any money if you keep doing stupid stuff like that."
Living out of your car may not be exactly what he was referring to, but my overhead is kept to a minimum in doing so.
I don't subscribe to the worldview that success in life is having a solid career with a 401k, white picket fence, and 2.3 kids. I left the aviation industry holding multiple licenses along with a security clearance to pursue poker. While I still like aviation, I love poker. Poker affords me the opportunity to live a lifestyle without being tied down to anything or working a set schedule to make someone else money.
Live life according to your passions, not society's: that's the worldview I have. If living in Alaska fighting off wolves and hoping you prepared well enough to survive winter is your dream, go for it. If you find your passion at a desk job in a cubicle, go for it. The world is full of people simply "surviving" and drudging through the day-to-day grind, whatever passion they held in life buried deep somewhere in the past.
As the character of Mike McDermott in Rounders put it: "If you're too careful, your whole life can become a f***ing grind." I live a happy and content life doing what I love, despite the fact of living in a car.
I knew this lifestyle was possible and I'm not totally unique in doing this either. Carlos Welch, a poker pro, has a similar story and lived in his van for years grinding small stakes sit-n-go's and tournaments online. A couple years ago, CNN Money did a story on Faraz Jaka, an American pro with currently over $5 million in live earnings on Hendon Mob, who also chose to live homelessly.
I have a solid hourly and a bankroll over 100 buy-ins for the games I normally play in and am considering a transition to moving up in stakes. But when you have so few expenses and are beating the games at a decent rate, there's not a great need to move up right away. I exercise a very conservative bankroll management and really strive to account for every dollar I spend. If I wanted to go back into aviation, I could use a more aggressive line and take the "I'll either make it or I won't" attitude, but I have no plans to work for someone else again.
"You don't gamble, you grind it out." Even as a primary cash game player, nobody is immune to striking the wrong side of variance for an extended period of time. An awful week this past summer which chopped out 5% of my roll had me take a few days off. But the World Series was still going on and there were over 150 games were running around the clock. What was I going to do, not play? Play scared of getting in big pots because I might lose? You can't hack it as a pro if that's your attitude; focus on playing your "A" game and hit that felt.
If you're wondering about my story before I chose to live homeless, you can find it here.
Everybody needs an account at one of these online poker rooms! They're the biggest, the best, and we get you the best poker bonuses. Check out our online poker section for details on all the online poker rooms around.