Masked Bandit Robs Bellagio Poker Room, Remains At-Large (Updated with Video)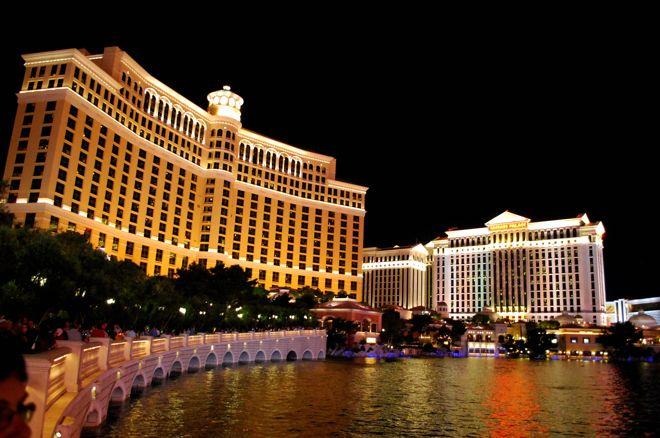 An armed, masked suspect robbed the Bellagio poker cashiers cage at gunpoint late Tuesday afternoon, and authorities are still searching for the bandit as of late Tuesday night.
According to a report from CBS' local Las Vegas affiliate, the attack occurred a little after 3:45 p.m. and involved a lone robber with a mask and a handgun. The suspect demanded money and then fled in a silver Chevy Cruze with Nevada license plates reading 37D147.
One of the first reports out of the poker world came from the Twitter account of bracelet winner Randy Ohel. The noted mixed game player apparently stumbled onto the crime scene moments after the robbery when he showed up for a cash game. Ohel said the suspect made off with an unknown amount of loot from a cashier's drawer and then exited via the valet on the north side of the property, facing Flamingo Rd.
Ohel didn't believe anyone had been harmed and said it happened "very quickly."
James Woods, playing poker a stone's throw from the targeted cage, said hardly anyone even realized the robbery was occurring. He praised Bellagio staff for calmly handing over the money to help make sure nobody got hurt.
Doyle Brunson also reported being present at the Bellagio during the robbery, saying the high stakes room housed about $200,000 in cash mere yards away that went untouched.
Las Vegas police are reportedly looking for a white male driving the aforementioned vehicle.
It's not the first time the Bellagio has been the target of an armed robbery. Back in 2011, the infamous "Biker Bandit" made off with $1.5 million after targeting and successfully robbing a high-limit craps table at the luxurious Las Vegas casino. The perpetrator, who turned out to be one Tony Carleo, foolishly attempted to sell the pilfered chips via TwoPlusTwo and found himself on the business end of a nine-year prison sentence.
UPDATE: On Thursday, Las Vegas police released surveillance video of the armed robber at the Bellagio poker cage and making his way out of the casino.
Las Vegas police release surveillance video showing suspect robbing the poker room cash cage at the Bellagio Hotel.… https://t.co/eWy1fTUHMR

— ABC News (@ABC)
According to reports, the unknown man had stolen a 2011 Chevrolet Sedan, tied up the owner of the car, and fled the scene in the stolen vehicle after executing the robbery inside the casino. The car was later recovered with the owner unharmed, and the robber is still at large.
This is a developing story.
Lead image c/o Tomás Del Coro
Have you ever wanted to write your own articles about poker? Maybe you've got some experiences or opinions about poker that you'd like to share. PokerNews is proud to launch The PN Blog where you can have a platform to make your voice heard. Learn more here.