Cryptocurrency Alert: Play to Win ETH at CoinPoker!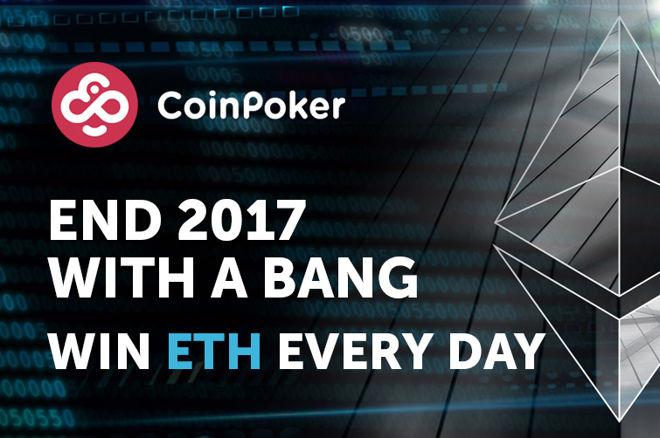 If the cryptocurrencies market will grow as international analysts expect, playing your poker games at CoinPoker this December could be your smartest decision of 2017.
The blockchain-based poker site just announced a great new tournament series that might be your best chance to enter the cryptocurrency world from the front door and with little to no investment.
Right on the heels of the 5,000,000 CHP promotion launched only one week ago, CoinPoker took the industry by storm again adding a new series of ETH guaranteed tournaments to their schedule.
Tournament Details
From today until December 31, 2017, all the players at Coinpoker can put their poker skills to good use and play poker to build a future-proof investment in ETH.
"We're thrilled with how many players are already playing in our 5,000,000 CHP promotion, and we're sure lots of you have already acquired considerable amounts of our in-game currency," a CoinPoker representative wrote on the poker room's official Medium account.
"[Now] it's time to start using it — and not just in our cash games! The tournaments where you can win ETH will have small CHP buy-ins, and the prizes will be 100% worth it."
The ETH guaranteed events will run four times a day until December 31, putting up for grabs a total prize pool of 11 ETH every day.
Here's the official schedule:
| Time* | Buy-in | Guarantee |
| --- | --- | --- |
| 00:00 | 200 CHP | 2 ETH GTD. |
| 15:00 | 200 CHP | 2 ETH GTD. |
| 19:00 | 400 CHP | 5 ETH GTD. |
| 20:00 | 200 CHP | 2 ETH GTD. |
*all times are in GMT time
The top 6 players at the Final Table will divide the ETH prize pool.
As CoinPoker explains, should you be one of the top six finishers, you will need to write the site an email from the address you used to register at CoinPoker.
To get your ETH in your crypto-wallet, you'll simply need to send your e-wallet address to promotions@coinpoker.com and wait for up to 72 hours.
What is ETH? Why is it a good investment?
Unless you have spent the last twelve months on a different planet, you should know that this has been the year of cryptocurrencies.
Not only did bitcoin go through-the-roof touching $20,000 before it went back down to $12,000 — which still marks an impressive +1,270.75% increase in a 12-month time span — but also other crypto-currencies emerged to create new opportunities.
Like ETH*, the Ethereum currency.
The first thing you should know about Ethereum, as the HuffPost explains, is that "it is not just a digital currency. It is a blockchain-based platform with many aspects."
Ethereum features smart contracts, the Ethereum Virtual Machine (EVM) and it uses its currency called ether (ETH) for peer-to-peer contracts.
Launched in 2015, ETH made many early investors extremely happy in 2017, as the currency value grew by 7,767.69% in 2017 alone (source: Coinbase).
With publications like Fortune and Forbes advising investors to get into the ETH bandwagon before it's too late, it would be crazy not to try to get some of the ETH available at the events on CoinPoker's schedule.
How to play at CoinPoker
Unlike the traditional poker sites, CoinPoker is a poker room built on blockchain technology that offers great value to poker players and investors interested in cryptocurrencies.
The poker room launched in November 2017, and is backed by Antanas "Tony G" Guoga, the visionary entrepreneur, politician, and cryptocurrency enthusiast legendary poker bad boy.
Taking part in the ETH events on schedule at CoinPoker couldn't be any easier:
Register to the site for a free account
Navigate through the lobby to register for the ETH events
All the transactions at CoinPoker happen in chips (CHPs), the site's very own cryptocurrency. Many early-adopters bought their share of CHPs back in November, when the currency's Pre-Initial Coin Offering (Pre-ICO) sold out in just six days.
If you did not buy CHPs during the Pre-ICO, you can still get some for free by joining the site's 5,000,000 freeroll promotion (more info here).
Also, you can sign up for the next PokerNews-exclusive 100,000 CHPs GTD event running at 15:05 ET on December 29.
The 100,000 CHPs GTD event is restricted to PokerNews players. To discover the password you need to register, make sure to visit this page on the day of the event.
Site Safety
"Blockchain opens so much more opportunities for the community even in those regions where fans of the game have constant payment problems, like Asia or Latin America," a CoinPoker representative told PokerNews.
"Players around the world can be confident that their funds will be secure, their cards will be random, and their games will be fair."
"Poker players have been crying out for games that are fun, safe and competitive," echoed the site's game security adviser, Michael Josem.
"In the past, millions of poker players across the world have lost a lot of money on untrustworthy legacy poker sites. Players lost money because those legacy sites failed to properly protect player balances, and those legacy sites provided insufficient protection against cheating.
"The CoinPoker team are working hard to rebuild player trust, and are developing a series of innovative techniques to reduce the risk of cheating."
For more information about CoinPoker and on how the blockchain security can help make online poker a safer and better place, visit this page.
*11 ETH = $7,027.43 as of 9:00 (GMT) on Dec. 22, 2017
Everybody needs an account at one of these online poker rooms! They're the biggest, the best, and we get you the best poker bonuses. Check out our online poker section for details on all the online poker rooms around.