Play to Win a Tesla S Model at CoinPoker!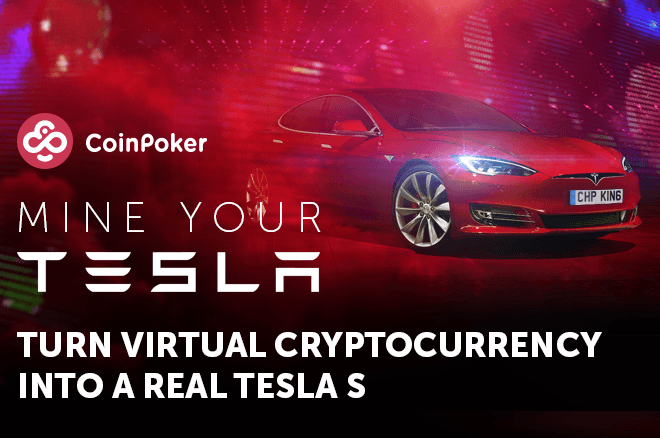 Start 2018 with a bang - check out this amazing new promotion available at CoinPoker and get ready to play poker to win a €71k Tesla S!
The new blockchain-based online poker room backed by Antanas "Tony G" Guoga and Isabelle Mercier is at it again, with yet another incredible promotion that is set to bring thousands to their tables.
As they head towards the launch of their Initial Coin Offering (ICO), the guys at CoinPoker made headlines as they added to the schedule a special tournament featuring a Tesla S model as the main prize.
"Since our project is all about cutting-edge technology and innovation, we thought that there are few things that represent this so well as Tesla S," a representative from CoinPoker shared. "That's what we're giving away in a big event right before our ICO starts."
The event is scheduled to take place at the end of January, but you can get ready for it a lot earlier than that since you'll have a chance to freeroll your the world's most popular electric car.
How to Play to Win a Tesla at CoinPoker
While the Tesla will be up for grabs on January 25, 2018, there are several ways to join the event and play for the €71k S model.
The buy-in fee of the Tesla Main Event is of 3,000 CHPs - CoinPoker's very own cryptocurrency - and while this guarantees you a seat in the tournament, there are much cheaper ways to qualify for one.
Starting on January 2, 2018, Coinpoker will be holding two satellites each day with 5 guaranteed seats to the final event. The buy-in for those is of just 300 CHPs – and that is if you really want to pay for your entry since the room runs also daily freeroll feeder tournaments to enter the qualifiers.
Here's the official schedule of the daily events:
| Tournament | Time* | Buy-In | Guarantee |
| --- | --- | --- | --- |
| Mine Your Tesla Satellite Feeder | 12:00 | Freeroll | Entry to the Mine Your Tesla Satellite  |
| Mine Your Tesla Satellite | 14:30 | 300 CHP | 5 seats to the Main Event |
| Mine Your Tesla Satellite Feeder | 17:00 | Freeroll | Entry to the Mine Your Tesla Satellite  |
| Mine Your Tesla Satellite | 19:30 | 300 CHP | 5 seats to the Main Event |
*All times GMT
In case you don't have an account at CoinPoker yet, you can get a free one here.
How to Get CHPs to Play at CoinPoker?
All the events at CoinPoker run on Chips, or CHPs, the site's own cryptocurrency launched back in November that is based on Ethereum smart contracts.
Early adopters secured their own quota of the cryptocurrency during the pre-ICO (which sold out in just six days), while all the others can earn CHPs by taking part in the different events on the site's schedule.
The easiest way to earn some free CHPs is to join the freerolls part ofthe site's
5,000,000 CHPs giveaway announced here on PokerNews earlier this month.
"We were super stoked to sell out our Pre-Initial Coin Offering (Pre-ICO) in just six days," a CoinPoker representative told PokerNews. "We said then that 15% of the tokens collected will be given away, and we're happy to tell you we're starting this even sooner than we'd hoped."
The freerolls run every 30 minutes, meaning there are 48 chances a day to bring home some free CHPs to play more expensive events.
Join the [I]PokerNews-Exclusive[/I] Tournament - Today!
If you are a loyal PokerNews reader, don't forget to join the 100,000 CHPs Guaranteed Freeroll starting today, Friday, December 29, at 15:05 ET.
This is the last of three PokerNews-exclusive events and so it's your last chance to secure some CHPs in one of the easiest freerolls on the poker room.
Don't Miss the ICO in January!
Given the great success of the pre-ICO launched in November, it's fair to expect that the CHP currency will grow in value rapidly once the site's ICO will be officially launched.
A CoinPoker representative shared that the ICO should begin only a few days before the Tesla Main Event kicks off and suggested to keep an eye on the poker room's official channels to make sure this doesn't go unseen.
Should you not be sure about what an Initial Coin Offering (ICO) is or how you could buy CHPs to play at CoinPoker once this begins, you can check out this infographic.
For more information about the Tesla Main Event and the technology that powers CoinPoker, visit www.coinpoker.com