Tim Mitchell Wins 2017 WSOP Sydney Monster Stack for $88,684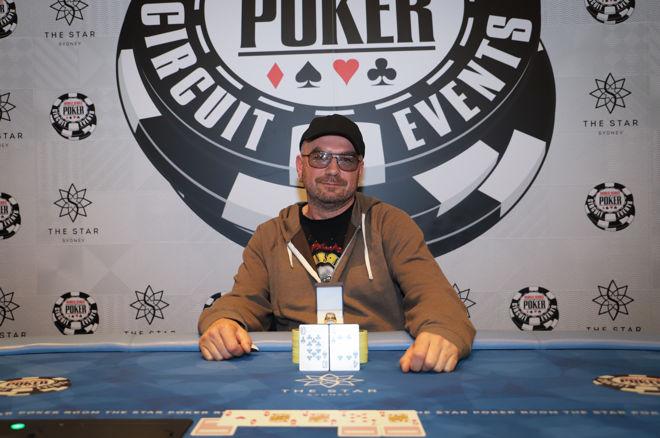 The two-day 2017 WSOP Sydney Monster Stack Event took place in a packed Star Poker Room where the Main Event was also underway this weekend.
The field was one of the largest of the series, welcoming 403 players to the felt to climb their way to the top prize of $88,684.
This event brought in plenty of local and national poker talent including Tony Hachem, Gary Benson, and Mitchell Watson.
Day 1 saw some aggressive action as is often the case when players are armed with a large stack of chips. As a result, the day ended with only 139 of the original 403 players.
With only 45 players making the money, there was still a battle just to get paid. With the activity of the room and the large stacks of chips in play, it was a very volatile Day 2 as chips flew until a final table was reached.
All eyes were on Antonis "Toothpick Tony" Kambouroglou who would end up making his third final table of the series. But it was not to be for Kambouroglou, as Tim Mitchell took the momentum into the final table and ran with it all the way to the top.
Final Table Lineup
| Seat | Name | Chips |
| --- | --- | --- |
| 1 | Tim Mitchell | 1,880,000 |
| 2 | Rafe Aman | 3,200,000 |
| 3 | Paul Geiorgou | 1,750,000 |
| 4 | Vince 'Ice-V' Chung | 2,850,000 |
| 5 | Nelson Maccini | 3,050,000 |
| 6 | Aaron Wilson | 1,500,000 |
| 7 | Antonis "Toothpick Tony" Kambouroglou | 1,800,000 |
| 8 | Jacob Horowitz | 2,675,000 |
| 9 | Tony 'Totti' Tavella | 1,380,000 |
Even though this was a monster stack and the chip counts look huge, the reality is the average chip stack at about the time the final table began was about 23 big blinds.
Therefore, it should come as no surprise that the tournament went from a final table to a winner in about two and a half hours.
The first elimination came pretty quickly after the finalists took their seats when Mitchell answered Aaron Wilson's bet of 290,000 with an all in on a board of
. Wilson called and tabled
and immediately saw the bad news when Mitchell turned over
for a rivered flush. Mitchell had Wilson covered which sent Wilson to rail in ninth place earning $8,382.
Tony "Totti" Tavella was the next to go when he went all in with [asq] over the top of Mitchell. It was an easy call for Mitchell who held
. Tavella was unable to improve on his hand and was sent home in eighth place and $10,494 richer.
The money went all in preflop between Jacob Horowitz and Nelson Maccini with Horowitz at risk. Horowitz was not happy to see that his
was up against Maccini's
. The
flop all but sealed the fate of Horowitz, and
turn and
river made Horowitz the tournament's seventh-place finisher, where he earned $13,323 for two days of work.
Mitchell continued his tear through the final table when he and Vince "Ice-V" Chung were all in preflop. It was a classic race, with Chung slightly ahead holding
against the
of Mitchell. The board appeared to be falling in Chung's favor - at least until the river. A river
, gave Mitchell the win, eliminating Chung in sixth place with $17,155.
The next elimination came at the hands of Rafe Aman when he called the under-the-gun all in of Maccini. Maccini held
and Aman turned over
. Maccini got the bad news on the
flop and couldn't find any help when the
turn and
river were revealed. Maccini is the tournament's fifth-place finisher and is taking home $22,414.
Aman took over the table captain role at this point and got it all in with
against Phil Georgiou, who held
. It was the river again that delivered the bad news when the board fell
. Georgiou exits in fourth place taking with him $29,725 and Aman goes into three-handed play as the chip leader.
The stage for heads up was set when Mitchell called the all in of Kambouroglou, who was hoping the third time was the charm. Kambouroglou had
and was up against the
of Mitchell. Mitchell flopped a flush, ending Kambouroglou's quest for a win. He left in third place and adds a healthy $40,034 to the prize money he's been collecting during the last few weeks.
After the chip lead flip-flopped a few times, it was Mitchell who moved all in with
and was called by Aman who held
. Aman was the player at risk, and the cards were shining favorably on Mitchell, as they have throughout the final table when the
board delivered a straight on the river.
Aman claimed the runner-up spot and $54,787, and Mitchell was crowned the 2017 WSOP Sydney Monster Stack Champion.
Final Table Results
| Place | Name | Prize |
| --- | --- | --- |
| 1 | Tim Mitchell | $88,684 |
| 2 | Rafe Aman | $54,787 |
| 3 | Antonis "Toothpick Tony" Kambouroglou | $40,034 |
| 4 | Phil Georgiou | $29,725 |
| 5 | Nelson Maccini | $22,414 |
| 6 | Vince "Ice-V" Chung | $17,155 |
| 7 | Jacob Horowitz | $13,323 |
| 8 | Tony Tavella | $10,494 |
| 9 | Aaron Wilson | $8,382 |
It was a long two days and Mitchell reflected on the road to his win.
"A tournament like this always as a lot of ups and downs," Tim Mitchell told the Star Poker Live Reporting Team. "You just have to ride the good when it is with you and not get affected by the bad times. It all evens out in the end."
Earlier in the tournament, Mitchell found himself with a decision for his tournament life holding ace-queen against 2017 Aussie Millions Champion, Surane Vijayaram. His gut was telling him to fold, while the math said it was a clear call.
He was asked about that decision.
"All the odds said I should have called but it seemed like I needed to make a big fold. I did fold and somebody else called, I would have lost the hand and I would have been eliminated from the tournament then if I had played."
During the last few weeks, players have been keen to discuss their love of playing in the Star Poker room. Mitchell is no different.
"This is a fantastic poker room," Mitchell said. "The improvements they have made are fantastic. I really like the USB ports on the tables and being able to use your phone as a music player whilst playing".
The WSOP Circuit Action Down Under is Winding Down
The Main Event is entering its final days and there is one tournament left to get underway. Join Star Poker for a chance to win your very own WSOP Circuit Ring on December 18, 2017, when the Bounty event gets underways. You can learn more on the StarPoker website.
Have you ever wanted to write your own articles about poker? Maybe you've got some experiences or opinions about poker that you'd like to share. PokerNews is proud to launch The PN Blog where you can have a platform to make your voice heard. Learn more here.