PokerStars to Trial Double-Board Game 'Split Hold'em'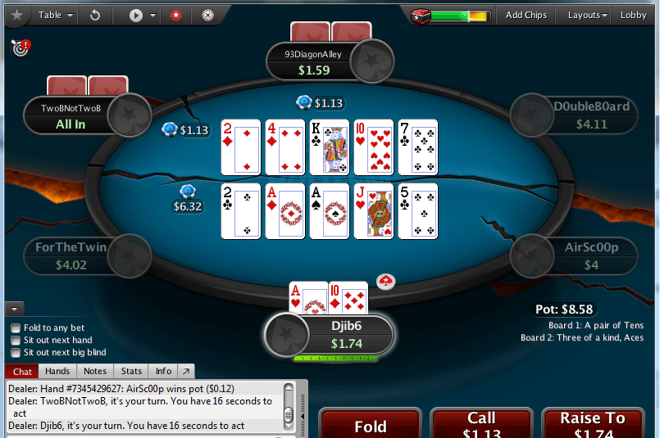 Most Texas hold'em hands miss the flop. This is an inescapable fact of life when playing the ubiquitous two-card variant — it's just not that often that five random cards will be connected in any meaningful way, much less a way that gets a player excited to continue.
While plenty of players over the years have sought refuge and bigger thrills in the great game of pot-limit Omaha, PokerStars has introduced a different possible solution: Split Hold'em. That's what the world's leading online poker provider has christened its newest offering, a game that essentially just boils down to double-board hold'em.
Like other double-board games, two full flops, turns and rivers will be simultaneously dealt at the appropriate times. In order to win the entire pot, a player must either show down a winning hand on both boards or force all of his or her opponents to fold before showdown. A player showing down a winner on one board will be entitled to half of the pot.
"Split hold'em is an example of the new variants we've been working on at PokerStars," company rep Dan Price wrote on the official blog. "We think they provide engaging challenges and opportunities for players to test their wits in a fresh format that is new for everybody."
"Split hold'em has already provoked a lot of internal discussion around the best strategy, so we can't wait to see how players adapt. You may know how to play 88 and AQ — but what about when you have two boards to consider?"
The new variant will run on a trial basis for an unspecified length of time.
Innovations in a Changing Poker Landscape
Top professional player and leading PokerStars Team Pro Daniel Negreanu has beaten the drum of poker game diversification for years, saying it's essential to the long-term health of poker. His sponsor is apparently of the same mind.
PokerStars has been seeking to introduce a number of innovative poker variants to the public for some time now, most notably pushing its esports-like Power Up game. Debuting last year, Power Up rolled out for real money in October.
While Power Up represented a radical shift from traditional poker, the move from hold'em to Split Hold'em will be a gentler transition for most players.
Double-board variants have long been a staple in crazy home games around the world. They represent a relatively easy adjustment since the changes from regular hold'em and Omaha are fairly simple to grasp. However, there's still meaningful strategic change. Plus, most players are already familiar with the concept of "running it twice" and potentially splitting the pot in an all-in situation.
PokerStars will undoubtedly be closely monitoring the trial of Split Hold'em to see how the poker public reacts.
The Stars Group is a majority shareholder in iBus Media.
Photo courtesy of PokerStars.