Women's Month: Ladies Notch a Record Five Wins at LAPC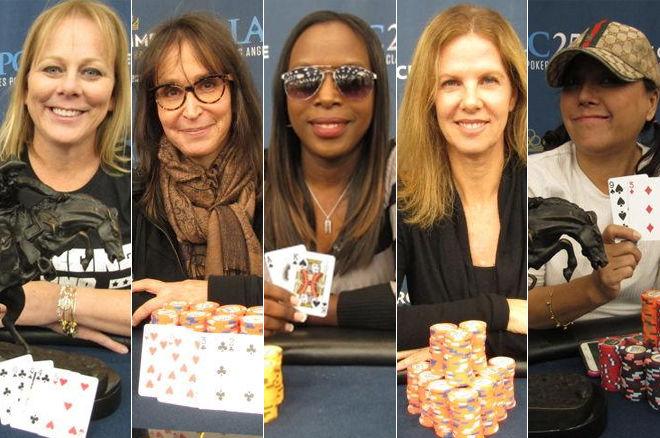 The Commerce Casino celebrated the 25th year of the L.A. Poker Classic in style. In the WPT Main Event, it was Dennis Blieden taking home the title and the $1 million first-place prize. Certainly, Blieden made plenty of news, but the success of women in the preliminary events also turned out to be an interesting story with March being National Women's Month.
This year, five women took home the Remington Trophy, and there were more female winners in 2018 than ever. It's an impressive total considering women are only about five percent of the average tournament field at the Commerce. Tournament officials noted that there were actually very few female winners at all in the past, with only one woman winning in 2016, and two in 2017.
"Women are great poker players, but it's been a tough environment for them in the past," Commerce tournament coordinator Justin Hammer says. "The small percentage of female players, combined with some of the behavior that has been allowed in poker communities previously, made it a tougher task. I'd like to think the efforts to make Commerce more 'female friendly' had something to do with it, but ultimately it's just because they're fantastic players."
Here's a look at these tournament topping ladies with high-level skills at the poker table.
---
Carol Fuchs – Winner in $570: Omaha 8-or-Better ($14,205)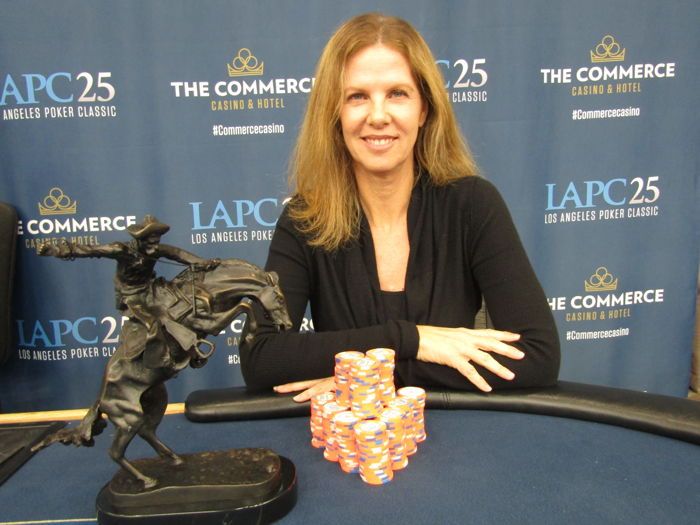 No stranger to success on the poker felt, Fuchs is a part-time player who has $385,000 in lifetime tournament winnings and jumps in about 20 to 25 tournaments a year. That includes winning a World Series of Poker bracelet in 2015 in the $1,500 Dealer's Choice for $127,735.
Fuchs lives in Los Angeles and works in the film industry as a producer and occasional screenwriter. She got into poker after reading James McManus's popular book Positively Fifth Street. She then played in a tournament and was hooked. She loves mixed games and plays everything but No Limit Hold'em.
"Show up. Get in there and compete. Study and practice. Unlike physical sports, there's no reason women can't outperform their male counterparts."
"I would love to see more women out there," she says. "It will only improve the poker environment in every conceivable way. Shirley Rosario and Gina Hecht are fantastic poker players. So it's not surprising that they won. They are always super competitive in whichever field they participate. Maria Ho is crushing poker at the highest levels constantly making deep runs. I always expect to see her showing big results."
For women thinking of jumping in on the action, she has some advice: "Show up. Get in there and compete. Study and practice. Unlike physical sports, there's no reason women can't outperform their male counterparts."
Along with just pure fun, Fuchs likes poker because she gets to combine such a wide variety of skill sets.
"There are few opportunities to compete incorporating so many different skills, against people from all walks of life for the chance to win prize money," she says. "I was playing a cash game a while back and a player was complaining about the cost of a restaurant where he was taking a girlfriend. I mentioned that it was far less than any pot he was playing in the game. He said, 'True, but I have zero chance of coming away with more money.'"
---
Gina Hecht – Winner of Event #29: $570 H.O.R.S.E. ($10,015)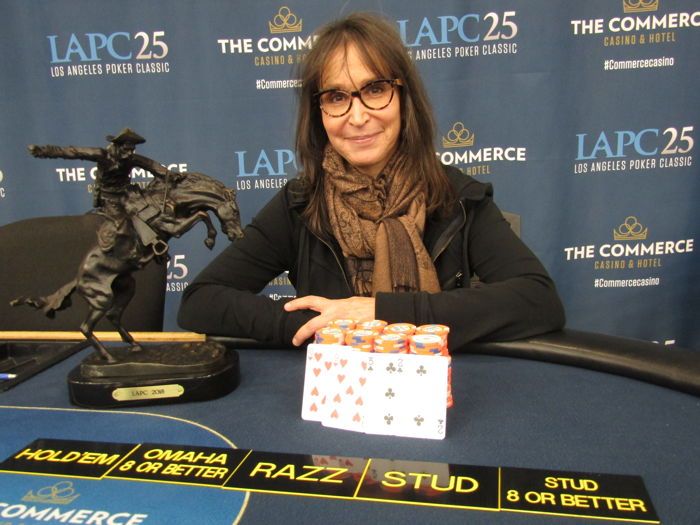 A regular at L.A. tournaments for several years with many final table appearances, this was Hecht's second major tournament win after a win at the Bicycle's Legends of Poker Series in 2015 for $6,315.
"In this time of women claiming their strength, it added to the significance of the win and made it that much sweeter."
Hecht can't remember a time when she didn't play poker, or scrabble, or any other card game. She grew up playing cards, logging many hours in college and in home games when she moved to Los Angeles. While living in an apartment building in West Hollywood, she had a regular group of tenants who played from Friday evening to Sunday morning with just a bit of sleep mixed in.
"I love the challenge of poker," Hecht says. "I love talking about poker. I love growing and learning and improving my game. When I'm focused and making correct decisions, there's nothing more thrilling than being in the zone and playing my best. There are so many terrific people I've met, and one who I'm certain will be a lifelong friend."
In 1976, Hecht moved from Houston to Los Angeles to pursue her career as an actress. She's appeared in numerous television roles including the pilot episode of Seinfeld. Poker fits in well with her schedule.
"I was blown away to see how many women won events in the L.A.P.C.," she says. "I'm not sure this figure is correct, but it seems in the mixed games the ratio is maybe 10 to 1, with the number of men far exceeding the women. In this time of women claiming their strength, it added to the significance of the win and made it that much sweeter."
The best thing about women in poker? "The short lines in the bathroom!"
---
Mesha James – Winner of Event #42: $1,100 Limit Hold'em ($19,530)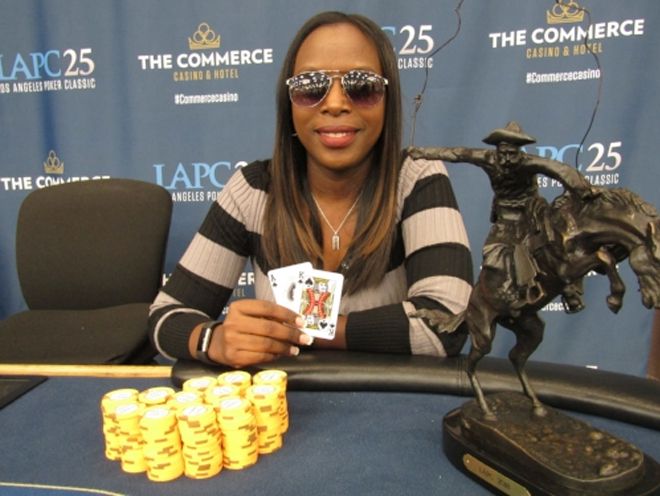 After years of smaller tournament cashes, James broke through in February with the first major win of her career, and no doubt is looking for more. She started playing poker 14 years ago in $3-$6 and $4-$8 limit games.
"My friend worked for a casino," said James, who hails from Corona, Calif. "He invited a bunch of us to go on his off day. I really didn't want to go because I didn't gamble and thought losing money was crazy. My friends really wanted me to go. They did everything to convince me. What got me to go was when one of them said I could play poker for hours and not lose much. So, I went and played $3-$6 limit, and it's been my favorite hobby ever since.
"I loved the idea of competing against others, the thrill of outplaying others and learning something new each time I played was exciting. I caught on really fast and became hooked."
Through the years, James gradually moved up in limits as her skills sharpened. She played several tournaments, but never took it too seriously.
"It's never many of us in the field and to see us take the reins in a male-dominated environment is awesome."
"I made it in the money a lot of the times, but found it grueling to spend the hours it took just to min-cash or be the bubble girl," she said. "So I spent most of my free time playing cash games."
The owner of a small business and a part-time student, James spends much of her free at the tables. She thinks poker is growing slowly among women, and she's gradually seeing more women in the card room.
"I love the fact that so many women have taken down some of the L.A.P.C. events," she said. "It's never many of us in the field and to see us take the reins in a male-dominated environment is awesome."
For other women interested in poker, James offers some sage advice.
"Really take the time to hone their skills," she said. "Many men don't think women can play. They don't give a lot of respect when it comes to calling us down in a hand, and it can be rewarding. Lastly, I would say, really check your emotions. We are emotional creatures by nature anyway, and poker has ways of turning grown men into babies. So check your emotions so you won't go on tilt."
---
Shirley Rosario – Winner of Event #36: $570 Omaha 8/PLO 8/ Big O ($11,975)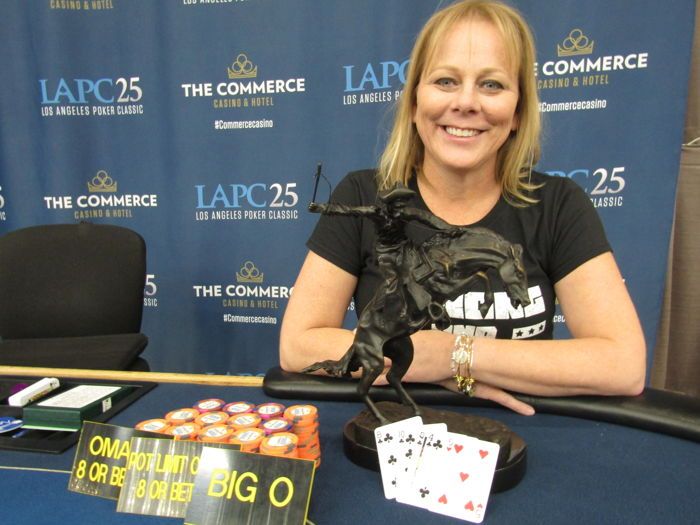 This poker veteran has plenty of final table appearances in a tournament career that spans more than 15 years. That includes several wins in L.A. area tournaments with the biggest coming in the 2005 Legends of Poker, where she won the $565 Omaha Hi/Lo event for $31,000.
The win at the L.A.P.C. becomes her 12th win in all forms of poker, most coming in some form of Omaha. Rosario's career tournament winnings now top $494,000. The win was a major personal accomplishment for Rosario.
"My tournament was actually a huge victory for me," she says. "Omaha is my best game, but I'm still a little new to the pot limit element of it. My tournament was one part limit and two parts pot limit, so I definitely had to make some adjustments."
She also faced another obstacle, she had to take a week off prior to the event because of illness. On Day 1, Rosario felt tired but persevered and felt much better on Day 2, and ready to take down her opponents.
Growing up, Rosario always loved games – especially those involving puzzle elements, so it was natural "that I instantly fell in love with poker once I was introduced to it."
And the Commerce turned out to be a natural fit as she has some personal history at the casino.
"I started playing because I was a cocktail waitress at the Commerce and met some people who took me under their wing and taught me how to play," she says. "The Commerce has always been special to me because it's where I got started so the L.A.P.C. win is extra special."
For other women out there thinking of getting into poker, Rosario encourages them to persevere through the ups and downs.
"My advice to women is to do what you love," she says. " If that happens to be poker then by all means go for it! Don't let anyone tell you that you're not suited for it. I can't even tell you how many times I was told it's a man's game. Fortunately, I don't hear that so much anymore."
---
Sangduan Dorsey - winner of Event #31: $350 No Limit Hold'em ($24,570)
In only her second tournament cash, Dorsey notched a pretty impressive victory. A native of Monterey Park, Calif., Dorsey topped a field of 502 players to win a massive $24,570.
"I'm so proud of myself."
"I feel so good. I'm so proud of myself. Every tournament here at Commerce I've been knocked out, but today, I finally won. So proud of myself," she told the LAPC Blog.
"Yes, I was trying to be really aggressive and put pressure on them. This is only $350 buy-in, so I decided to take a chance."
---
The Commerce also had one more close call, when Nguyet Dao finished second in Event #39: $350 No Limit Hold'em. Dao agreed to a chop, taking only $1,000 less than winner Christopher Doan in one of the biggest event of the series. She took home a cool $67,460.
Certainly, there are numerous great female players, but the number at the L.A.P.C. seemed to stand out as something many in the poker world hope will continue.
While the average number of women in the field may be small, Hammer said there was some great female poker talent this year at the series from bracelet winners and hall of famers to celebrities and local legends.
"Matt Savage and I strive to make poker fun again," he said. "Part of that is trying to create an environment that is welcoming and comfortable for all of our players. Seeing so many women do well is great news for us because we hope it will encourage more and more players to come out and play the game we all know and love."
---
Sean Chaffin is a freelance writer in Dallas, Texas, and the host of the PokerNews Podcasting Network's newest podcast True Gambling Stories. To listen, click here.