REG and Online Poker Pros Team Up for $300,000 Matching Challenge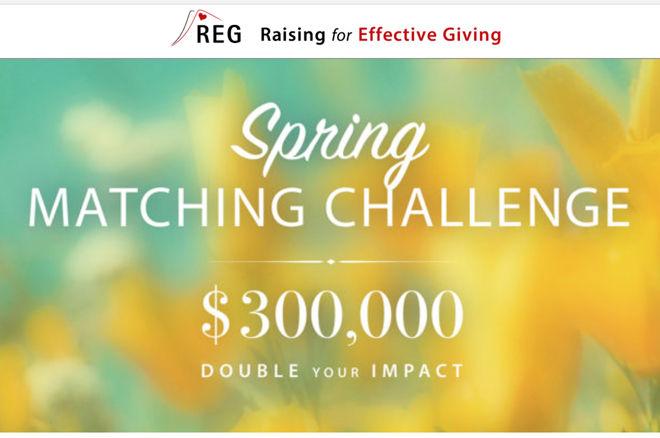 The latest poker and charity initiative involving Raising for Effective Giving (REG) is a Spring Matching Challenge where five online poker pros have agreed to match up to $300,000 in donations to help out seven high-impact charities.
Online grinders "Chappolini", "donthnrmepls", "FMyLife", "ValueH" and "xx23xx" are joining forces for good, putting up a dollar for every dollar raised during the campaign, which began on April 4 and runs through midnight PST April 20. The matching challenge provides a unique opportunity for people to see their donations multiplied for a great cause.
"With this challenge, we want to nudge people even more to give to high-impact choices."
"More and more people are realizing that it makes sense to look at the impact when deciding where to give. With this challenge, we want to nudge people even more to give to high-impact choices. Together we can tackle some of the biggest problems that we're facing now and going forward," the online players said.
The seven charities on the list have been evaluated as being particularly cost-effective — organizations where the majority of donated funds go directly towards the cause, and they all provide a unique contribution to bettering the world.
Against Malaria Foundation
Schistosomiasis Control Initiative
GiveDirectly
The Good Food Institute
The Machine Intelligence Research Institute
Clean Air Task Force
Raising for Effective Giving
Those who wish to contribute may do so via the campaign website, or donate directly to the charity of your choosing and send a donation receipt to donate@ea-foundation.org.
The matching challenge format has become a popular approach to amplifying funds raised for high-impact charities, and REG has been integral to aiding in the implementation of such events. One recent example administered by REG in December and put on by the Crowley brothers and Dan Smith, raised an unprecedented $4.3 million to support REG charity.
Finding a trustworthy room to play online poker can be a monumental burden. That's all the more true if you're just looking for a place to play poker for free. We've listed five of the best play-money poker sites to enjoy and help hone your skills.