Shaun Deeb Talks About His 2018 WSOP Player of the Year Aspirations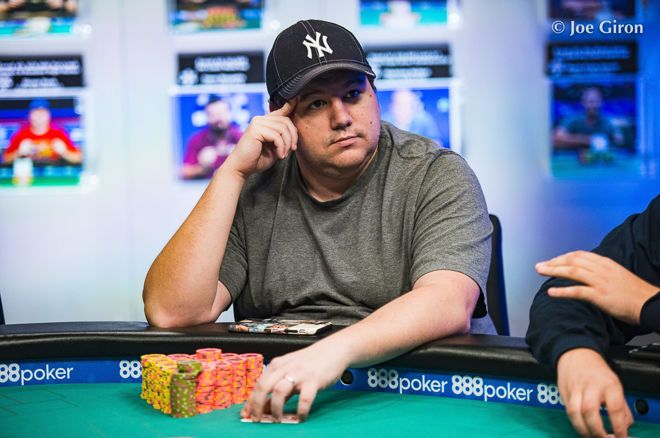 The 2018 World Series of Poker Player of the Year race has been intense all summer long. Right now, recent Poker Hall of Fame inductee John Hennigan sits on top with 3,181.35 points, but going to publication Shaun Deeb, who is in second with 3,111.64 points, is at yet another final table.
Deeb is currently battling it out in Event #74: Big Blind Antes $10,000 NLHE 6-Handed Championship, a tournament that began with 355 players. Click here to view the live updates from that tournament. If Deeb were to win it for a $814,179 top prize, it'd mark his second bracelet of the summer.
Deeb, a three-time bracelet winner, has notched 13 cashes this summer including a win in Event #42: $25,000 Pot-Limit Omaha 8-Handed High Roller for a career-high $1,402,683. Other summer highlights include 10th in the $50,000 Poker Players Championship for $111,447, third in Event #14: $1,500 No-Limit 2-7 Lowball Draw for $36,330, and 16th in Event #13: Big Blind Antes $1,500 NLHE for $11,553.
Others still battling it out for POY are Scott Bohlman, Ben Yu and Paul Volpe, just to name a few. While the 72 bracelet events in Las Vegas are about to wrap up, the race won't crown a winner until this Fall's WSOP Europe at King's Casino in Rozvadov, Czech Republic.
Current WSOP POY Standings
| Place | Player | Points |
| --- | --- | --- |
| 1 | John Hennigan | 3,181.35 |
| 2 | Shaun Deeb | 3,111.64 |
| 3 | Scott Bohlman | 2,916.50 |
| 4 | Eric Baldwin | 2,516.30 |
| 5 | Ben Yu | 2,441.57 |
| 6 | Justin Liberto | 2,351.99 |
| 7 | Mike Leah | 2,294.28 |
| 8 | Paul Volpe | 2,278.47 |
| 9 | Anthony Zinno | 2,097.86 |
| 10 | Julien Martini | 2,096.31 |
PokerNews recently caught up with Deeb on a break from the final table to talk about his run for the 2018 WSOP POY.
PokerNews: What's motivating you to go so hard for the POY title?
Deeb: I stay at Frank Kassela's house every summer and he needles me constantly whenever I'm in this room that he and Ben Lamb have POY banners next to each other. There's also Mike Gorodinsky and Jason Mercier, two other good friends of mine. They're all there and I'm not. I just feel like I need to get there.
Deeb: "I think POY is way more exciting than any other spot because everyone is winning, everyone is up and having one of their best summers."
I play more tournaments than most of them and I think I'm good at the majority of games. I can hold my own at the ones I'm not so good at. I've been on the full grind this year after a few early cashes.
The formula this year is stupid. It's way too top heavy, so I've got to try and get a top-three finish in this and hopefully not go to Rozvadoz. But I have a feeling a few of the other guys in contention are all gonna go. It'll be a sick closing battle.
PN: At what point this summer did you decide to really go for it? Was it when you won the bracelet?
Deeb: It was actually the first week when I had six or seven cashes. I hadn't even looked at the formula. I knew that I had to be up there before seeing it was so top heavy. I was going deep in everything. People thought I would multi-table because of that but I would multi-table because I love the single draw event and I had no chips in the big blind antes. That started me multi-tabling and going deep to Day 3 in both of those kind of set me up. I've been balls to the wall ever since then.
PN: Who do you think is going to give you the toughest competition going forward?
Deeb: I think everyone in the top eight are going to give me a run for my money. They're all playing events they might not otherwise play. They're all great winning poker players all up a bunch of money this summer. I think there's a lot to be said when you're running well and making good decisions that's going to continue.
It's a nice little comradery. It's a cool battle. I think POY is way more exciting than any other spot because everyone is winning, everyone is up and having one of their best summers. So, no one is really down and out. There's so much depression in poker when you're running bad and losing. Some of the guys in the top ten are all having some of the best summers of their lives if not the best. It's going to be a lot of fun as it continues.
PN: John Hennigan is currently in the lead. How do you feel about him being inducted into the Poker Hall of Fame?
Deeb: He definitely deserves it. He's played insane cash games. He's an old-school gambler, a pool hustler, he's just a great guy. Every time I get in a conversation with him he says something that just makes me crack up. He's been sending me some texts throughout the last couple of weeks. We wanted it to be just him and me racing but obviously, there are so many great players within striking distance. More people out there it's even more motivation.
PN: Do you plan to enter the $50K tournament after this is over?
Deeb: I'm leaning towards yes. I see the field size has gotten pretty big. Usually, I'm not super excited about my skill levels versus that field at that buy-in level but I can hold my own. I know when I'm outclassed and I just try to increase the variance a little bit.
Executive Editor US, PokerNews Podcast co-host & 2013 WSOP Bracelet Winner.