Tony Miles Apologizes to John Cynn for Slow-Roll Accusation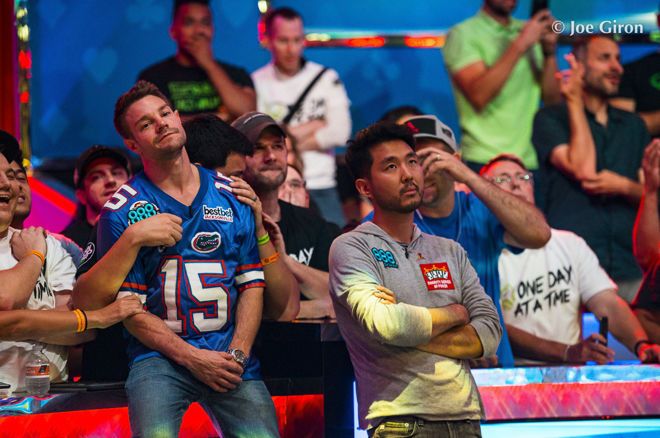 After 10 hours and 199 hands of back-and-forth struggle, John Cynn managed to overcome Tony Miles in a heads-up for the ages to win the 2018 World Series of Poker Main Event for $8.8 million.
The Main Event finally came to a close on hand 442 of the official final table. Cynn flopped trip kings and called a flop bet from Miles, who had three-bet preflop. Miles then shoved the turn after pairing his eight and Cynn thought it over briefly before making the call. Miles was less than pleased to see Cynn's hand that had him drawing dead, and in a huge and emotional moment, he accused Cynn of slow-rolling.
Some spectators that were watching the action started to take sides, and debate whether Cynn's $3.8 million dollar decision was indeed some kind of slow roll:
The debate kept going and most of the poker pros and enthusiasts of the game gave their opinion:
That wasn't a slowroll. Yes... it would've been better if he immediately said "I have a big hand but want to think… https://t.co/iqDMHUR2RF

— Phil Galfond (@PhilGalfond)
@PhilGalfond you call pre and hit top 1 pct of flop. Then turn has two fd. Never folding in million years.

— Jared Bleznick (@harrington25)
@harrington25 Sitting at home we know he's never folding but his heart is racing, adrenaline pumping, he's extremel… https://t.co/gLkOkR7iIv

— Phil Galfond (@PhilGalfond)
Miles only made one Bluff the entire final table so when he Barrel barrels first tournament life anybody who thinks… https://t.co/VI0uYBmaid

— Mike Matusow (@themouthmatusow)
Def not a slow roll. Just wanted to think everything thru. Exhaustion can play tricks on your mind. Congrats to the… https://t.co/OBwPnlAUjx

— Ben Lamb (@BenbaLamb)
Tony Miles took some time the day after to write a very humble letter dedicated to his opponent, and now friend, to apologize for his reaction in the moment. In the letter, he stated:
"We were playing for millions of dollars and John had every right to take his time and talk through his decision. My immediate reaction of angst and frustration was unwarranted and I take full responsibility for what I said."
I just wanted to respond to some of the things that were being said last night after my HU match with Johnny. I app… https://t.co/ZNK34mK19Z

— Tony Miles (@Storm253)
In the end, Twitter agreed that it is hard to criticize certain actions if you are in a high-stress situation, especially after playing an epic 11-hour long battle in the Main Event. And Miles got mad props from the poker community for his heartfelt letter.