World Series of Slow Rolling?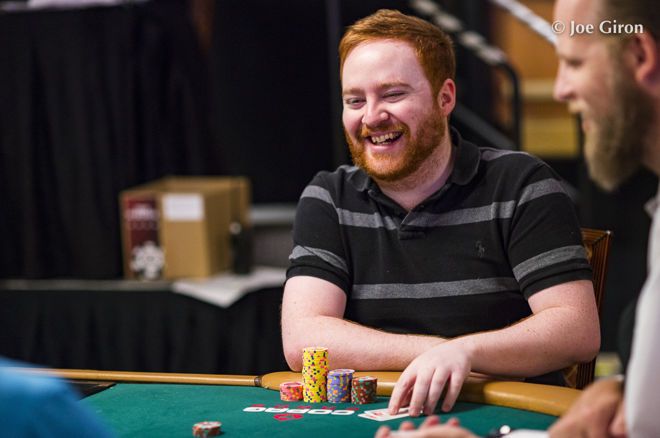 The art of the "slow roll" is a delicate one that requires the utmost precision in timing, execution, and discretion. It's a classic element of the game of poker that goes against traditional etiquette, intended to inflict pain upon one's opponent, oft with an air of friendly rivalry.
Here in week two of the World Series of Poker, the good ol' fashioned slow roll has come straight from kitchen-table poker to the most prestigious poker series around. While some debate exists regarding just what constitutes a slow roll, we'll break down the basics before jumping into a couple slow rolls from the week.
First, slow rolling is not to be confused with "slow playing," which describes the way of playing a hand that involves a lack of aggressive actions, but rather actions like checking or check-calling that show weakness, while holding a very strong hand. It's a trapping tactic, and while most aggressive players generally advise against it, it is a perfectly legal and acceptable thing to do, etiquette-wise.
Moving on to the nuts and bolts definition of the slow roll, provided via PokerNews poker terms, we get:
"To delay revealing a strong (likely winning) hand at showdown in an attempt to force other players to show their hands first. Whether done intentionally or not, slow rolling is considered poor etiquette for giving players false hope of winning a hand."
We can extend this definition to include some situations where the delayed revealing of cards occurs while action is pending, rather than at showdown, sometimes referred to as a "nit roll."
Bad etiquette? Yes. But it's important to consider the context: size of the pot, rapport and history among the players involved, the spirit in which the move is done, and the slow roller's intent. From there, subjective judgments can be made regarding the appropriateness – or not – of a given slow roll. From this week, we have examples of both a friendly slow roll and a not-so-friendly one.
---
Niall Farrell vs. Michael Gagliano: The Friendly Slow Roll
The buy-in was a hefty $10,000, but everything is relative. For Niall Farrell (lead image) and Michael "Gags" Gagliano, playing in a $10,000 WSOP Championship event is another day in the life, and they decided to have some fun with it.
"You're trying to get the other person as best you can, make them feel the most pain."
The two friends who room together during the series were paired up for the round of 32 in Event #16: $10,000 Heads-Up No-Limit Hold'em Championship. Farrell was getting the best of Gagliano and had him on the ropes.
It was shoving time for Gags, and he decided to go with the jack-ten. Facing the all-in, Farrell peeked at his cards, asked for a count, and said; "This could be the one," before calling a nearby Daniel Strelitz over to witness. "It's close," he added for effect.
"As soon as he [called Strelitz over], I knew that whatever he was thinking about, he was probably going to wind up calling, and I was going to be really far behind," Gagliano recalled.
Of course, Farrell had the aces and after getting an exact count and looking at Strelitz again, he called and tabled his pocket aces.
There were laughs all around, but some were more amused than others.
"You definitely don't want to do it to someone you don't know, or you have no rapport with."
"I think Niall got the biggest kick out of it," said Gagliano.
Gagliano didn't mind the slow roll, and he explained that among friends, "You're trying to get the other person as best you can, make them feel the most pain."
But in Gagliano's eyes, Farrell failed in that respect.
"I think it would have been worse if he would have just snapped me though, so, from that perspective, he did not win that. He won the match, but he didn't win in giving me the most pain... It's only a small battle; the war is far from over," Gagliano said with a laugh.
---
Daniel Ospina vs. Shaun Deeb: The Intentional Nit Roll
If you're playing a word association game and the phrase is "slow roll," Shaun Deeb's name will come up. He's known as the king of the slow roll and has performed the pesky act against many opponents, friend and foe, to the result of much grief, frustration, and entertainment.
When a hand came up at the 2-7 Lowball Draw final table on Thursday that involved Deeb and a slow roll, the only surprising part was that he was on the other end of it.
They were three-handed, and Deeb opened to 25,000 on the button at 5,000/10,000 with a 2,500 ante. Daniel Ospina three-bet to 105,000 from the small blind and Deeb called. Ospina stood pat, and Deeb drew one, and then Ospina checked. Deeb moved all in for around 300,000, and although Ospina had a very strong hand that he would not be considering folding three-handed, he took his time before calling, to stick it to Deeb it would appear.
"I decided last night if the opportunity presented itself to slow roll [Deeb], I was definitely going to do it."
Deeb was none-too-pleased to see Ospina's 8-7 that had his 9-6 dead in the water with all of his remaining chips committed. It turns out the king of the slow roll is not a fan of the nit roll. And the fact that it was in such a big spot, three places from a bracelet, probably didn't help.
Ospina justified the move based on previous history with Deeb.
"Deeb has a reputation for slow-rolling people in the past, and I have a bit of history with him in some other events we've played," Ospina said of the hand. "I decided last night if the opportunity presented itself to slow roll him, I was definitely going to do it."
---
It just goes to show, if you're going to attempt the risky slow roll, you should be ready for retaliation from all fronts and at all times, even when it may not seem very cool. Before attempting it yourself, consider this slow roll etiquette tip from Gagliano: "I think you have to know how your opponent is going to take it. You definitely don't want to do it to someone you don't know, or you have no rapport with."