Brandon Eisen Wins 2018 SHRPO Championship ($771,444)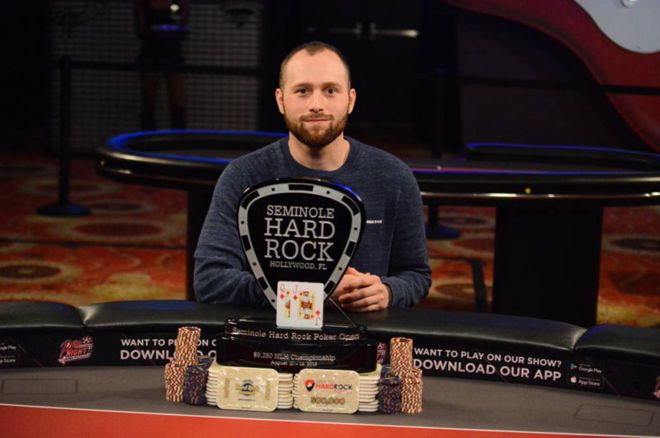 One of North America's premier poker events, Seminole Hard Rock Poker Open $5,250 Championship, wrapped up Tuesday night in Florida, and cash game player Brandon Eisen emerged as the winner of $771,444 after getting through a field of 914 players.
Eisen roughly doubled his career tournament cashes with the win, having previously notched three six-figure scores — the best of those $283,895 for third place in the 2014 Little One for One Drop — but never managing a big win.
As expected, he had to beat a tough final table, this one featuring Jeremy Ausmus, Ryan D'Angelo and Joseph Cheong.
Official Final Table Results
| Place | Player | Prize |
| --- | --- | --- |
| 1 | Brandon Eisen | $771,444 |
| 2 | Jeremy Ausmus | $540,459 |
| 3 | Stoyan Obreshkov | $349,889 |
| 4 | Ryan D'Angelo | $258,615 |
| 5 | Adam Adler | $195,491 |
| 6 | Ido Ashkenazi | $156,215 |
| 7 | Jared Griener | $129,308 |
| 8 | Joseph Cheong | $102,843 |
| 9 | Marcos Exterkotter | $77,132 |
The $3 million guarantee slapped onto the event drew out a massive field and plenty of notable names made it into the 115 paid places. Cliff Josephy, Matt Berkey, Daniel Strelitz, Mike Leah, Jason Mercier, John Racener, Loni Harwood and Jake Bazeley were among those who cashed.
Noah Schwartz narrowly missed the final table on a sick hand when he busted 11th, getting
in for 10 big blinds against the
of Eisen and seeing four diamonds hit the board, according to the live updates.
Eisen went into the final table as the chip leader with 7.33 million at 400,000/800,000/800,000, followed by Stoyan Obreshkov with 6.54 million.
Final Table Action
Obreshkov would move into the lead early when he turned a straight after defending his big blind with five-three against the jacks of Marcos Exterkotter, with Exterkotter calling all in on the river with his overpair after being check-raised on the flop.
Cheong then shoved with ace-ten for 13 big blinds in the cutoff, and Ausmus called with king-jack in the big blind. The flop brought
so Cheong still had a shot if he could find an ace or a jack but none emerged.
Eisen slipped all the way into fourth when he three-bet pocket deuces to 600,000 at 50,000/100,000/100,000 only to have D'Angelo wake up with a cold four-bet shove to 2,325,000. Eisen called but couldn't overcome queens and found himself under 50 big blinds.
Obreshkov then continued to assert his dominance, opening with queens and inducing a check-shove from big blind Jared Griener on
. Griener held
and found his flush on the turn but a third eight hit the board on the river to make Obreshkov a boat and bust Griener.
Eisen noted after the tournament that Obreshkov's aggression really worked out for him and had everyone else on the defensive. Eisen admitted he was eyeing the pay jumps, and the Bulgarian took advantage.
"He picked up on that and he was abusing everybody," Eisen told Maria Ho in his interview. "He was playing really well."
On the opposite tack, Ido Ashkenazi went into the final table short and had to be pleased to ladder past a few players. Finally, he shoved five big blinds with
and ran into Eisen's kings.
Ausmus then delivered another brutal knockout wherein the players had the same holding. His
made a flush against the
of Adam Adler to send Adler out in fifth and move Ausmus to 140 big blinds for a sizable lead.
The very next hand, Eisen and D'Angelo played a monster pot that would set Eisen on his course to victory. Ausmus made it 225,000 in the cutoff, Eisen called on the button and D'Angelo made it 900,000 out of the big blind. Ausmus folded but Eisen shoved all in for about 6.3 million effective. D'Angelo called with
but did not improve against pocket sixes.
"Luckily, I won that big race," Eisen said. "When D'angelo squeezed, I thought he could just be squeezing light."
Obreshkov still had over 50 big blinds but he went bust just a few hands later in a three-bet pot, floating with ace-queen high against Eisen on a seven-high flop. A queen hit on the turn and Obreshkov bet-called, only to see Eisen turn over kings and hold up, giving him a big lead heads up against Ausmus.
Heads-up play would prove to be a marathon as over 80 hands were played compared to just 61 during the rest of the final table play. Ausmus would take the lead after he flopped a boat and bet two streets then got a check-raise paid on the river when Eisen hit a gutshot.
The critical moment came about 40 hands into heads-up play when Eisen three-bet the
and Ausmus called with
. Eisen check-called a bet on
and then did the same on the
turn. He checked a final time on the
river and Ausmus shoved with his top two, with Eisen calling after some thought. He rocketed up to 30 million and left Ausmus with 6 million, though blinds were still at 75,000/150,000/150,000.
Ausmus stayed game and battled for about 40 more hands but couldn't find much forward momentum. Eventually, he called off with king-five to a button shove and couldn't hold against queen-jack, settling for a still-handsome $540,459.