Backing the Brat: Hellmuth Win Perfectly Timed for Texas Poker Fan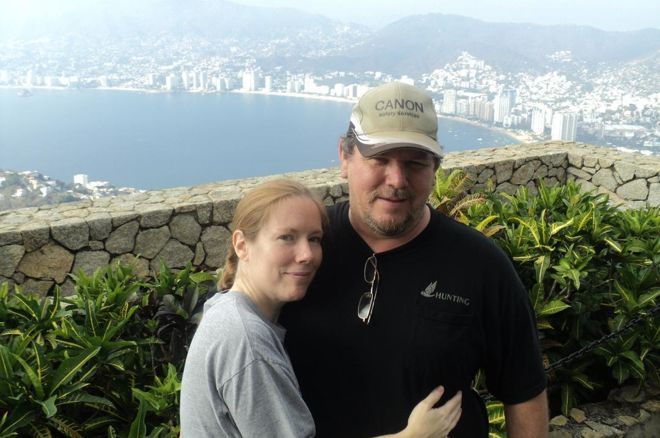 Patty Tillman wasn't expecting a lot two weeks ago when she decided to stake Phil Hellmuth for his appearance on PokerGO's "Poker After Dark." A longtime poker player and fan of the game from New Braunfels, Texas, she planned to check out the action and thought it would be fun to have a small piece of the Poker Brat's action as he battled it out on the show.
The 55-year-old grandmother, with five adult children and six grandchildren, went to her YouStake account about a week before the event, and put down $100 on Hellmuth. For those who may not have seen, he had a massive two-day run on the show – highlighted by a $233,600 pot that went viral.
Perfect Timing
Hellmuth's recent appearance turned out well, not only for himself, but also for those who backed him. For Patty, the timing couldn't have been better. Her husband Greg works as a drilling consultant in the oil fields during upswings in the oil markets.
"I've posted five campaigns, and made a bunch of money for the customers on three of them." -Hellmuth
"When he's working, he makes really good money, so we travel and play poker a lot," she says. "He works two weeks on, then two weeks off."
A week before "Poker After Dark," Greg was driving home from working in New Mexico. He received a phone call informing him that he'd been laid off due to his company releasing the rig where he'd been working – called "laying it down" in the industry.
"He'd been out of work for a little over a week when the game happened and Phil blew everyone out of the water with how much profit he made," she says.
For her investment of a hundred bucks, Patty received 0.25 percent of Hellmuth's profit, which came to $836.50. Maybe not a huge amount for some, but after a job loss, the quick cash was really helpful.
@HoarseWisperer I won $836.50 on a $100 investment by being one of @phil_hellmuth's backers when he crushed the com… https://t.co/lxGjUnVqYX

— Patty Tillman (@texaspatty)

For the two-day cash game, Hellmuth offered 37 percent of his action and sold only 18 percent. That worked out well for the 105 people who staked him, including the Tillmans. The first day, Hellmuth bought in for only $10,000, and cashed out for $213,500. In the end, his backers got a return of approximately 8.36-times on their money. On Twitter, Hellmuth noted that his 105 YouStake backers received $60,000 in total of his $293,500 in winnings over the two sessions.
"Not bad for two days of filming," Hellmuth told PokerNews. "I was told that it was one of the most exciting sessions, and had some of the highest ratings that PAD has ever had. It feels great to make money for YouStake customers. I've posted five campaigns, and made a bunch of money for the customers on three of them."
Staking Control
Patty has been playing poker for quite a while. In the past, she played as much as four nights a week, but now it's down to once or twice a week. Her husband is 60 and has worked in the oil industry since he was 18 years old.
"He'd only been back to work for a year when he lost this job," she says. "He was out of work for a year and a half before that when the oil field bust happened in South Texas and everyone here lost their jobs.
"I'm not sure he'll be able to find work soon because he's depressed he was laid off again and not really looking very hard. He's getting caught up on 'honey-do' projects around the house while I'm pressuring him to send in resumés."
"I just wanted to tell my friends that I had a piece of Phil Hellmuth."
For her part, Patty is also pitching in. In the past, she owned an antique store but had to close it after being diagnosed with Stage 4 colon cancer. She buys and sells items on Facebook and other sites, including the inventory left over from her store.
Staking players is a fairly new endeavor for Patty. She belonged to a Facebook poker group where she saw someone advertising openings in an investment group staking players in the World Series of Poker Main Event. She loved poker and it seemed like fun, so why not?
Patty invested $200, but only two out of her eight players cashed. She only got back $100, but enjoyed the sweat. She then jumped on YouStake and decided to put a few bucks on Hellmuth, who was asking backers to invest only a maximum of $100 each.
"I know that Phil is usually a terrible cash game player," she says with a laugh. "But I just wanted to tell my friends that I had a piece of Phil Hellmuth."
Surviving Cancer
While her husband may be out of work, the Tillmans know any recent hard times pale in comparison to fighting cancer. A few years ago, her body just didn't feel right but she ignored the symptoms for two years – never even visiting the doctor.
Then Patty's intestines ruptured while out of town. She waited four days before she could get home and visit the emergency room.
"I'm doing very well now. It's been six years since my last cancer surgery."
"I had surgery and they found the cancer on the intestines they took out," she says. "They looked more and found a grapefruit-sized tumor and started chemo and radiation. I had to have a colostomy for seven months."
Her treatment included six weeks of chemo and radiation at the same time before her cancer surgery. Fortunately, it appears the disease is in remission.
"I was supposed to have another six months of chemo after the surgery, but I stopped after six weeks," she says. "I felt like the chemo was killing me. I'm doing very well now. It's been six years since my last cancer surgery."
As the Tillmans work to get back on track and help Greg get back to work, they also hope to return to the poker tables. They play in local tournaments and cash games and Patty says she's never had to dip into their money since her first original $50 buy-in 17 years ago.
"[Most women players] are always so happy when another woman does well."
After success at the tables and now in the staking world, Patty hopes more players could be positive about others' success. She finds women players to be more supportive of each other and wishes that attitude was universal.
"I posted my good fortune in two poker Facebook groups, and many players just want to bitch about the markup or why my percentage was only .25 percent," she says. "Just say 'good job on the 700 percent return on investment' and keep it positive. I find many male players are jealous of anything good happening to someone else and make it their mission to tear people down. It's very sad. Most women poker players are not like that. They're always so happy when another woman does well."
Sean Chaffin is a freelance writer in Crandall, Texas. His work appears in numerous websites and publications. Follow him on Twitter @PokerTraditions. He is also the host of the True Gambling Stories podcast, available on iTunes, Google Play, TuneIn Radio, Spotify, Stitcher, PokerNews.com, HoldemRadio.com, and TrueGamblingStories.com.