Hellmuth and Bellande Clash in $235K Pot on Poker After Dark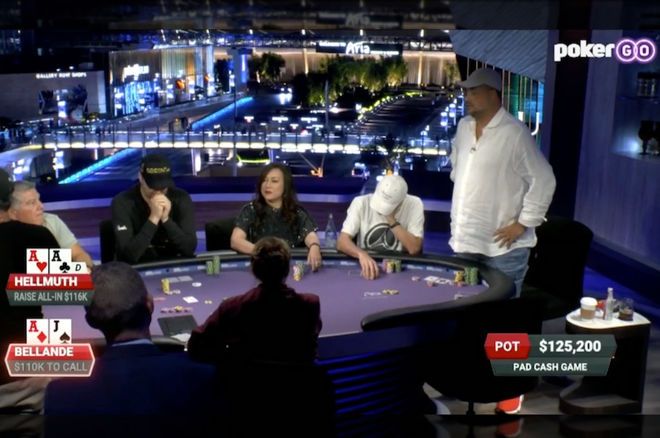 Poker After Dark has a reputation for creating some exciting high-stakes action, and the first night of "Under the Gun" on PokerGO Tuesday was no different.
The $100/$200 cash game with a $200 big blind ante to spice things up wasn't quite high enough for this lineup. They added a $400 straddle on top and in the penultimate hand of the game, Phil Hellmuth picked up aces on Jean-Robert Bellande's straddle.
Randall Emmett bumped it up to $1,200 to kick off the action with the ol'
first to act. It folded around to the Poker Brat on the button and he went for the flat-call trap with
on the button. Jennifer Tilly chose to come along in the small blind with
and after Eli Elezra folded the big blind, Bellande looked down at
in the straddle and opted for a three-bet to $6,000.
Emmett got out of the way and here's where the hand gets interesting. Hellmuth decided to move all in for his whole stack of $116,000. Into a pot of $10,000, Hellmuth had $1,200 committed, and he shoved for more than 11 times the size of the pot.
Tilly folded and Bellande immediately began looking for reasons to call. He mentioned he could see Hellmuth showing him ten-high after getting away with the bluff — the video was playing in his head. He followed that up with the rhetorical question: "But why would you want to steam me with one hand left in the night?"
Unfortunately for Bellande, he promptly got away from that line of thinking.
He mulled over the decision for just about seven minutes, telling himself multiple times that he had the best hand before eventually making the call — $110,000 more to win $125,200 in the middle.
They bartered for a little longer over insurance, then came the runout. Take a look:
Pocket aces for @Phil_Hellmuth and a big decision for @BrokeLivingJRB! Watch how tonight's #PokerAfterDark session… https://t.co/DyTd0IFCw3

— PokerGO (@PokerGO)
An unconventional shove and an unconventional call, indeed. We can probably chalk this one up to a whole lot of history between two old school players, mixed with a willingness in both parties to go with their reads, however against the book those reads may seem to be to those watching from home.
Needless to say, Hellmuth finished well in the black on the day, and was feeling extremely positive about the second and final round of the game taking place on Wednesday.
Here we go...Yesterday on @PokerGo I ran $10,000 into $213,100!! Sweet day! Today, I'm buying in $100,000. Would… https://t.co/bMQqZFsxHA

— phil_hellmuth (@phil_hellmuth)
Everybody needs an account at one of these online poker rooms! They're the biggest, the best, and we get you the best poker bonuses. Check out our online poker section for details on all the online poker rooms around.