How to Get the Rest You Need at the WSOP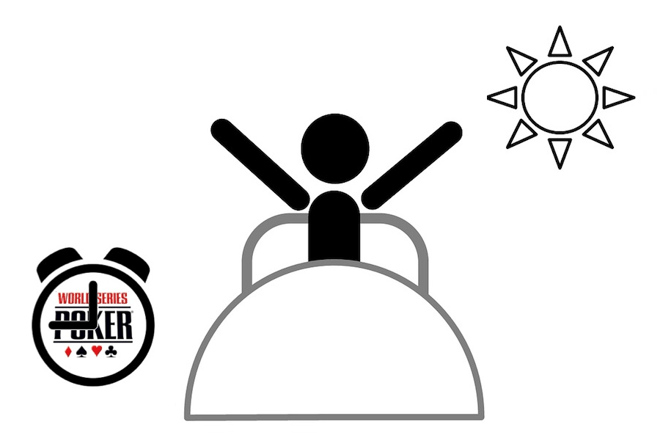 With the 2019 World Series of Poker right around the corner, we're taking time out from pacing the air-conditioned corridors to figure out the best — and worst — ways of affecting your sleep while you're in Las Vegas this summer.
We've already thrown a blue light on how not to perfect our sleep routine in Las Vegas, but that was easy. It's a neon-lit poker paradise with distractions at every corner. No, the tough bit is organizing yourself so that your sleep is the best sleep and that you're a few more winks ahead of the guy against whom you're heads-up for a bracelet.
Let's get our heads down and focus on falling into a deep and dream-filled... whoa, that nearly worked. Wake up! Pay attention to these tips and when it's actually time to sleep, you'll be able to do so.
1. Perfect Your Sleep Ritual
Humans love routine like Phil Hellmuth loves WSOP bracelets, and when it comes to sleep, good practice should be more like a ritual. Everything starts with where you're sleeping, so make sure that you have a comfortable bed. There's no shame in requesting to change rooms if yours isn't up to scratch. After all, mental and physical energy are both required in spades to win at the WSOP.
When it comes to your bed and the room temperature, think of yourself as the Fairy Tale superstar, Goldilocks. You don't want to be too hot, nor do you want to be too cold. You don't want your bed to be too hard, but you don't want it too soft, either. You want things just right before you put your ritual in place. That all centers around repeating the same actions each night.
2. Prime Your Body and Mind
Keeping a semi-regular physical regime in Las Vegas is a tricky thing to perfect. With irregular days at the felt, not only could you be unable to exercise one day and completely at a loose end the next, but your tournament day itself can vary, too — from busting in the first level to lasting until the chips are bagged up.
Try to settle on a minimum amount of exercise that you must complete every couple of days. This could be as taxing as a five-mile run or at simple as some yoga moves in your hotel room, but keep it regular and achievable.
Reading books before bed has long been proven to settle the mind and aid sleep, but you could combine this activity with game preparation. By taking in some poker content before you fall asleep, your mind will recall strategy for longer periods as you train your mind with a routine of soaking up information every night.
If you are a fan of hypnotherapy or meditation, then Fedor Holz and Elliot Roe's Primed Mind app might appeal to you as a way to start and/or end your day. Just be careful not to spend too much time on a smartphone or tablet, given the perils of bluelight.
3. Stay Hydrated
Sounds like an easy one, doesn't it? But in Las Vegas, especially after spending all day in the Rio All-Suite Hotel and Casino, a combination of air conditioning inside and extreme heat outside can leave you dangerously low on fluids.
Make sure that you take on enough water during the day. A popular guideline is to recommend eight 8-ounce glasses per day (it's called the "8 by 8" rule), which is the equivalent of around two liters.
Given the amount of work your brain is likely to be doing throughout the seven-week period, it's worth taking on more fluids in order to combat the sheer breath-taking, dry throat moments that surround every all-in during the WSOP.
4. Take Your Own Pillowcase
This recognized tactic across many major sports worldwide was popularized by competitive cycling over the past decade. Whenever we return home after being away, one of the greatest comforts we cry out for is to sleep in our own bed. Very often, this feeling is actually related to the smell of our own bedsheets and duvet.
Packing a duvet onto a Vegas-bound plane might raise a few eyebrows, but there's no reason you can't take your own pillow case in your luggage and use it during your time away. It'll have the comforting effect of reminding your brain of home and help encourage a regular sleep pattern.
It costs nothing, and might well reap rewards. Team Sky is just one of the pioneering sports science teams that believe this trick gives their team an edge — and in poker, any edge is a useful one.
5. Potions and Pills
If all else fails, you're might need medicinal help. However, given that you're trying to stay as alert as possible at the poker table, it's key that you don't overdo the relaxants when aiming for a full night's sleep. Natural remedies for sleep disorders are very helpful and should save you reaching for the hard stuff.
While you might be thinking of using prescription medication to help you sleep if things get really bad, resist. Sleeping pills can be highly addictive, so should only ever be used as a last resort, and certainly not just to feel a little fresher for a poker tournament. Lavender spray is excellent for inducing a relaxed state. Simply spray a calming mist over your bedclothes during the day so that you're ready to rest when you've had enough of the Las Vegas night.
Stick to your sleep routine, stay hydrated and you'll be able to keep your body and mind primed for top performance during the most grueling seven weeks on the poker calendar.
Photo: "Wake Up" (adapted), CC0.