Table Talk at the WSOP: What to Say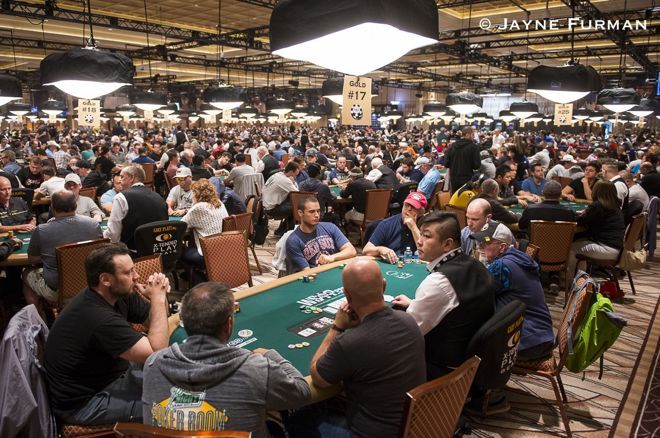 In our previous article, we warned you off five subjects that are the perfect examples of how to get table talk all wrong when playing at the World Series of Poker this summer.
But what about the subjects that are perfect for poker discussion at the biggest and best festival of fortune on Earth? We lift the lid on what to discuss at the felt with five suggested topics of conversation.
1. Sports
Everyone loves to discuss sports, from a temperamental Texan to the Queen of England (who adores horse racing). From athletics to ziplining and everything in between, the pursuit of the physical has always been a great leveller in conversation.
Whether you're talking major league baseball, the NFL, or the NBA, American sports are some of the greatest on the planet. Starting a discussion about your favorite team might not be optimal, but as long as you keep it friendly, sports can keep a whole table talking through the longest of Day 1s.
If you don't know your sports, just use our handy collection of phrases to prompt a discussion below.
[I]What to Say...[/I]
Good: "So you think Brady will be MVP again for the Patriots?"
Better: "What's the spread on the Warriors game tonight?"
Best: "How can they pay (INSERT TOPICAL SPORTS STAR) that much every week, that's what I want to know!"
2. Positivity
Just as veganism is the on-trend way to eat, positivity is so in vogue that to disagree would be to act extremely negatively, and that's so last decade. So what if the whole world is going to hell in a handcart? It's all about how you react to what's happening in the world that counts.
Why not take every bad beat with a song in your heart and a benign smile on your face? Because it hurts like bourbon in a paper cut, that's why. But you can still pretend to be positive about any situation, especially regarding anything else that's being discussed by others at the table. They'll think you're a caring, sharing individual while you scoop up their chips.
[I]What to Say...[/I]
Good: "You played that hand really well. I don't think you can get away from it on the river."
Better: "I actually thought it was good for me spiritually that my luggage got redirected to Zimbabwe."
Best: "I couldn't agree more... I say make the rake higher still. It's great for everyone."
3. Family
Everyone has one, and we love to discuss them. If the WSOP field is like one big happy family, then what could be better than discussing our own nearest and dearest?
Actually, pretty much nothing. While every family is different, expressing what's great about our mothers, fathers, siblings or offspring keeps us talking around the clock every day of the year.
Bringing good conversation to the poker table is a little like imagining every player to be your distant cousin. They would probably really enjoy finding out the edited highlights of your family life, along with a couple of stories to make them laugh.
[I]What to Say...[/I]
Good: "My Dad would have raised there, but he's probably asleep right now. It's 3 p.m."
Better: "My kid is the same. It's all about where you land, apparently. Tilted Towers is best."
Best: "You should teach your brothers to play poker, too, unless they're as good as you!"
4. Heroes
The best thing about talking about your heroes — be they in poker or from elsewhere in the world of culture, television or sport — is that doing so combines many of our other recommended go-to subjects. Many of our heroes play a sport, most exude positivity, and we often feel like we know them like family.
Learning about why someone else at your table admires a particular celebrity or pioneer can also offer you an insight into their character. If they admire strength of character, maybe they always play premium hands. If they fixate on dreamers and champion the underdog, maybe they enjoy chasing flushes on the turn.
[I]What to Say...[/I]
Good: "He's a living legend. What do you mean, he died? He'll... er, live on forever in my heart."
Better: "It's that ability she has always to show up when it matters. Like that Broadway card did when I folded my draw on the turn."
Best: "I loved (INSERT FASHIONABLE MOVIE YOU HAVEN'T SEEN). I thought it was the most deserving Oscar winner for years."
5. Other Tournaments
All our other subjects are great ones to try out when you're stuck for something to discuss during those long hours you'll spend battling for a bracelet this summer at the Rio. But none of these topics will come up as naturally as the next tournament that you're playing. Whether it's at another venue, on another date or simply later that day, Vegas is alive with action during the World Series.
Discussing tournaments that you've enjoyed will often prompt news of another one you might like from your tablemates, and knowing that you all played a previous event can help you build a camaraderie that truly is the magic of the Series.
[I]What to Say...[/I]
Good: "I played that, too. Wasn't the structure good? Beats my home game, anyway."
Better: "It should have been a freezeout, for sure."
Best: "There's a $500 tournament tomorrow — one day, big guarantee. You should play it."
It's not the journey, it's who you share it with, and more importantly, how much fun that can be along the way. It really is good to talk.