Phil Hellmuth Explains Three Big Folds at WPT Legends of Poker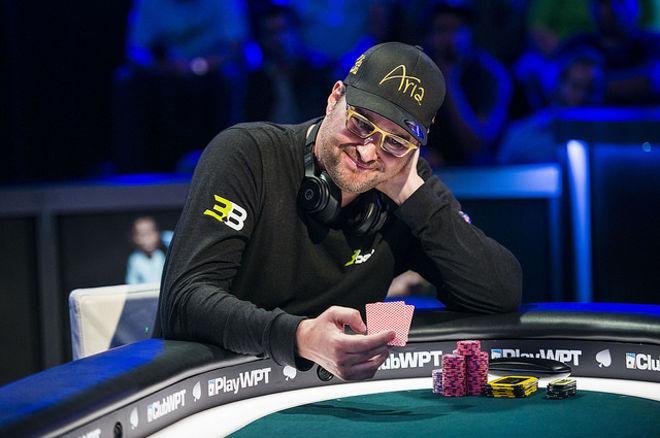 You can't argue with results. And results, Phil Hellmuth has plenty of.
He holds the record for most WSOP bracelets by four with 14. He has over $21 million in tournament earnings to his credit and 56 first-place finishes listed on Hendon Mob. That's a lot of wins.
His most recent win, though it only had four runners, was significant. In Poker Night in America's "King of the Hill" Heads-Up challenge, Hellmuth defeated two players touted as two of the toughest heads-up competitors in all of poker. He beat Doug Polk in the single-match first round, only to face Daniel "Jungleman" Cates in final round.
In a best-of-three format, Hellmuth took the first match and Cates won the second, sending the battle to a third game. In that epic match, Hellmuth got all the way down to 5,800 chips from the 100,000-chip starting stack and managed to come all the way back to win.
He told the World Poker Tour after Day 4 of the just completed WPT Legends of Poker that it was funny how much press that win got, even more than some of his big tournament wins. After he beat Polk and Cates to win the belt and the $200,000 top prize, many were questioning how he was able to do it, with more poker fans starting to believe in the power of Hellmuth's "white magic."
Fast forward to this week's WPT Legends of Poker at the Bicycle Hotel & Casino. It's clear to anyone who has watched him play that Hellmuth marches to the beat of his own drum when it comes to the game he has had so much success in, and his play late in the WPT Legends was no exception. From a 763-entry field, Hellmuth made it all of the way to a second-place finish last night in the event won by Art Papazyan.
Let's take a closer look at three key hands Hellmuth played on the way to his runner-up finish, each of which involved the "Poker Brat" making difficult folds other players may not have chosen to make.
Folding Trip Nines on the River
Late on Day 3, Hellmuth got involved in a pot against L.A. pro Oddie Dardon.
Dardon raised under the gun and got calls from Ben Nguyen on the button and Hellmuth in the small blind. Hellmuth led the
flop for 40,000 and called when Dardon raised to 150,000. They were heads up to the
turn and both players checked.
The
paired the board on the river, and Hellmuth bet 83,000. Dardon then raised to 275,000 and after a little less than 30 seconds, Hellmuth folded
face up for trip nines.
To put it in some context, the raise was for nearly a third of his remaining stack and they were late on Day 3, approaching the final three tables.
Was his fold "correct"? Well, it depends who you ask.
Dardon showed Hellmuth
for the king-high bluff, sending Hellmuth into his signature pace and rant. Amid his talk, Hellmuth said out loud, "I did the donk lead because all the bad players raise that s**t."
So, according to his statement, he led small, probably to induce a raise which he planned to call, but ultimately decided to fold.
A while later, Dardon told Hellmuth that he wouldn't bluff him again — that was his last one. Hellmuth disagreed.
"Yes you will, Oddie. Bluffing me is like eating potato chips. Taste so good, you'll go back for more," he said complete with a potato chip-eating motion.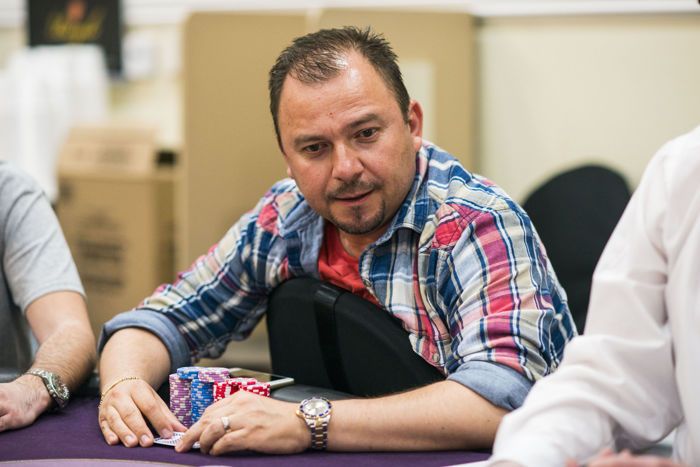 Folding Trips, Part Two
Not surprisingly, Hellmuth was right. On Day 4, with 18 players left, Dardon went back for more. This time, Hellmuth raised to 50,000 from under the gun with blinds at 10,000/20,000 and got calls from the button and Dardon in the small blind.
The flop came
, and Dardon check-called 150,000 from Hellmuth. The turn was the
. Dardon checked again and Hellmuth bet 350,000. Dardon used two 30-second time-extension chips before calling once more.
The
river paired the board and Dardon used one time-extension chip to think for about a minute before moving all in. To call for Hellmuth would have meant committing the rest of his stack of 735,000.
Hellmuth used his last three time chips to think for nearly two minutes before folding
face up.
Dardon said, "I respect you," and showed the
before collecting the pot. Showing that card indicated that the best Dardon could have had was the same hand for a chop.
Hellmuth was again none too pleased, and said, "I folded trips to this guy again. This guy tried to give me the tournament twice."
Perhaps Hellmuth missed a couple opportunities to chip up, but he also did not put all his chips in the middle and was able to maintain his stack. Hellmuth still had 37 big blinds after that fold and went into Day 4 with 790,000 for around 10 big blinds with 24 left.
On Day 4, Hellmuth built that stack up to 2,940,000 to end the day third of the remaining six heading into the televised final table.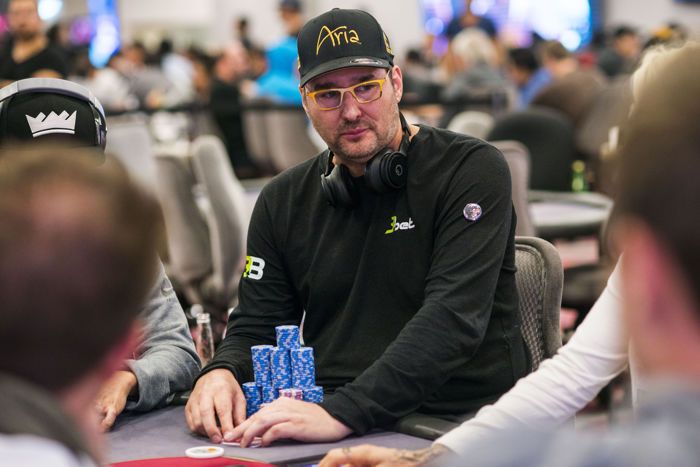 The Queens Fold
Some might say Hellmuth should have, or could have, had more ammo heading into the final six.
In Hand #69 of the unofficial final table with eight players left, Art Papazyan raised to 130,000 in middle position and Hellmuth three-bet to 250,000 on the button. Back to Papazyan, he moved all in and had Hellmuth covered.
Hellmuth folded pocket queens face up and Papazyan showed the
, which means Hellmuth was definitely way ahead.
Hellmuth jumped out of his seat and began ranting once again, saying things like, "What are you doing? Did you really think I reraised you with nothing? What the f*** is going on here? This is the craziest s**t I've ever seen!"
Hellmuth was left with 1,600,000 after folding the queens, good for 27 big blinds. And while some may argue that it was a bad or incorrect fold (including many people chiming in about the hand on Twitter), Hellmuth maintained his stack, and as noted made the televised final table of six sitting third in the counts — in good position to continue his quest for a prestigious WPT title.
Phil Hellmuth Explains His Play
Many of these folds by Hellmuth have had some people wondering, "Why?"
So we asked the Poker Brat himself.
He started with the queens fold to Papazyan's four-bet shove nearing the TV final table bubble.
"Sometimes you have to maintain your stack. And figure out a way to get there without playing a huge pot."
"If I call with the queens, I'm going to have four million, but there's a 40 percent chance I'm out if he had ace-four, which he said he did. Instead, I have three million and I was never all in. So I play differently than everybody else."
"I also folded a hand that I probably shouldn't have folded to another all-in bet yesterday, and the night before there was one that I definitely should have called."
For Hellmuth, there are many factors to consider when playing a tournament besides just what he "should do" mathematically.
"Sometimes you have to maintain your stack. And figure out a way to get there without playing a huge pot," explains Hellmuth. "And then sometimes you have to play a huge pot."
In other words, it's not that Hellmuth is not willing to play big pots, but he seems adept at navigating through some of the toughest fields in tournament poker by avoiding playing big pots at times when others might, or when it is considered "correct" to do so.
Call It Whatever You Want
Before the final six began on Thursday, Hellmuth told PokerNews, "I haven't really played any huge huge pots. I tend to just kind of hang in there and wait for other people to give me their money."
This tried and true strategy has worked for Hellmuth, even as he explicitly tells his opponents during play that they are going to do just that — i.e., give him all their chips — as evidenced in the Cates match, and as Hellmuth has done time and time again.
Meanwhile, as people continue to criticize Hellmuth's play, he stays busy doing what he does best.
After outlasting two-time WPT champions JC Tran and Marvin Rettenmaier at the WPT Legends final table, Hellmuth was heads-up for the title. That was after having been down to six big blinds at one point when four-handed. From there Hellmuth not only managed to chip up, but even claimed the chip lead briefly with three left.
Hellmuth was nearly even with Papazyan to start their heads-up duel, but soon fell to a 3-to-1 deficit. He then (unsurprisingly for Hellmuth) got his remaining stack in good, with
against
. Unfortunately for him, the
flop gave Papazyan a pair of queens and despite turning extra flush outs, the board could not save him. Hellmuth would have to settle for second place and $364,370.
Call it white magic, or non-conventional, or non-GTO, or crazy, or genius — call it whatever you want. But it's hard to argue with results as consistent as Hellmuth's have been.
Be sure to complete your PokerNews experience by checking out an overview of our mobile and tablet apps here. Stay on top of the poker world from your phone with our mobile iOS and Android app, or fire up our iPad app on your tablet. You can also update your own chip counts from poker tournaments around the world with MyStack on both Android and iOS.