Hellmuth, Cates Advance to Finals of Poker Night in America King of the Hill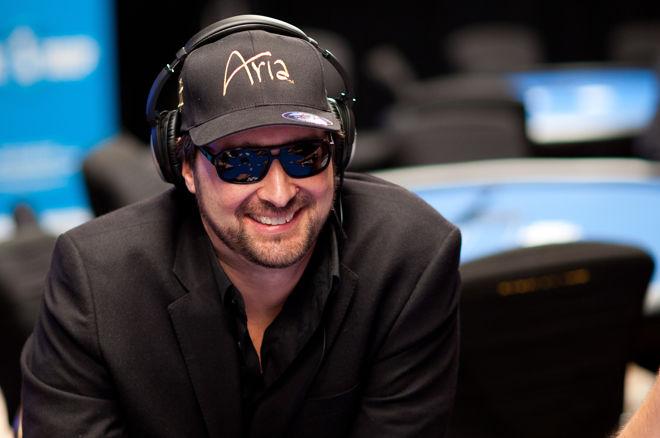 The first round of the $50,000 buy-in Poker Night in America "King of the Hill" event took place on Tuesday at Rivers Casino in Schenectady, New York.
Two long-awaited matches were set: Frank Kassela versus Daniel "Jungleman" Cates followed by Phil Hellmuth versus Doug Polk in a kind of 'Old School versus New School' battle. After substantial build-up for the event, especially among the Twitch poker community, Kassela and Cates took to the felt in a match that was a bit short-lived.
Frank Kassela vs. Dan Cates
Kassela and Cates began their match at 3:30 p.m. ET and wasted no time getting chips into the middle, clashing in the very first hand. Kassela decided to call down with seven-four for two pair on the 9-9-7-6-6 board. Cates had nine-five in the big blind for nines full of sixes to take an early 2:1 chip lead.
In the fifth hand, Kassela three-bet to 2,800 with king-jack offsuit, Cates called with ace-ten offsuit on the button, and they saw a flop of K-J-3 rainbow. Kassela continued for 4,200 and Cates called. A queen came on the turn and Kassela bet 12,500, equivalent to half of his stack. Cates moved all in and Kassela quickly called.
"I have the nuts," Cates gave Kassela the bad news and showed him Broadway.
"The nuts is good," Kassela confirmed, and he would need a king or jack on the river to stay alive.
The three on the river ended the match less than ten minutes in.
"I didn't even get to use my reveal," Kassela noted, referring to the two plaques each player could use after any hand to see their opponents' cards.
He added, looking over to the onlookers, "Sorry. That would have been fun if it had lasted a little longer."
After the match, Cates was asked in the booth who he would prefer to play in the finals and his answer was Phil Hellmuth.
Polk and Cates played some friendly $25/$50 heads-up cash on stream to fill airtime after the first match, and Polk came out ahead. They then took a break and returned with the final match of the day.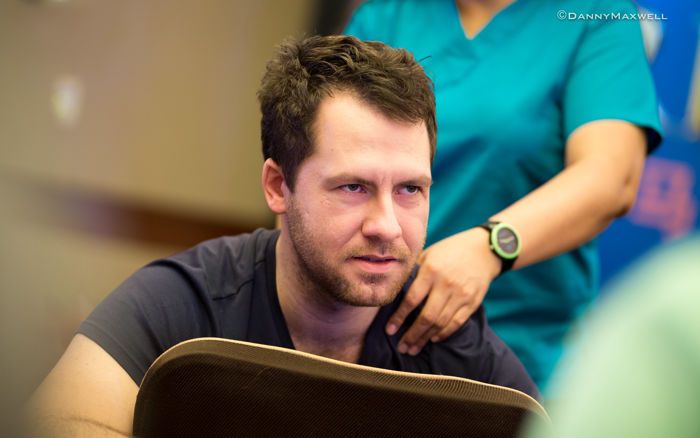 Phil Hellmuth vs. Doug Polk
At 8 p.m. ET, Hellmuth and Polk took their seats at the heads-up table and stayed nearly even in chips until fifty minutes into the match. Then, Polk was on the button with
against Hellmuth's
. On a flop of J-T-3 with two clubs, Hellmuth check-called a bet of 1,000 from Polk. The turn was the two of clubs and both players checked. On the eight of spades river, Hellmuth checked again and Polk bet 3,100. Hellmuth check-raised to 14,100, sending Polk into the tank. After about four minutes, Polk committed the chips with his rivered straight and Hellmuth won with the nut flush, taking a nearly 2:1 chip lead.
After a couple more big pots went over to Hellmuth, the two played a very significant hand. It was a limped pot and the flop came
. Polk had
for two pair and Hellmuth had
. Both players checked the flop and the turn was the
, giving Hellmuth a flush draw and a double gutshot straight draw.
Polk checked, Hellmuth bet 1,200, and Polk check-raised to 3,500. Hellmuth called and the
river gave Hellmuth a straight. When Polk checked, Hellmuth bet 11,000. The call was for more than two-thirds of Polk's remaining stack, and again he found himself in a tough spot and began thinking out loud.
"I have a weird hand. How do you have a seven? Seven-x of hearts? Ten-seven?" He sighed and added, "It's such a big bet too. It's really weird to have a seven here."
He eventually decided to flip his Reveal plaque to leave the decision to chance. When it landed with "Poker Night in America" facing up, he called and once again was shown the bad news from Hellmuth.
They rest of his chips got it in the next hand and Hellmuth's king-high held against Polk's queen-high to end the match and the two shook hands.
"I'm pretty sure I was going to shake your hand and be happy anyway," Hellmuth told Polk.
"Pretty sure?" Polk jokingly questioned.
Before exiting the commentary booth, Cates told the Twitch viewers that the Finals match will be the 'New School, the math' versus the 'Old School' in reference to the heads-up battle to take place between himself and Hellmuth.
That exciting match will be live at 5:00 ET with the Twitch livestream to begin at 5:30 p.m. ET. A top prize of $200,000 and the "King of the Hill" belt are on the line. Watch it all go down here at PokerNews.