Doug Polk Hypes Upcoming Heads-up Poker Match Against Phil Hellmuth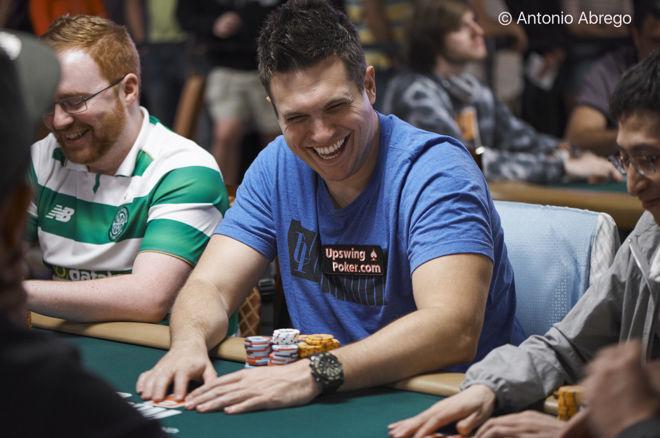 With tournament series in Sydney, Manilla, Bucharest, and Choctaw, there was plenty of poker playing going on around the world. It seems, however, as if it's taking a backseat to the complaining about structures and women - on Twitter at least. In fact, you might have to climb to the top of the hill to get away from it all. Or maybe not depending on how a certain someone fares.
Hellmuth vs. Polk; Cates vs. Kassela in King of the Hill
We're not talking about the childhood game played in abandoned fields around town while growing up. We're talking poker, of course.
King of the Hill, a $50,000 buy-in, four-man, winner-take-all heads-up tournament, is the brain child of Poker Night in America and will debut later this month when the tour hits Upstate New York.
The inaugural event will feature Phil Hellmuth, Doug Polk, Daniel Cates, and Frank Kassela.
No offense to Cates and Kassela, but the highlight has to be the semi-final match between Hellmuth and Polk, for entertainment value if nothing else. Let's just say, there is no need for commentators for this one.
Polk wasted no time throwing down the gauntlet in his latest video blog: "I gotta say I don't think he [Hellmuth] is going to do very well. I mean heads-up my thing."
And it seems as if Twitter agrees.
Who will be victorious in our first ever #KingOfTheHill match? @MattGlantz @phil_hellmuth @DougPolkPoker @junglemandan @fkassela

— PNIA (@PokerNightTV)
But let's not forget each of these players has some serious poker chops.
Hellmuth is most known for his 14 bracelets, but he won the 2005 NBC National Heads Up Challenge and was runner-up in in 2013, where Cates placed fifth.
Both Polk and Kassela won bracelets in this year's WSOP. And Cates, along with Polk, is known for his fearless, online heads-up play.
Mark your calendars for this one. Here is the Twitch live-stream schedule (all times ET):
| Date | Match | Broadcast Begins |
| --- | --- | --- |
| August 22, 2017 | Semi-Final | 3:30 p.m. |
| August 22, 2017 | Semi-Final | 8:30 p.m. |
| August 23, 2017 | Final | 5:30 p.m. |
Like Hank Hill from King of the Hill might say, grab the "popcorn and popcorn accessories."
Inventing Milestones
Poker players love nothing more than reaching a good milestone. Bagging, making the money, making the unofficial final table, and making the official final table are all milestones on the way to hoisting a trophy.
But do we really need another milestone to celebrate?
According to Allen Kessler, it's time to start celebrating the "unofficial end of the day."
Close to 100k at the unofficial end to day 1 @WPT @ChoctawDurant except we are playing 12 levels. #2more2go https://t.co/NaplgM7W3x

— Allen Kessler (@AllenKessler)
@AllenKessler @WPT @ChoctawDurant what are you complaining about now, Allen?

— DanRoss -HoldemMedia (@HoldemRadioDan)
Apparently, Kessler remembers the good old days when they played "8 or 10 levels." So he did what he does best. He took to Twitter to complain about the 12-level, 14-hour day schedule at the WPT Chocataw.
@AllenKessler @WPT @ChoctawDurant Not sure what that means. Don't think there's ever been an unofficial end to a day.

— Donnie Peters (@Donnie_Peters)
And just like that, a milestone was born. NOT.
A Woman's Place?
It's no secret that the poker world is scratching its head trying to come up with ways to attract more women to the game. Some even say figuring this out could be the next big poker boom.
While we could debate this subject all day, this kind of random tweet by Mike Matusow doesn't help.
When will women learn 4 u to make money playing poker u have to be in perfect mindset by starting fight u r basically saying i hope u lose!

— Mike Matusow (@themouthmatusow)
Matusow has never been known for his political-correctness, but does he want to blame his losses on a woman?
Do men really do that? Apparently, some do.
The responses to Matusow's tweet ranged from "I can actually relate," to "Or be mentally tough and not set up excuses for later."
Is it fair to say if you can't handle the heat, get out of the kitchen?
There's No Crying in Poker
As if on cue, let's talk about crying.
Only if you're a woman, how many times do you *tear up* (whether or not you actually cry) in an average month?

— Cate Hall (@catehall)
Only if you're a man, how many times do you *tear up* (whether or not you actually cry) in an average month?

— Cate Hall (@catehall)
What's interesting about this poll is the men showed up. More men voted, fewer men took the easy way out by selecting "show results," and the men had the best responses.
@catehall I prefer to bottle everything up and let it turn into a mix of residual anger and fear I can express thro… https://t.co/KCJW402JMP

— Josh Barnham (@JoshBarnham)
@catehall Depends if I've rewatched GOT S6:E10 that month, with Lyanna Mormont's "you refused the call" speech. Tha… https://t.co/1PTSIdJprv

— Aaron Wenger (@aaronmwenger)
It's kind of funny that people were quick to point out that the poll is skewed. Of course it's skewed. Every Twitter poll is skewed, but there's no use crying about it.
And while Hellmuth wasn't crying when he lost this all-in, you can see he was tight-lipped and the "Brat" looked like he wanted to make an appearance. We'll leave you with this look at Hellmuth and Polk sitting side-by-side on Poker Night in America earlier this year.
Be sure to complete your PokerNews experience by checking out an overview of our mobile and tablet apps here. Stay on top of the poker world from your phone with our mobile iOS and Android app, or fire up our iPad app on your tablet. You can also update your own chip counts from poker tournaments around the world with MyStack on both Android and iOS.