The Muck Exclusive: Superman Speaks About Making WSOP Main Event Day 5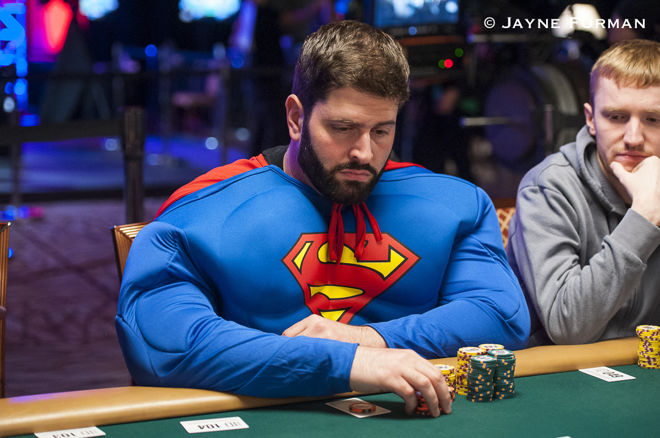 It's a bird, it's a plane ... it's Superman – and he has a pretty large chip stack as Day 5 of the World Series of Poker Main Event continues into the evening. The Caped Crusader had about 4.3 million chips at dinner break. Prior to play on Saturday, the Man of Steel was seen by some having a smoke near the Rio and getting some cash from an ATM machine. Even superheroes do some things like the rest of us.
Surprisingly in a room filled with poker fans checking out the tournament, no one was on Superman's rail following his action. After the first break of the day, he spoke exclusively with PokerNews about poker, getting away from Metropolis to Las Vegas, and even relationship troubles with Lois Lane. (Yes, this interview really happened).
PokerNews: How did you end up in Las Vegas playing in the WSOP?
SuperMan: Basically, I was saving the world one day, and I came home and found Lois in bed with Jimmy Olsen. I was pretty pissed off about that so I came to Vegas to drown my sorrows. And the next thing you know I entered the Main Event and I made Day 5.
PokerNews: What's your pet peeve – at the table and away from the poker table?
SuperMan: I would say my biggest pet peeve is people jaywalking, and my biggest poker pet peeve is slow rolling. Everybody hates slow rolling, especially me because I can just use my X-ray vision and can see the cards. So it's pointless to do that to me.
PokerNews: Who's the most annoying fellow superhero at the poker table?
SuperMan: Wonder Woman because she uses her lasso of truth on me. I always tell the truth when it's on me, so I can't bluff her.
PokerNews: At the table, what can hurt you other than kryptonite?
SuperMan: Nothing really – I'm going to have a good run here. Lois hooking up with Jimmy was pretty devastating, but I've moved past that.
PokerNews: What's your favorite flavor of ice cream?
SuperMan: Peanut butter cup.
PokerNews: What's your favorite hand?
SuperMan: Jack-10 suited because it makes a royal flush.
PokerNews: Other than yourself, who's the best superhero poker player and why?
SuperMan: I would say probably Batman. He just has a very good demeanor for the game, a very good poker face.
PokerNews: What power helps you the most at the table?
SuperMan: Super intelligence. I think very quickly. A lot of players take a long time to act, and I think very quickly.
PokerNews: Since your flight to Vegas is obviously free, where does Superman stay while in Vegas?
SuperMan: I'm staying at the Wynn. I smashed an ATM and used some of the money for the World Series and some to stay at the Wynn.
PokerNews: What do you do in Vegas when not at the poker table?
SuperMan: I just like to walk the Strip, and help people. No clubbing this trip.
PokerNews: Anything else you're looking forward to while in Vegas?
SuperMan: Winning big pots.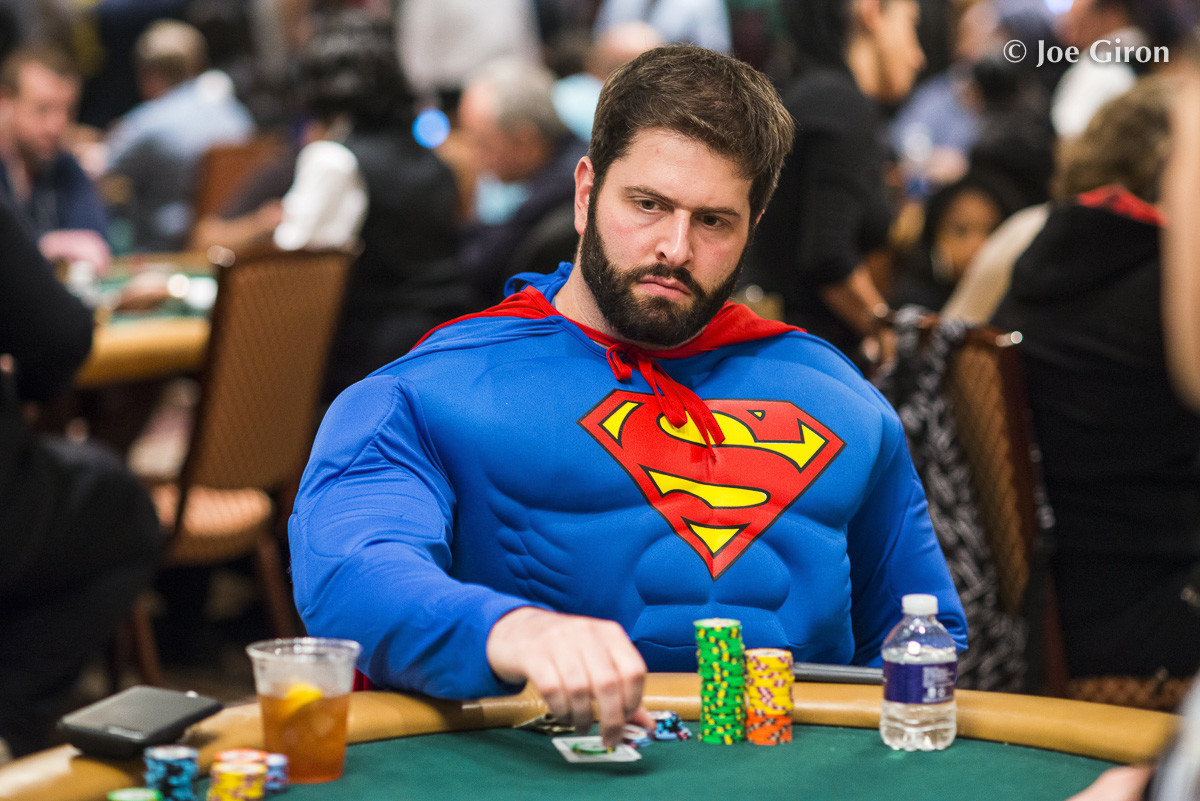 Superman's alter ego, 35-year-old Jonathan Dwek (not Clark Kent), lives in Toronto, Ontario, when not saving lives and rescuing cats out of trees in Metropolis. A chief financial officer for a tech company in his day job (not a newspaper reporter), he has about $167,000 in tournament poker winnings, pretty nice considering Supes' busy schedule. Dwek spoke with PokerNews about his part in Superman's run through the Main Event.
PokerNews: What made you wear the costume?
Dwek: I was just joking around with some people at work and some friends, and they said, "You should totally dress up," and I said, "Let's do it." I only wore it on Day 1 and then I ran really bad yesterday and I said, "You know what, let's bring it back and let's just have fun." I had a table that was kind of grumpy and not that much fun, and I just wanted to have some fun.
PokerNews: Has the costume brought you some super powers to the poker table?
Dwek: Yes, I started off 1.4 million and now I'm at 3.2 million (at time of interview), and I knocked out a couple of players. I think I'm playing pretty well considering the hands I've had [Even Superman can't control the cards dealt!]. I'm climbing slowing. Not really flying, but leaping.
Dwek is doing his part to bring the fun back to poker. Can the Man of Steel add a gold bracelet to his arsenal? Can he dodge bullets (or better yet deflect them) like Phil Hellmuth? Will he be forced to fend off an attack from Lex Luthor or some other supervillain in the middle of a big hand?
Follow the PokerNews live updates to see if the world's hero from the planet Krypton can battle through the field to a final table – or if some lucky rounder can accomplish what General Zod couldn't do – eliminate him.
Finding a trustworthy room to play online poker can be a monumental burden. That's all the more true if you're just looking for a place to play poker for free. We've listed five of the best play-money poker sites to enjoy and help hone your skills.