Art Papazyan Defeats Phil Hellmuth to Win WPT Legends of Poker Title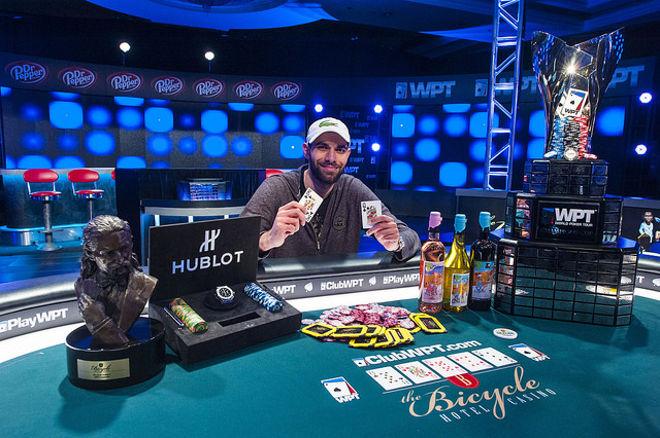 The final six players returned to The Bicycle Hotel & Casino Thursday at 4 p.m. local time to battle for the WPT Legends of Poker title and the $668,692 top prize.
J.C. Tran carried a sizeable chip lead into the day, with Art Papazyan second in chips. A win for Tran would mean tying the record for most WPT titles at three.
Marvin Rettenmaier was also going for his third WPT title, coming in as the short stack. Phil Hellmuth came in third in chips, looking to fill a gap in his resume by capturing his first WPT title at the casino where he won his first Major tournament in 1988.
Adam Swan and D.J. Alexander were the fourth and fifth in chips to start the day, and one of them would be the first to go.
Two Early Eliminations
Hellmuth eliminated Swan in sixth place ($91,825) in the eighth hand of the day. Hellmuth raised to 200,000 from the cutoff with pocket queens and called Swan's shove for 1,280,000 in the small blind. Swan had ace-jack and flopped a jack, but could not improve further.
In Hand #20, Rettenmaier moved all in for 895,000 on the button and was called by Papazyan in the small blind and Tran in the big blind. On the
flop, Papazyan checked and Tran bet 650,000, prompting a fold by Papazyan.
Tran had flopped yet another set (after flopping four or five sets that held up on Day 4) with
and Rettenmaier was drawing slim with
. The
turn and the
river were inconsequential and Rettenmaier was out.
Rettenmaier, the other player besides Tran with two WPT titles to his credit, would not be tying the record of three in this one.
Four-Handed Play Begins
Four-handed play lasted more than four hours, partially due to Alexander's survival skills.
Alexander doubled up in Hand #29 when he shoved with
and was called by Hellmuth in the big blind with
. The
flop gave Alexander trip nines and he got the double.
Ten hands later, Alexander doubled up again, this time with pocket sixes all in against the
of Tran. The board ran out
and Alexander survived again.
Tran, Papazyan, and Hellmuth were very close in chips vying for the chip lead a few hours into play.
"It's so unfair. I guess I'll never win a WPT event. How do these players beat me?"
Then, in Hand #47, Hellmuth raised to 210,000 on the button and Papazyan three-bet to 675,000 in the big blind. Hellmuth called and the flop came
. Papazyan bet 375,000 and Hellmuth raised to 775,000. Papazyan called and the turn was the
.
Papazyan check-called another bet from Hellmuth, this time for 500,000. Both players checked the
river and Papazyan's pocket nines were good against Hellmuth's
. With that hand, Papazyan took the chip lead from Tran for the first time in the day.
Seven hands later, Tran regained the chip lead. He continued to chip up and extend his lead, while he and Papazyan put more distance between them and the two short-stacks, Hellmuth and Alexander. Then the two small stacks clashed.
Hellmuth Traps, Alexander Prevails
Tran raised to 250,000 on the button and Hellmuth flat-called in the small blind. Alexander moved all in for 2,275,000 in the big blind and after Tran folded, Hellmuth snap-called with
.
Alexander turned over
and would need some help to stay alive.
About Hellmuth's trap play, Papazyan commented, "That's white magic right there."
Hellmuth chimed in, "I deserve to win this pot."
The
flop gave Alexander a pair of nines, improving him to five outs. The
fell on the turn and Hellmuth was out of his seat. The
river changed nothing and Hellmuth was pacing, setting into a rant.
"It's so unfair."
"I guess I'll never win a WPT event."
"How do these players beat me?"
As he berated Alexander, calling him a donkey for being so easy to trap and putting his chips in when he's behind, Alexander admitted to Hellmuth, "I didn't deserve that one."
Hellmuth was knocked down to around 12 big blinds after that with 1,455,000 chips.
Right after that, Hellmuth limp-folded king-ten in the small blind and Alexander showed the
and flashed the
as he folded.
Papazyan declared, "Always respect the GOAT. "
Round Three - Vying for Chip Lead
By the second break, Tran had right around half the chips in play for 71 big blinds. Papazyan and Alexander were second and third in chips with 39 and 26 big blinds, respectively, and Hellmuth was the short-stack with around six big blinds.
Hellmuth doubled up the first hand back from break with
under the gun versus Tran's
in the big blind. The board ran out
and Hellmuth's pair of twos was good.
Hellmuth continued chipping up without showdown, shoving on Tran a couple times and picking up some pots preflop and on the flop.
Alexander also chipped up, climbing into second place after four-bet shoving on Tran and getting a fold. He also took from Hellmuth a couple times in hands that did not show down.
The chip stacks began to even out, until Tran started chipping back up. Pretty soon he was the clear chip leader again and Hellmuth and Papazyan were short. Papazyan then doubled through Tran when he shoved on the button with
and Tran called in the small blind with
.
The
flop changed nothing, but the
turn made things interesting. It gave Papazyan a set, but Tran picked up a flush draw. The
river secured the double up for Papazyan and he was right back in it.
With no eliminations for more than four hour-long levels, the average stack was only 24 big blinds when players returned from the third break of the day. Tran and Papazyan were leading with Alexander and Hellmuth trailing, but not by much.
After break, Hellmuth chipped up to second in chips, and then Tran began to run away with it again. He soon once again held half of the chips in play.
D.J. Alexander Takes Fourth
In Hand #171, Hellmuth limped for 240,000 on the button, Alexander completed in the small blind, and Papazyan shoved 3,150,000 in the big blind. Hellmuth folded and Alexander used a time-extension chip before he called for his remaining stack.
Papazyan had
and Alexander was behind with
. Papazyan improved on the
flop. The
turn had Alexander drawing dead, and the
was a formality.
Alexander collected $161,490 for his fourth-place finish in the WPT Legends of Poker Main Event. The Houston poker pro, who is having a very good year so far in tournament poker, will be donating five percent of his winnings from his WPT Legends run to Hurricane Harvey relief to help those back home.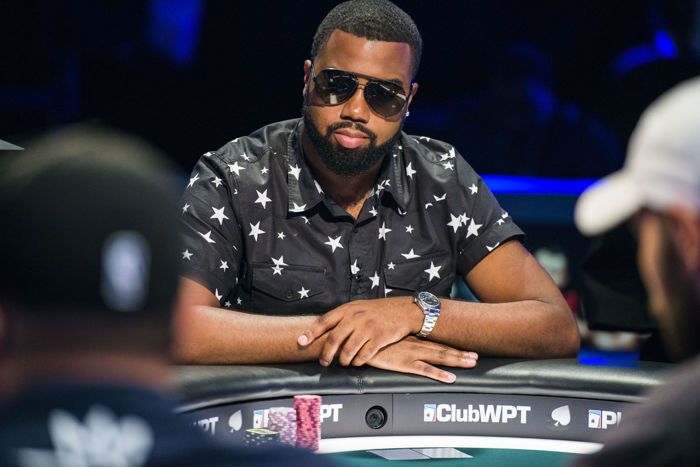 Three-Handed
Tran went into three-handed play with just more than half of the chips in play (49 big blinds). Papazyan was in second (27 big blinds) with a marginal lead over Hellmuth (20 big blinds).
Hellmuth soon climbed into second, just past Papazyan when he flopped trip twos with seven-deuce in the big blind in a limped pot against Tran in the small blind, who decided to call Hellmuth's bet with king-high on the river.
Soon, the three were nearly even in chips, and began trading the chip lead. Papazyan took the chip lead in a pot against Tran when he flopped middle pair with
.
Two hands later, Hellmuth, once down to six big blinds earlier in the day, took the chip lead for the first time all tournament. He did so by three-betting Papazyan from the big blind and getting a fold from Papazyan.
Two hands later, Papazyan won a pot from Tran after the blinds went up, taking the chip lead right back from Hellmuth. With only 76 big blinds in play, every pot was a difference-maker.
Papazyan won the next three pots and suddenly had half of the chips in play, with Tran as the short stack with under 14 big blinds.
Hellmuth won two of the next three, one where Hellmuth picked off a river bluff by Tran. Hellmuth had rivered third pair. He began to close the gap on Papazyan and Tran was down to 11 big blinds.
Then, Papazyan extended his lead in a blind vs. blind hand where he rivered a flush and picked off Hellmuth's river bluff.
Two-Time WPT Champion J.C. Tran Falls
Pretty soon, a short-stacked Tran went all in from the button and Hellmuth called in the small blind to put him at risk.
Tran was slightly ahead with
and Hellmuth had
.
The
flop gave Hellmuth the lead with a pair of kings. As the dealer paused, Tran reached down and moved Hellmuth's queen to the board as if it were the turn card (which would have given him Broadway).
The actual turn was the
, taking away one of Tran's ace-outs. The
river was of no help to Tran and he was eliminated.
Tran fell two spots short of his third WPT title and would take home $217,040 for his third-place finish.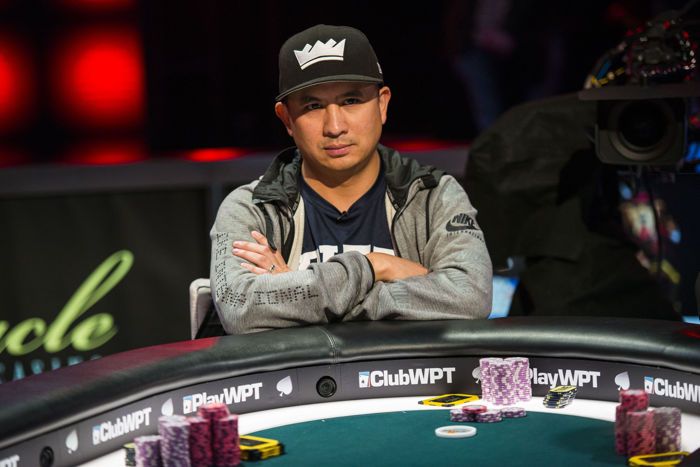 Heads-Up
Papazyan began the heads-up match with a slight chip lead over Hellmuth, 39 to 37 big blinds.
They stayed pretty even for the first eight hands of heads-up play, and then they played a pot for almost half of the chips in play.
Papazyan raised to 600,000 on the button and Hellmuth called. The flop came
and Hellmuth checked. Papazyan bet 400,000 and Hellmuth quickly put in a check-raise to 950,000. Papazyan called and the turn was the
.
Hellmuth bet 1.2 million and Papazyan called again. On the
river, Hellmuth checked and Papazyan bet 2,600,000. Hellmuth thought for a while and called with
.
Papazyan had
for the flopped wheel, good for a massive pot that put him at more than a 3:1 chip lead.
Hellmuth Gets All the Chips In
The very next hand, Hellmuth raised on the button, Papazyan shoved, and Hellmuth called for his remaining stack of 5,075,000. Hellmuth's tournament life was at risk, but he was in good shape with
against
.
The
flop favored Papazyan, but the
turn gave Hellmuth extra outs for a flush.
Several people in the crowd began chanting, "Heart! Heart! Heart!"
The
river secured the hand for Papazyan, making him the newest member of the WPT Champions Club.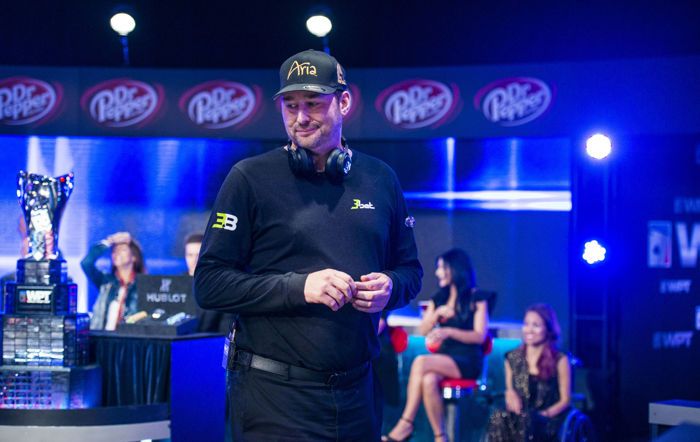 Art Papazyan Riding High
Papazyan ran to his rail and celebrated briefly before coming back to shake Hellmuth's hand. Hellmuth stood more or less motionless on the stage for a while, as both players soaked in the moment.
When asked what it was like as a non-tournament player to be sitting there three-handed with Hellmuth and Tran, two guys with more than $30 million in combined tournament earnings, Papazyan said he just kept playing his game.
"I was just trying to play my best, just play my cards, and not make any mistakes. And I feel like I played pretty well."
When asked about playing heads up for the title with Hellmuth, who he considers one of his idols, he told reporters, "It was a surreal experience actually. I would say, I'm kind of sad that it didn't last very long, but I'm not. I'm happy I won."
He was especially happy to hit the queen on the flop in the final hand when he had Hellmuth all in.
"I kind of had a gut feeling that I was going to spike the queen for some reason. I got it in bad. I won. You know, it happens. It's a tournament, whatever."
"I kind of had a gut feeling that I was going to spike the queen for some reason."
While Papazyan said he will consider playing more tournaments, the high stakes cash game pro said, "Cash games are still my bread and butter and I'll still go back to cash games."
The $668,692 prize money should allow him to play in even higher stakes if he chooses to do so.
Papazyan said he had challenged Hellmuth to play heads up cash earlier in the week, so "It was kind of ironic" that they ended up playing heads up for the championship.
He said he was the one that challenged Hellmuth to the heads-up match.
"I love going around challenging people to heads up. It's kind of what I do."
Would he be willing to play Hellmuth heads up again?
"Oh, me and Phil can play heads up whenever he wants, I already told him that," Papazyan said with a smile.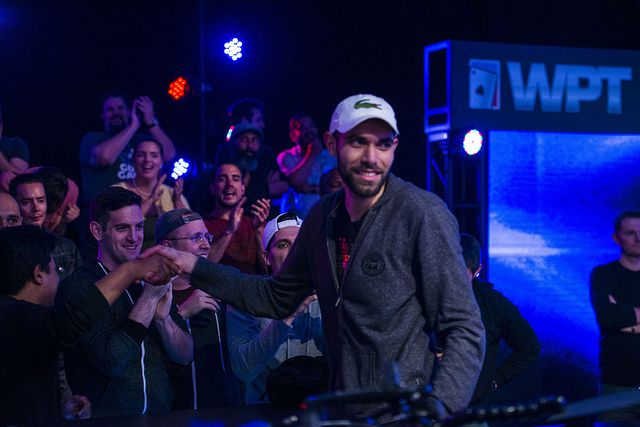 Runner-Up
As for Hellmuth, the WPT title eluded him once again, and he would have to settle for second place and $364,370 in prize money. Not too bad for a guy that bought in last minute on Day 2 because he was busy attending the Mayweather-McGregor fight in Las Vegas and a Dodgers game over the weekend.
As the new WPT Raw Deal Analyst, Hellmuth will be a regular presence at WPT events moving forward, will undoubtedly keep hunting the WPT title.