D.J. Alexander Making Name For Himself at World Poker Tour Legends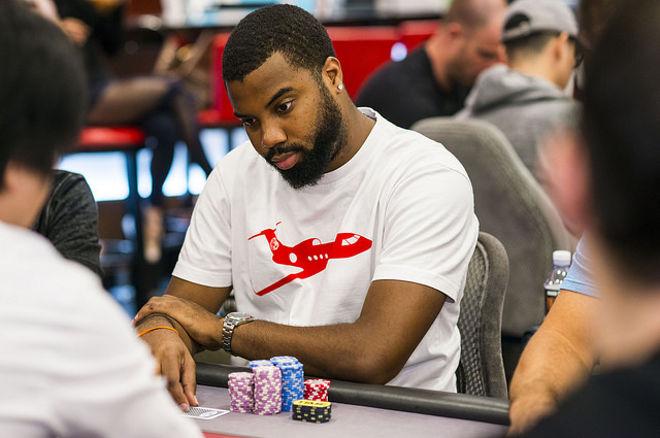 D.J. Alexander is not new to the poker tournament scene, but he's managed to collect more than $1.7 million in tournament earnings while flying under the radar. He will be adding to those earnings this week as he's already locked up $43,570 making the unofficial final table of the prestigious WPT Legends of Poker event at The Bicycle Hotel & Casino in L.A.
The tall, soft-spoken and competitive 31-year-old from Houston, Texas talked to PokerNews about his poker journey.
Finding Poker
Though he didn't find it early or seek it out, playing poker seemed to be in the cards for Alexander early.
"I come from a very competitive family. My mom plays a lot of card games. All of her sisters – we have a pretty big family – and they just always played cards, and I've always played since I was young."
But Alexander got into poker relatively late. "I never played online poker. So a lot of the guys have more experience than me because they played a lot more online poker, but I just started playing live. Even though online poker was prominent when I started playing, I just never got into it. I never like watched poker on TV, so I never thought, 'Oh man, this is something I want to pursue.'"
Alexander discovered poker as many do: playing small stakes with friends. It was 2008 and Alexander was an accounting student at the University of Houston. He was hanging out at a clothing store that his friend owned and as they were getting ready to close shop, his friend asked Alexander, "Do you know how to play poker? We're getting ready to go play."
Alexander's response was the natural one.
"Yeah, who doesn't know how to play poker?"
He had actually never played before, but that didn't stop him. He started playing with them regularly and in his own words, "The rest is history."
He's the only one of that group to really pursue poker, and said that they always tell him, "Don't forget about me when you get big."
Strong Motivations
Alexander is from Houston, and while Tropical Storm Harvey thankfully has not impacted his family much back home, he decided to donate five percent of his winnings from the tournament to the relief efforts.
"That's actually extra motivation. I mean I'm already motivated enough, but yeah, I'm just trying to win the max money for those back home."
So what else is driving him to do well in the tournament?
"I want to win at poker. I want to be the best I can be. I want to show that I can perform at this level pretty much. I mean I've done well overall, but once you get to these spots, you want to win. When you get close, you need to be able to close."
Tournament Results
Alexander is primarily a cash game player, but just wanted to play more, bigger tournaments with the big payout incentives. He had several small cashes from 2010 to 2015, but he caught fire in his breakout year, 2016, when he decided to dedicate himself to tournaments. And it has paid off big time.
Before that, he had lots of small and medium cashes from 2010 through 2015. He said he just kept playing and putting in volume. Since dedicating his time mostly to tournaments, Alexander has been very successful.
"I'm just trying to win the max money for those back home."
Alexander's first tournament win came in a $365 buyin WSOP Circuit event in May of 2016. The payout was $18,519 - not too big in the grand scheme of things, but the victory seemed to fuel him. His next win came in the following month when he won the $2,500 Hollywood Poker Open Main Event in Las Vegas for $332,338.
The HPT win was not only successful because of the money, but also because of the competition he beat out. Alexander outlasted a final table that included Aaron Mermelstein, Thomas Muehloecker, Bryan Piccioli, and Calvin Anderson to get his second tournament win. And that is the last one he has taken down outright.
He carried the 2016 momentum into this year, finishing fourth in the $1,675 WSOP Circuit Choctaw Main Event for $129,741 and five short months later, had the biggest cash of his career to date at the World Series of Poker. Alexander got second place in the $1,500 Millionaire Maker in June, just missing out on the bracelet which went to Canadian Pablo Mariz. Still, the $754,449 payday in that event would give Alexander plenty of validation for his decision to switch from cash solely to tournaments.
Results by Year
| Year | Number of Cashes | Total Winnings |
| --- | --- | --- |
| 2010 | 1 | $923 |
| 2011 | 2 | $25,547 |
| 2012 | 16 | $84,513 |
| 2013 | 12 | $47,199 |
| 2014 | 5 | $17,132 |
| 2015 | 8 | $46,947 |
| 2016 | 17 | $442,831 |
| 2017 | 11 | $1,046,370 |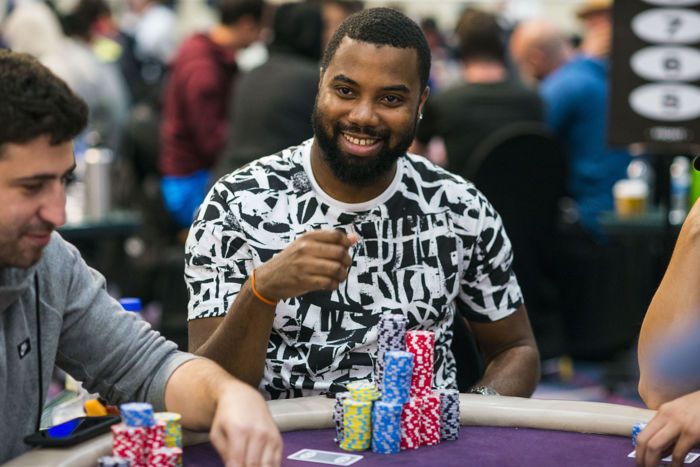 Running Deep in the WPT Legends of Poker
Alexander played all three starting flights, and squeaked through in Flight C with 50,400 chips (after starting with 30,000). He said the first two flights were bad, and "Day 1c was not great either but I made it through. Day 2 was amazing. Day 3 was above average. And then today, I've chipped up a bit."
He finished Day 1c with a short stack of 50,400. On Day 2, he chipped up to 517,500, putting him fourth out of the remaining 89 players. He finished Day 3 seventh out of 24 with 1,258,000. By the second break on Day 4, his stack was up to around two million.
It hasn't been a cakewalk, as expected in any WPT Main Event field. "The tables have actually been really tough but I mean, that's expected at this stage. Compared to the other tables, I've had the tougher tables."
So you've made some good hands? "I have not made any hands thus far, but it's coming soon."
Alexander said he bluffed Tuan Le in a very big pot, but didn't show or talk about the bluff, right before the two-time WPT champion busted in 19th place early in the day. That got Alexander going, and he chipped up from there.
For most of Day 4, Alexander shared a five-handed table with the likes of the 14-time bracelet winner Phil Hellmuth and two-time WPT champion Marvin Rettenmaier. And he is proving he belongs.
They are now down to the TV final table of six, still playing with Hellmuth and Rettenmaier, but add J.C. Tran to the company Alexander is keeping.
For the immediate future, winning the WPT title here at the prestigious Legends of Poker event is his main goal.
"That's where I'm at right now."
His goals for the longer term future?
"Just win some more of these tournaments. That would be great."