J.C. Tran Leads 2017 World Poker Tour Legends After Day 3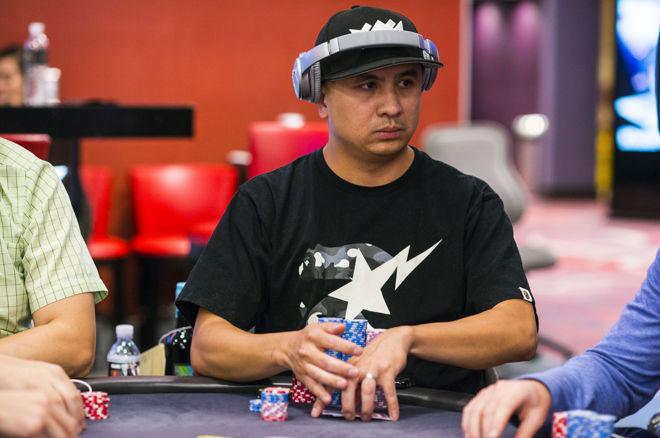 On Tuesday, 89 players returned to The Bicycle Casino to play down to the final 24. It was a most-eventful day, with plenty of big names still in action, the 30-second Action Clock in play, and the WPT's billionth prize dollar looming.
Two-time WPT champion and two-time WSOP bracelet winner J.C. Tran bagged the chip lead, and watch out players, because he is hungry for his third title.
J.C. Tran's Rise to Chip Leader
Tran came into the day second in chips with 565,000 and multiplied that stack by more than five times to finish the day as the overwhelming chip leader with 3,061,000.
He said he cracked aces early in the day when he made a flush on the river to get him going. Though his second table of the day was easier than his first, he "was faced with some tough decisions" there.
He talked about one hand in particular where he had a difficult river decision against Michael Rocco late in the day. In that hand, Tran used two time-extension chips before calling Rocco's 371,000-chip shove. "And I was right."
Besides that, Tran said he basically just chipped away here and there, and he kept being right on the close 50/50 hands, and "caught a couple guys bluffing."
"I just gotta continue to trust my instinct throughout the tournament. My instinct is really sharp right now, and you know, hitting hands and extracting value, and I haven't really taken any serious beats yet, so I'm hoping that's going to continue for a few more days."
When asked if it would be special to win his third title here at The Bike Tran said, "It would be special. I've had this phrase in my head for a while, 'Chasing number three.' And that goes with the third WPT title and my third WSOP bracelet. So I've been chasing that."
"I've made a lot of deep runs here at The Bike. I think I stone-cold bubbled this one last year with a lot of chips, and in prior years, I cashed and made it deep and didn't finish. But I just feel like this is the year. And I think it's special to be able to win the tournament that paid out the billionth dollar of the WPT. That would be cool."
Other Big Names Chasing the Title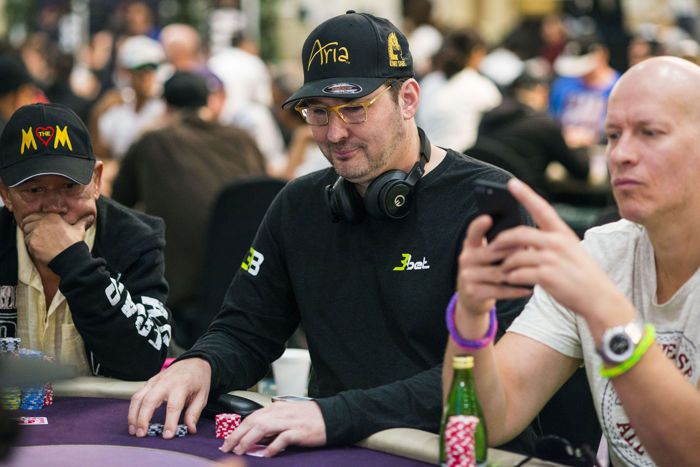 To capture his third title in this one, Tran is going to have to get through some tough competition indeed. He's not the only player left in the field with two WPT titles to his credit. Tuan Le (1,200,000) and Marvin Rettenmaier (628,000) also made Day 4, and they are all looking to add a title to their resume.
If one of these three players does win, that player would be tied with five others for the record of most WPT titles with three. He would be keeping some pretty good company in Darren Elias, Gus Hansen, Carlos Mortensen, Chino Rheem, and Anthony Zinno.
New WPT Raw Deal Analyst Phil Hellmuth has managed to win 14 WSOP bracelets but has yet to close out a WPT. Hellmuth has made four WPT final tables and is still looking for his first win. It would only be appropriate for that significant win to come at a venue where another very important win came.
According to The Hendon Mob, Hellmuth hit his first six-figure score for $125,000 at The Bicycle Casino in 1988 when he won the 4th Annual Jim Brady event. Apparently, that was the name of the tournament series that The Bike put on before they partnered with the WPT in 2002. Coincidence?
Other top pros still in contention for the 2017 WPT Legends of Poker title include David "ODB" Baker, who bagged the third-biggest stack with 1,675,000, Day 2 chip leader Oddie Dardon (1,116,000), David "Doc" Sands (814,000), Jason Les (466,000), Garrett Greer (360,000), and Allan Le (182,000). All of these players are looking for their first WPT title.
Players Eliminated on Day 3 in the Money
After the money bubble burst early in the day, Scotty Nguyen was the first elimination, earning $7,135 for 81st place. William Kassouf got the same payout in 73rd place. Giuseppe Pantaleo was eliminated in 60th place, followed by Adam Geyer in 59th, and Ryan Feldman in 57th. All three were paid out $9,070. Not far behind, Sam Panzica was eliminated in 53rd place for a payout of $10,405.
Things slowed down a bit after that as the field neared the payout that represented the WPT's billionth dollar – 47th place. It would ultimately be local amateur T.J. Shepherd, who had entered the tournament through a $430 satellite, to receive the honors.
Shepherd's elimination spurred an explosion of music and a procession of Royal Flush girls carrying cardboard signs spelling out B-I-L-L-I-O-N-S. He was a most gracious recipient of the complimentary $4,000 entry to next year's WPT Legends of Poker event along with accommodations at The Bike.
WPT CEO Adam Pliska thanked everyone for being part of the WPT's story, and a little while later, play recommenced.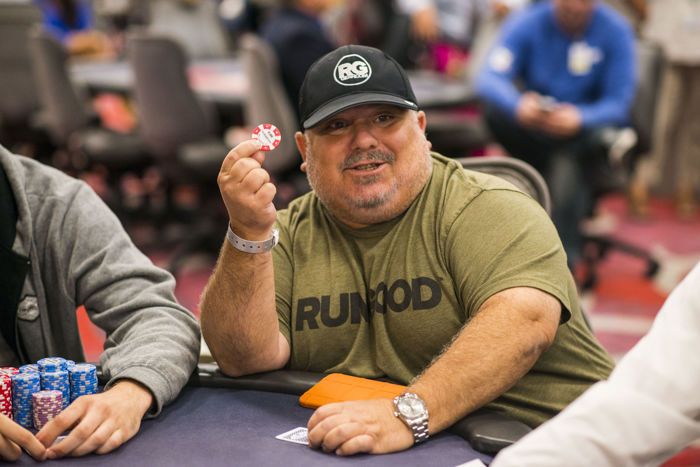 Day 1 chip leader Cody Slaubaugh hit the rail in 43rd place, and Jeremy Ausmus and Valentin Vornicu followed him in 41st and 40th. They each received a payout of $11,875.
Pat Lyons, as defending champion of WPT Legends, was attempting to make history by winning back-to-back titles at the same venue. Unfortunately for Lyons, he was eliminated in 39th place, earning him a consolation prize of $11,875.
One of the last eliminations of the day came in the hand previously mentioned as the one where J.C. Tran called Michael Rocco's all-in river bet on an ace-high, three-spade, paired board with ace-king. He was right as Rocco held
for jack-high, and Rocco was the 28th-place finisher ($13,505).
Action Resumes Wednesday for Day 4
The final 24 players return to The Bike at noon PT to play down to a final table of six. Levels will again last 90 minutes each, and the 30-second Action Clock will be in play once again for each player action. Players on Day 4 will start with six time-extension chips that can be used at any time during play for 30 extra seconds.
The first payout on Day 4, for 24th place, will be worth $17,430. Play will conclude for the day after the seventh-place finisher is eliminated for a payout of $72,985.
Top 10 Stacks
| Player | Chip Count |
| --- | --- |
| J.C. Tran | 3,061,000 |
| Steven Tabb | 2,128,000 |
| David "ODB" Baker | 1,675,000 |
| Adam Swan | 1,636,000 |
| Alex Greenblatt | 1,310,000 |
| Benjamin Nguyen | 1,273,000 |
| D.J. Alexander | 1,258,000 |
| Tuan Le | 1,200,000 |
| Oddie Dardon | 1,116,000 |
| Mike Heshmati | 965,000 |
Stay tuned to PokerNews for feature stories and daily recaps from the floor at the World Poker Tour Legends of Poker.
Images courtesy of WPT/Flickr
Everybody needs an account at one of these online poker rooms! They're the biggest, the best, and we get you the best poker bonuses. Check out our online poker section for details on all the online poker rooms around.