J.C. Tran, David Baker Among Leaders After Day 2 of WPT Legends of Poker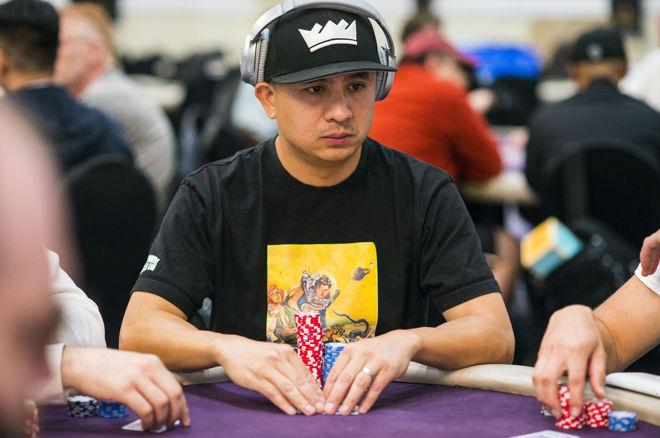 Day 2 of the World Poker Tour Legends of Poker Main Event is in the books. After six 90-minute levels of play on Monday, L.A. poker pro Oddie Dardon bagged an overwhelming chip lead, while top pros J.C. Tran and David "ODB" Baker are in great position in the Top 5 on the leaderboard. With 89 players remaining, the field is eight from the money.
The 715 survivors of the three starting flights combined for Day 2, and they were joined by 48 maximum late-registrants who paid the $4,000 buyin to enter the tournament with 25 big blinds. That brought the total entries to 763, making this year's event the second-largest WPT Legends of Poker in history with a total prize pool of over $2,738,000.
One of just three charter venues of the WPT going back to 2002, it is appropriate that the WPT's billionth prize dollar will be given away at The Bicycle Hotel & Casino. One of the 81 players in the money will receive the WPT's billionth dollar and as a bonus, that person will also be awarded an entry into next year's WPT Legends of Poker along with accommodations at The Bike.
The Day 2 field was again loaded with poker talent, and the local pro Dardon was dominant. Dardon has more than $2.3 million tournament winnings listed on The Hendon Mob but is still looking for his first WPT title, which he said he has been chasing for a while.
Dardon started the day with 160,000 and grew that stack to 775,000 by the end of play. Early in the day, he scored a double up through Mel Wiener, who entered the day second in chips. According to Dardon, he flopped a set of fours against Wiener's set of deuces on
. That hand put him at the top of the counts, where he remained the rest of the day.
After the dinner break, Dardon and Wiener tangled again, with Dardon once again having the best of it. In that hand, Dardon flopped the nut straight with
against Wiener, who flopped the second-nut straight with
on a
flop. Wiener was all in for around 180,000 and those chips went to Dardon's stack, putting him over 800,000.
Dardon said it best: "I had his number today."
When asked about his plan for Day 3, Dardon said he likes to look at his table draw in the morning and see who is on his table. "I try to have a plan every time, based on the stacks, and if I have a history with somebody, how they play, if they play fast or slow. And hopefully I get a good table draw tomorrow."
Many poker legends built up their stacks today. J.C. Tran, a former WPT Player of the Year, ran 145,700 up to 565,200, good for the second-biggest stack in the field. David "ODB" Baker started with 58,400 and ended the day with the fifth-place stack of 479,000. Former WPT champion Scotty Nguyen turned 67,000 into 254,500 by the day's end.
Phil Hellmuth bought in on Day 2 and turned his 30,000 chips into 352,000 by the end of it. Defending WPT Legends of Poker Champion Pat Lyons also bought in on Day 2 and he bagged 204,500.
Several other big names also made it through to Day 3 including Day 1 chip leader Cody Slaubaugh (414,000), Valentin Vornicu (408,000), Jason Les (315,000), Allan Le (289,000), David Sands (134,000), and William Kassouf (79,000), to name just a few.
Some former WPT champions to bag were Tuan Le (320,000), Sam Panzica (258,500), and Marvin Rettenmaier (247,000).
Among the unfortunate ones to bust on Day 2 were WPT Champions Club members Zachary Smiley, Aaron Mermelstein, Tyler Patterson, Taylor Paur, Seth Davies, Scott Clements, Mohsin Charania, Mike Sexton, Kevin Eyster, Jordan Cristos, Jared Jaffee, James Carroll, James Calderaro, Harry Arutyunyan, and Dylan Wilkerson.
A few former WPT Player of the Year winners also hit the rail before Day 3 including Matt Salsberg, Joe Serock, and Benjamin Zamani.
Japanese pop star GACKT, who was invited by the WPT to come to L.A. and participate in the Legends of Poker event, was also eliminated early in the day.
Action Resumes Tuesday
Cards go in the air for Day 3 Tuesday at noon local time and they will play as many 90-minute levels as needed to get the field down to 24 players. Play will begin with three more minutes left in Level 16 with blinds of 2,000/4,000 with a 500 ante.
The Action Clock will be in play beginning on Day 3, where players only have 30 seconds for each action. Players will be given four time-extension chips with 30 seconds each, to use at any point for more decision-time. When they get down to the final three tables, these extension chips will be replenished so each player has six. At the official final table, players will reset to eight time-extension chips.
The minimum payout for 81st place will be $7,135 with the final payout of Day 3 being $15,360 for the 25th-place finisher. The eventual winner will receive $653,692 in addition to a $15,000 entry into the WPT Tournament of Champions and a fancy Hublot watch.
Here's a look at the top ten stacks to start Day 3:
| Player | Chips |
| --- | --- |
| Oddie Dardon | 775,000 |
| J.C. Tran | 565,200 |
| Hovhannes Khachatryan | 530,000 |
| D.J. Alexander | 517,500 |
| David "ODB" Baker | 479,000 |
| Alex Greenblatt | 461,500 |
| Nikhil Gera | 447,000 |
| Marcos Skerl Exterkotter | 447,000 |
| Curt Kohlberg | 445,000 |
| Mark Hamilton | 435,000 |
Stay tuned to PokerNews for feature stories and daily recaps from the floor at the World Poker Tour Legends of Poker.
Images courtesy of WPT/Flickr
Finding a trustworthy room to play online poker can be a monumental burden. That's all the more true if you're just looking for a place to play poker for free. We've listed five of the best play-money poker sites to enjoy and help hone your skills.